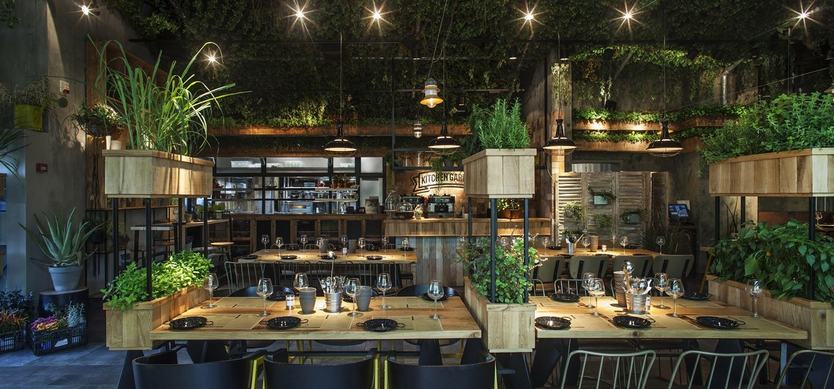 If you join Sapa tours and stroll down Cau May, Muong Hoa or Fansipan streets you'll find foreigner-friendly places as thick as the evening mist.
There's little to differentiate between the menus; perhaps if some of them specialized a bit more they might do better, but it seems everyone's trying to offer a bit of everything if you're after more authentic local fare, head to the area near the bus station, which is laden with rice joints.
The best restaurants in Sapa
The Village Noshery
Cafe in the clouds
Barbecue restaurant
The Hill Station Signature Restaurant
Baguette and Chocolat
Cha Pa Garden Restaurant
Nature View
The Village Noshery
Address: 42 Cau May Street, Sapa
A new Sapa dining opening worth checking out in Sapa is The Village Noshery, which offers excellent coffee and Vietnamese and Western dishes in eclectic, exciting surrounds. The restaurant is open from 06:30 and is a good place to grab breakfast upon arrival in Sapa, with options such as french toast with caramelized bananas, sweet corn fritters, and Vietnamese pho and bun thang. Coffee is good too — and you'll need that after the train journey: chose from Vietnamese coffee or a more decadent Lavazza. For tea fans, six different options are available in either a large mug or a pot.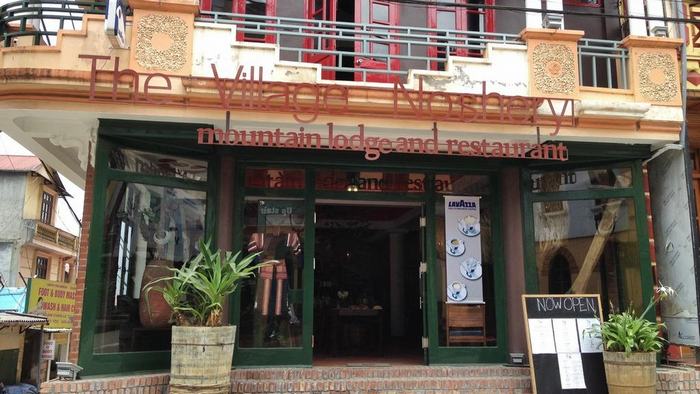 The Village Noshery
Cafe in the Clouds
Address: 58 Fansipan St
At the lower end of Fansipan Street, jutting out over the valley sits Cafe in the Clouds.
It doesn't look like much, but the views are astonishing, and the pho is damn good too. The owner is amiable and can help with onward travel arrangements. A recommended lunch or beer stop, well located for when you've walked back up from Cat Cat Village.
Barbecue restaurants
Address: Fansipan St, north of the square
You used to be able to pick up a kebab and a bottle of beer Hanoi at the street stalls along Fansipan or Pham Xuan Huan streets, but on our last visit these were nowhere to be seen, so we opted instead for one of the places inside the Am Thuc Sapa food court, north of the square.
You pick your kebabs from the display out front, and they're cooked up for you on a barbecue and brought to your table. They do have a menu, but it's easier to point. Pay up to around 20,000 VND per item and don't forget the sticky rice, cooked in a bamboo stick.
The Hill Station Signature Restaurant
Address: 37 Fansipan St
The Hill Station Restaurant
Located around the corner on Fansipan, this new opening is well worth checking out. It's a lovely setting, with fantastic valley views, the menu is innovative and the wine list wide enough to please any palate. Choose between a seat on the floor and a standard table; we're not usually up for sitting on the floor but the bamboo cushions gave sufficient lift for a bit of comfort, and the good wine helped too. We particularly enjoyed the smoked pork belly and the tofu two ways.
Baguette and Chocolat
Address: Silver Waterfall
Just up the hill on Thac Bac(silver waterfall), at the top of the stairs from Fansipan, Baguette and Chocolat is part of the Hoa Sua training school which teaches job skills to disadvantaged youth.
But that aside, this is a good place in its own right. The atmosphere is cozy, with a big fireplace to curl up next to on a cold day, and a very good variety of snacks, main meals, tasty pastries, and desserts to keep your tummy warm as well. You might take them up on one of their picnic baskets if you're headed out on a trek.
Cha Pa Garden Restaurant
Address: 23b Cau May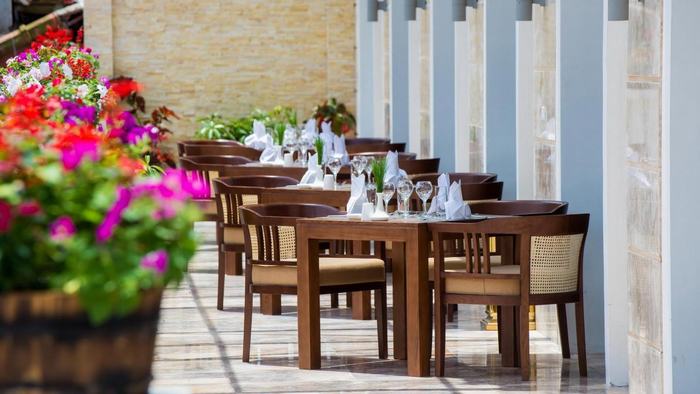 Cha Pa Garden Restaurant
If you want an extraordinary setting for a romantic dinner, head up the steps by T-Bone, and you'll find Cha Pa, where a beautiful setting is complemented by a delicious though not extensive menu and a lengthy wine list.
Breakfast and lunch are also served. Meals can be enjoyed in the cozy restaurant or al fresco, in the lush gardens, when weather permits. It's pricey but not outrageous.
Nature View
Address: 51 Fansipan St
While Nature Bar and Grill is a good spot for a cozy evening meal, this is the place to go during the day for fantastic views over the valley. The food's good too, with reasonably priced Vietnamese set menus, and service is friendly and efficient. They are highly recommended for at least a coffee or beer break.
Visit our website to find out more restaurants in Sapa. We hope that with our suggestions, you will have extraordinary experiences when traveling to this dreaming land. If you find this article useful, you can share with others. Thank you