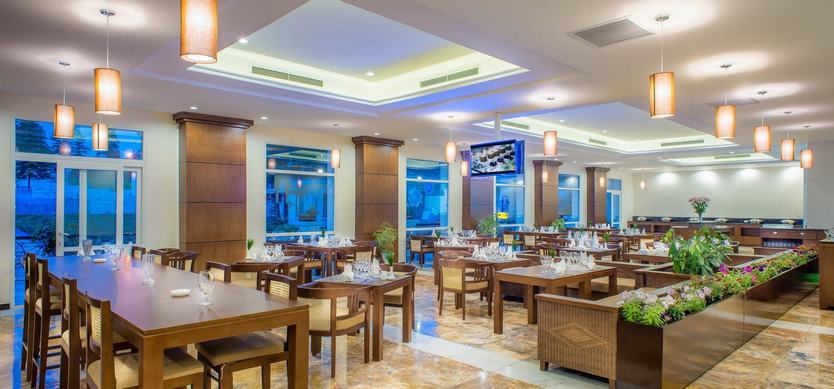 After long hours of Sapa tours and contemplating the breathtaking views in Sapa, the first thing you worry about could be a place to grab lunch or dinner. Indeed, restaurants with beautiful views, mouthwatering foods, plenty of Western and Asian choices are easy to find.
Apart from cuisines from your country, it is advisable to try traditional foods of the mountain area locally at restaurants on stilts.
The experience could be much more than being just outstanding.
It could be hard to find a restaurant exclusively for vegans, but some mountain cuisine such as bamboo rice, bamboo sprouts, and dishes made of wild vegetables could satisfy demanding vegans.
In this article, Sapa Trekking Homestay will continue to introduce visitors to three standard restaurants in Sapa.
Top 5 restaurants in Sapa
Fansipan Restaurant
Red Dao Restaurant
A Phu Restaurant
Thac Bac Sapa
Gerbera Restaurant
Fansipan Restaurant
Address: No.25, the Cau May, Sapa, Lao Cai province
Located at 25 Cau May, Fansipan Restaurant not only attracts customers by 100 dishes made by the experienced chefs but also has a unique design. The restaurant can offer 45 visitors with the cuisine of Asian, Western and some special food of the ethnic minorities of Sapa. Fansipan is appreciated as a standard restaurant that has a high quality of services and reasonable prices.
The special dishes: Fiza, "Cắp nách" pigs, Chicken of Sapa, vegetables of Sapa, Salmon of Sapa, rice, Spaghetti.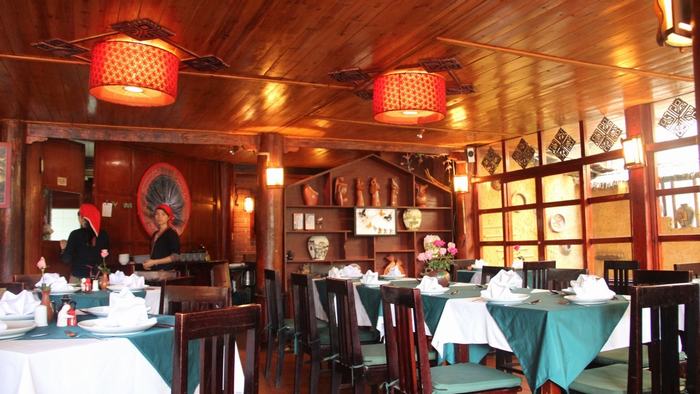 Red Dao Restaurant
Red Dao Restaurant
Address: 4B Silver Waterfall Road, Sapa
It is located in the heart of Sapa. The restaurant is far from the church about 90 meters, on the ways to go to Silver Waterfall. "Dao Do" restaurant was designed by the architecture of the stilted houses of Dao Do ethnic.
With luxury and warmth, tourists will be enjoyed the cuisines of Asian and Western. The restaurant provides professional staffs, charming in unique costumes, which brings you the best services. From here, visitors can sight the town of Sapa in the fog as well as Ham Rong Mountain.
A Phu Restaurant
Address: 15 Fansipan, Sapa
Located in the center of Sapa Town near the Stone Church, A Phu is a famous ethnic specialty restaurant in Sapa. The restaurant serves a lot of dishes such as salmon hotpot, grilled salmon, grilled chicken, black chicken stewed with herbs, etc. Due to the spacious atmosphere and enthusiastic, A Phu is a place that you cannot miss when coming to Sapa.
Thac Bac Sapa
Address: km 12 Thac Bac, Sapa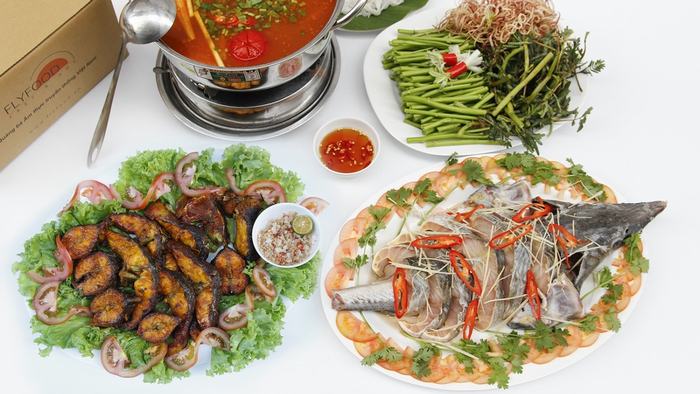 Delicious dishes in Thac Bac Restaurant
The attractive point of Thac Bac Sapa restaurant is that guests can choose the salmon directly from the tank. The chef at the restaurant will process the dish according to the taste or request from the guests. The food of the restaurant is very delicious, majoring on salmon and silkworm fish dishes. Hotpot, salad or grilled fish is cooked professionally.
Gerbera Restaurant
Address: No.31, Cau May, Sapa, Lao Cai province
Tourists will be satisfied with new space and cozy, and unique architecture from the bamboo. From here, visitors can sight the aesthetic perfection of Hoang Lien Son range with Fansipan top- the highest mountain in Vietnam. Tourists will enjoy the expensive food of Sapa in the melodious music. Also, they can consult the tourist information of Sapa and know the customs of the ethnic groups.
For more information about Sapa accommodation, you can visit our website. If you have any questions, feel free to contact us. Share this article with others if you find it helpful. Thank you!