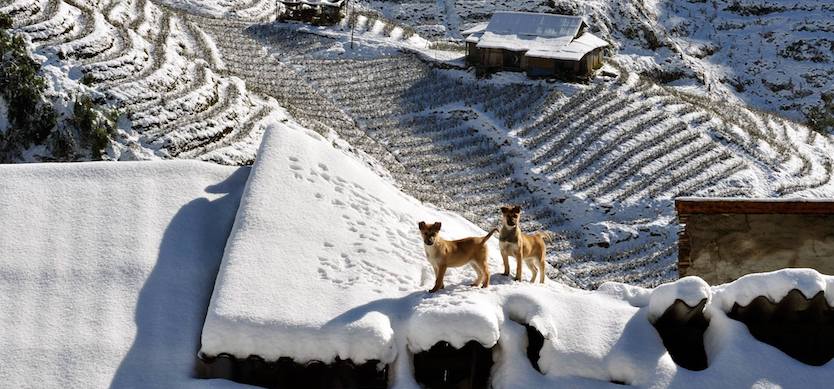 Although Sapa weather is freezing, this place still attracts many people. If you're planning to go to the town on frosty days, make sure you do the following things.
Discover Sapa
Arriving in Sapa in the early morning, you will see the town sinking in the mist, and enjoy when you breathe out smoke. The first stop you should visit is the Stone Church built by the French from 1895.
Around this area, there are many shops. Choose anywhere to enjoy breakfast. The fun of traveling by yourself is that you are free to eat and play wherever you want. Therefore, don't be too worried about finding the eatery before.
However, if you are not confident, you can book a Sapa day tour from Hanoi.
Sapa has many places to play no matter how long you can stay. Beside Stone Church, here also has Sapa market or Ham Rong mountain with thousands of flowers. Climbing to the top of Ham Rong, you will be able to see the panorama of Sapa in a very romantic mist.
Furthermore, you can go to Cat Cat village, Silver waterfall, or Sapa ancient rocks. However, these destinations are so far away that you will have to rent a car to travel.
You should wear warm clothes and shoes because these places are quite far, cold, and also have to walk a lot. People in Sapa are quite friendly, but in many cases, you will have to pay if you want to take photos.
Sit in the café shop in Cau May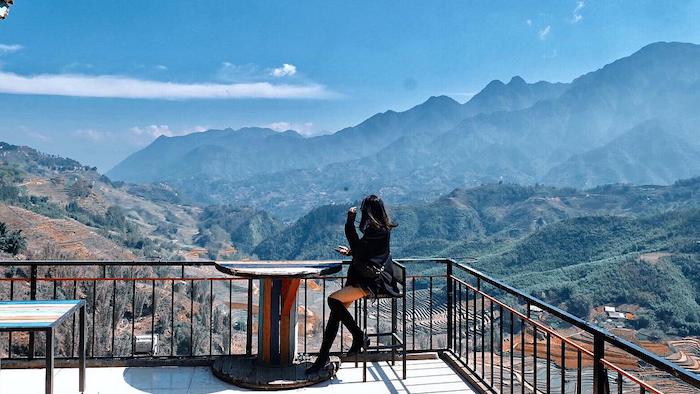 Coffee shops in Sapa
Cau May in Sapa has many excellent, luxury, and cozy cafes with a beautiful view. And do not forget to treat yourself to a lazy session in a coffee shop here to sip a hot drink and look out the window to see a peaceful Sapa.
Through the window glass, the chill in Sapa disappears, leaving only scenes of slow-moving local people as well as the sight of the tourists taking a stroll to see the misty town.
Bathe Red Dao ethnic's herbals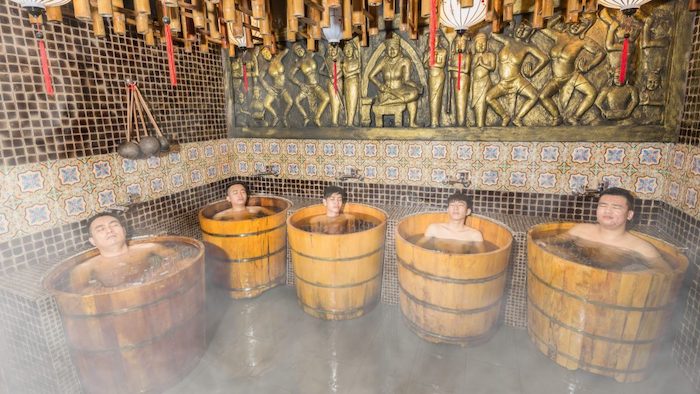 Bathing with Red Dao herbals
After a day tired of walking in Sapa, you should treat yourself with the herbals of the Red Dao in wooden baths. The reddish-brown bath water is made from dozens to hundreds of plants.
The water in the bathtub is quite hot so you should mix with the cold water before bathing, but the bath water must keep at 30-37 degrees Celsius to be effective.
Soaking in hot water with a pleasant smelling, you will find your body healthy and relaxed. However, do not take too long to absorb because it is easy to get drunk. As recommended, healthy people should only bathe about 25-30 minutes, and weak ones should take 15-20 minutes.
One time shower bath costs VND 80,000/guest or more. In addition to the hotel, in the areas near Sapa lake, many places are specializing in this service. There are also massage services available.
Enjoy grilled dishes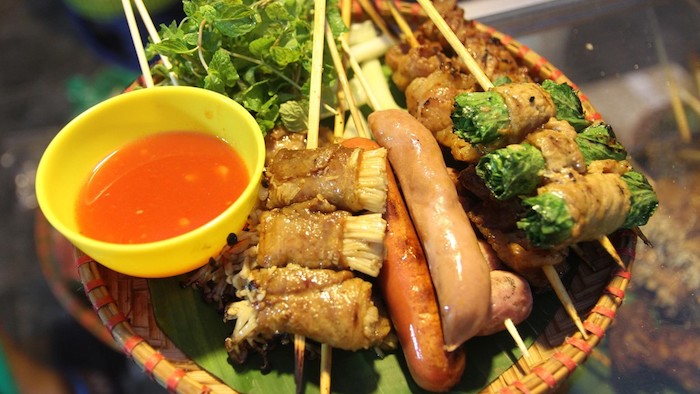 Sapa specialties
The grilled cuisine is considered Sapa's remembrance. It is nothing better than enjoying the hot meals in the cold climate of fewer than 10 degrees of winter in Sapa. The feeling of being warm up by the food extremely unforgettable in this foggy town.
Food in Sapa is varied from fried bacon, beef, fish, to bamboo-tube rice, eggs, vegetables, chestnuts, etc. All of them are delicious and attractive.
Moreover, the price of barbecues here is also very reasonable, depending on the types that range from VND 8,000 to 15,000/skew and even if you eat well, it just costs more than VND 100,000.
Eat salmon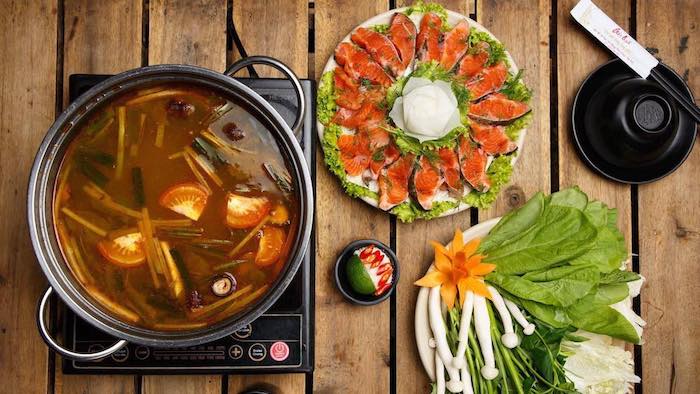 Salmon hotpot
Salmons which live in cold regions like America, Europe, so the fish species appearing in Sapa makes many customers curious. You can buy in a market and then ask the restaurant process into a variety of dishes such as grilled salmon, salad, or hotpot.
Of which, the salmon hotpot is always the most popular because it is hot and suitable to enjoy with Sapa vegetable which is bitter, sweet, and very attractive. At regular restaurants, Sapa salmon is priced at VND 500,000/kg.
Wait for the snow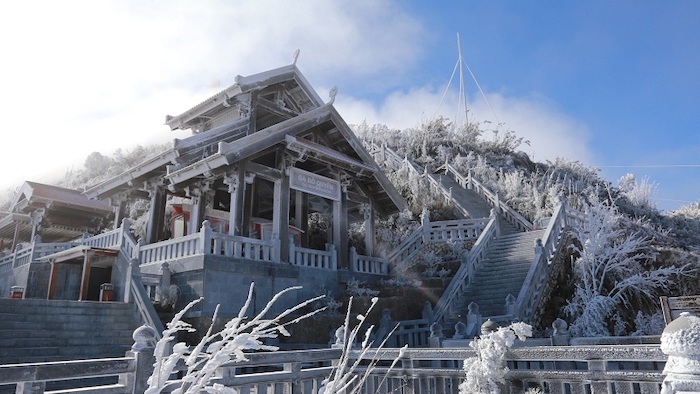 Admiring snow on Fansipan peak
Although there are many opinions about the weather here, it cannot deny many young people coming to Sapa in the coldest occasion to expect snow in Vietnam without going too far.
The feeling of spreading a hand full of snowflakes or shaking a snow-covered leaf in a tropical country would undoubtedly be an unforgettable experience in everyone's life.
Note when traveling to Sapa on the coldest days.
You should bring plenty of warm clothes and prepare thick socks.
Outer jackets should be waterproof and wind resistant.
Warm shoes with good friction to prevent slipping.
We hope that these activities will make your Sapa tours Vietnam more interesting. If you need further information, don't hesitate to let us know or visit our website. Like and share the article if you find it useful. Let's go and have your own experiences! Thank you.