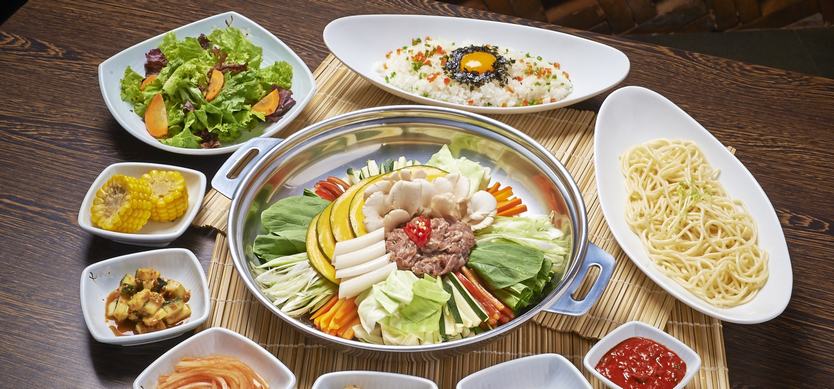 After long hours of Sapa trekking tours and contemplating the breathtaking views in Sapa, the first thing you worry about could be a place to grab lunch or dinner.
Indeed, restaurants with beautiful views, mouthwatering foods, plenty of Western and Asian choices are easy to find. Apart from cuisines from your country, it is advisable to try traditional foods of the mountain area locally at restaurants on stilts.
The experience could be much more than being just outstanding. It could be hard to find a restaurant exclusively for vegans, but some mountain cuisine such as bamboo rice, bamboo sprouts, and dishes made of wild vegetables could satisfy demanding vegans. In this article, Sapa Trekking Homestay will continue to introduce visitors to restaurants in Sapa.
The best restaurants in Sapa
Hill Station
Hmong Sisters
Hua and Nay restaurant
Delta Italian Restaurant
Nature Bar and Grill
The Gerbera
Gecko Restaurant
Viet Emotion Restaurant Tapas Cafe
The Hill Station
Address: 7 Muong Hoa Street, Sapa
Sapa hasn't changed much over the last few years, but one new addition that stands out is The Hill Station. Located near the junction of Cau May and Muong Hoa Roads, it's in the thick of things but provides a cozy respite from the streets and hawkers outside.
Set on two floors, with a narrow open staircase in between, The Hill Station is a cafe-cum-deli-cum-wine bar, opened in late 2011. It specializes in platters of cold cuts and cheeses, with a good range of both. Dishes are served up with plenty of delicious crusty bread, or opt for a sandwich, baguette or tasty panini — all with decent amounts of filling, a side salad and a serving of Dijon-style mustard, which adds a kick. If you're after something more hearty, the daily specials include soup, pasta, meat, and fish dish: it's a limited selection but hard to resist.
Hmong Sisters
Address: 31 Muong Hoa St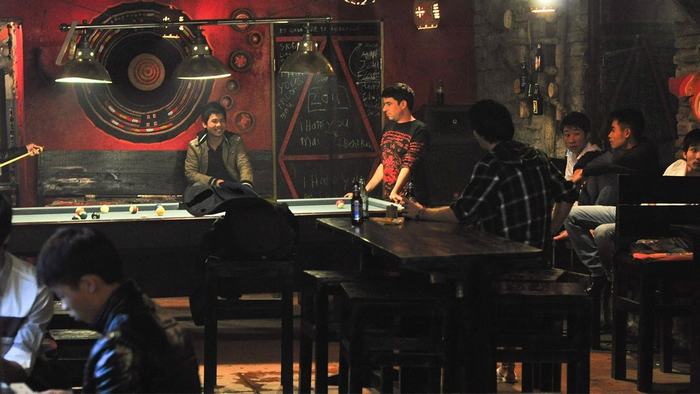 H'mong Sisters
It makes sense to pick a place to stay with a pleasant terrace, excellent views and good brews where you can sit and swap tales with your fellow travelers. But you can shake things up, if only slightly, with a visit to Hmong Sister Bar, on Muong Hoa opposite Bamboo Sapa Hotel, which offers a pool table, cards and Jenga, eclectic music and good deals on beer. It keeps going until after midnight, but do make sure ahead of time that your hotel will let you back in when you stagger home after midnight.
Hua and Nay Restaurant
Address: 29 Cau May
It's got Vietnamese signage, is popular with Vietnamese visitors, and staff also speak Vietnamese, but the menu here still features pizzas and sandwiches. We suggest sticking with the Vietnamese food, although the banana pancake went down very well. If you're just after a drink, here's a place to try the local wine or beer, with six Vietnamese beers on the menu alongside apple and plum wine.
Delta Italian Restaurant
Address: 33 Cay May
A well-established wining and dining establishment, Delta serves a full range of Italian dishes, including good stone-baked pizzas, comforting house-made pasta dishes and a reasonable selection of meat and fish.
The wine list is good. The upstairs area houses a pool table and dartboard, so this is a decent spot to enjoy a pizza and a bit of competitive spirit with friends, although it's a bit pricier than other options in town. Piza at Delta Italian Restaurant
Nature Bar and Grill
Address: 24 Cau May St, near the steps to the market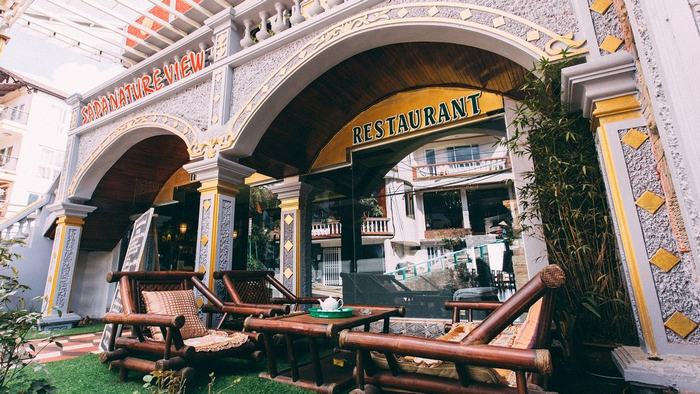 Nature Bar and Grill
Nature Bar and Grill has an enjoyable atmosphere, with friendly staff, dark wood everywhere, including the A-frame ceiling, and a very comfortable common area around an open fire for cold winter evenings.
The menu promises much the same grub as you'll find elsewhere, along with some tempting breakfast options; we've not been disappointed with anything we've tried here.
The Gerbera
Address: 23 Cau May St
Once a small place tucked away behind Cau May, Gerbera has taken over what was once the Pine Restaurant and delivers standard Vietnamese and Western fare but on a large covered terrace, which is a pleasant spot to set up shop for a while and enjoy the activity on Cau May from a safe distance. The mushroom omelet is a flavorsome breakfast choice.
Gecko Restaurant
Address: 4 Ham Rong St
Away from the Cau May madness, Le Gecko Restaurant on Thach Son near the post office claims to be world known for its French cuisine, but it's clearly not relying on that fact as its menu features global cuisine including burgers and pizzas, although, yes, they also serve up a small selection of French mains and omnipresent Croque Monsieur.
Viet Emotion Restaurant Tapas Cafe
Address: 7 Cau May St
This remains a popular option, but the name is deceiving: the menu only lists eight tapas dishes.
It does, however, make a good selection of Western brekkies, meat dishes, pasta, and pizza, as well as sandwiches and hamburgers. The wine list is lengthy enough, and there are a couple of tables on the terrace out front. If you're not in time to snag one of those, settle down in the cozy interior – this place gets extra points for the decor, which at least makes a nod to Spain.
For more information about where to go in Sapa, you can visit our website. If you have any questions, feel free to contact us. Share this article with others if you find it helpful. Thank you!