Sapa is a favorite tourist destination in Vietnam with the temperate climate all year round. Having a trip to Sapa, tourists should not forget to visit Ta Van village, this is a beautiful small village located in Muong Hoa valley not far from Sapa. If you are a fan of traditional and cultural things, Ta Van village is such a must-visit place in your Sapa trekking tour.
Ta Van village in a brief
Located far from Sapa less than 10 kilometers, Ta Van - a village of Lao Cai province is lying peacefully in the valley of Muong Hoa. Residents are mainly the H'Mong ethnic, Giay, and Red Dao... with approximately 1000 people. From Ta Van, you can travel very convenient to other popular destinations of Lao Cai such as: Lao Chai, Cau, Ta Phin, Cat Cat...
The road leads to Ta Van village that is small and narrow. Along two sides has a fertile terraced field which adorns by the green of corn and rice. When visitors come to Ta Van village, they will be amazed at the simple beauty of the houses in the village. Previously, Ta Van based on the customs and characteristic of the Giay in Lao Cai. They live together at the foot of mountains, the valleys, along streams. They rarely live in the mountain. Because living in a same local, according to historical process, the Giay is influenced by the culture of the Tay, Thai, Nung about language, home, dress and some cultural activities…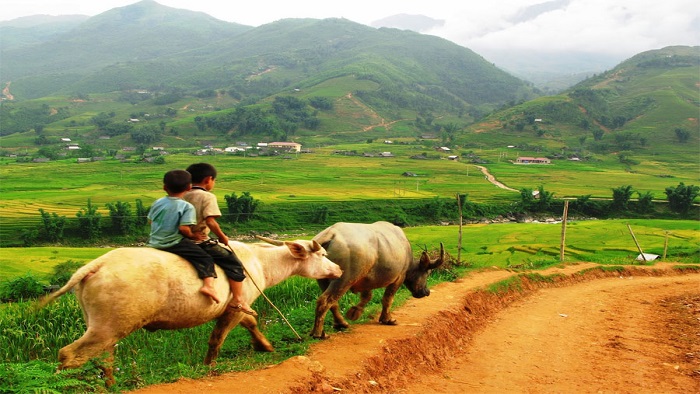 Ta Van village
Growing rice is the major profession of the Giay. Besides, they also produce instruments and engraved silver. They live in both stilted houses and common houses with a solemn central part which is served as a place for ancestor altar and guest reception. The Giay have quite various cultures with fairy-tale, poetry, proverbs and riddles. Costumes of the Giay are simple: women with short eczema, wearing cloth bag with embroidered flowers; man also wears pants and shirt.
How to get to Ta Van village
Ta Van village is situated in Muong Hoa valley about 11km from Sapa. From the town of Sapa, you can go to the southeast through May bridge crossing Muong Hoa stream to get to Ta Van village. Visitors have two options to visit Ta Van village from Sapa.
Trekking: Visitors can choose to have a small trek to Ta Van village. The trekking road is so beautiful with the terraced fields and majestic mountains.
Motorbike/ taxi: the second option is you can rent a taxi or motorbike to move to Ta Van village, you have to drive carefully because the road is quite rugged.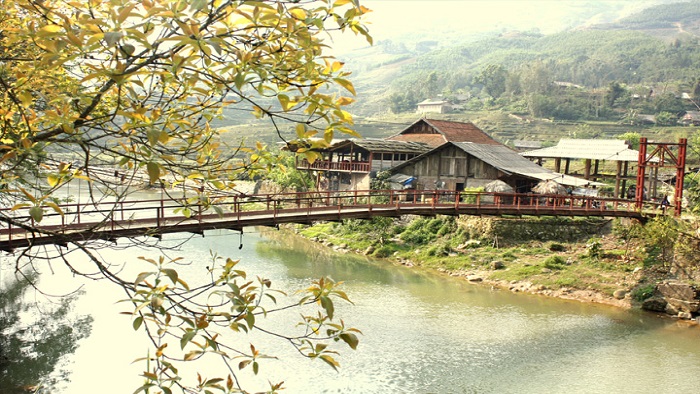 Bridge crossing Ta Van village
Best time to travel to Ta Van village
The Sapa weather is quite temperate, so you can travel to Ta Van village at any time of the year. However, according to the travel experience, you should visit this village from May to September. At this time, there are many beautiful and charming things for you to admire and do. You will have the chances to see the golden rice fields, the fragrance of ripe rice blends on the winds like an invitation to all visitors to Ta Van village.
Accommodation in Ta Van village
There are about 40 households offering homestay in Ta Van village. Because this is a small village of ethnic minorities, there are no hotels or motels in the village, the only accommodation option for you is homestay. The homestay here is the local stilted houses where you can live with the house owners. You can easily see the sign of the price in the broad in front of the local house.
Having the opportunity to stay in Ta Van homestay, visitors can enjoy some special dishes of ethnic Giay such as: roast fish of Muong Hum, horse meat of Muong Khuong, sticky rice of Van Ban… and enjoy festivals, folk games of the Giay: Nao Cong, Roong Pooc… and participate in tours of the village.
Ta Van village is actually a small village near the tourist town of Sapa with hospitable, amiable and friendly people living together at peace. If you are planning a trip to Sapa, don't forget to come to this beautiful and peaceful village. Thank you and have a nice trip!