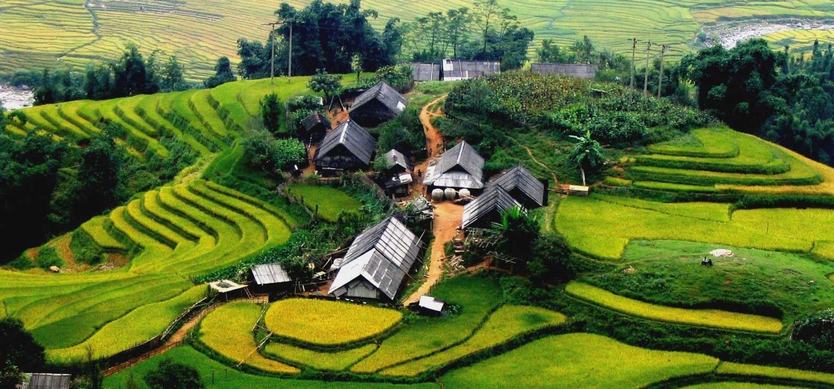 Thanks to its geographic condition, Sapa has one of the most favorable climates in Vietnam. The temperature remains stably cool throughout the year though winter may see more severe changes, with frost and even snow (mostly from mid-December to mid-January).
Humidity is relatively high all year round, between 83-87% and temperature ranges within 15-30 Celcius degree. If you include Sapa in your itinerary, make sure to bring some warm clothes since it can get quite cold at night (see packing tips for Sapa).
Is Sapa hot?
Not very, in comparison with Hanoi or Ho Chi Minh City. Thanks to its high altitude, Sapa is an ideal location for summer retreat during the overheated summertime, and the scarcely populated town also has pretty fresh air.
Is Sapa wet?
Be prepared to bring a raincoat if visiting during summer time too, since there are occasional showers. In the winter, fog and frost often make it cold enough to keep yourself warm with rain- and wind-proof outwears.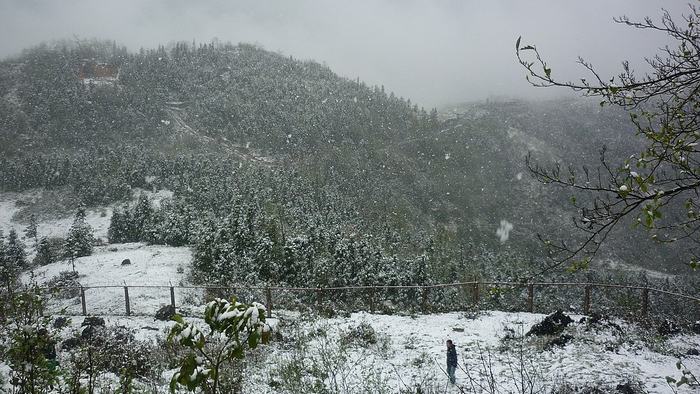 Winter in Sapa
Weather in Sapa by month
February Weather
In February, Sapa is still affected by the harsh winter with daily average temperature settling around 9oC. Foggy and cloudy weather predominates in the first half of the month while sunny days appear more towards the end of the month.
Tourists coming to town this time should be well aware that fog can impair the visibility and obscure the breathtaking landscape. Invariably cold weather demands tourists to be well-prepared with warm clothes and electric blankets. Wet stemming from frost and ice can cause slippery roads so it might not be the best idea to have a long trek.
On days with adverse weather, one can choose to attend a cooking class offered by the hill station restaurant. Being carefully instructed by professional English-speaking H' mong chef, attendees have chance to pick the freshest ingredients at the traditional market, finish the authentic dish and decorate it, and finally, proudly enjoy the dishes made themselves with distinctive local wines.
Times, when weather is nice and comfortable, can be well-spent on festivals held to celebrate the lunar new year. Long Tong festival of Tay ethnic people is worth a chance as it demonstrates traditional rituals and worshipping ceremonies to the Village Deity, the Stream Deity, and the Mountain Deity, reflecting the desire to have better crops and healthy and lengthy life.
March Weather
March is endowed with warmer weather with daily mean temperature experiencing a considerable rise of 5°C compared with the two previous months. More sunny days and fresh air provide visitors with ideal conditions for a stroll around the peaceful town. The daily mean temperature is roughly 15?C with a slightly higher level of precipitation of 110 mm. Beautiful and stable weather in spring makes Sapa a favorite choice among other places of interest in Vietnam.
With its favorable climatic conditions, March offers adventurous travelers rare opportunities to explore Fansipan, the highest peak of Vietnam located in Hoang Lien Son Mountain Range. Considered as the most challenging and demanding trekking routine in Vietnam, Fansipan appeals not only a lot of professional hikers but also the amateurs wanting to test their limits.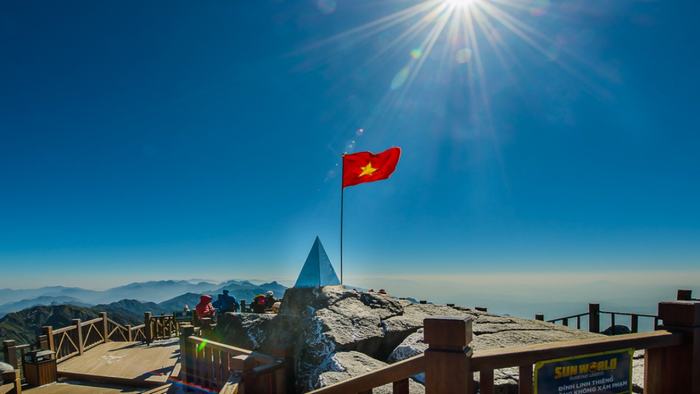 Conquer Fansipan Peak
Travelers reaching the peak not only feel rewarded with a sense of satisfaction and achievement but also deserve the chance to contemplate such a breathtaking view from the roof of the country. The trek in spring is such a delight and a feast to the eyes of travelers, as, through the thick fog covering the peak, ones can be amazed by the splendid red azalea hiding in the dense green forest and soft white cloud. The typical image of Fansipan, which cannot be completed without the pink peach blossom and the purely white plum flowers, will surely instill in visitors' mind for a lifetime
April Weather
In April, Sapa enjoys warm and dry weather, possessing the highest number of 6 sunshine hours per day throughout the year. The average temperature witnesses a slight increase to 17°C, while the low level of rainfall remains stable. Sunny and dry weather made it a typical period for outdoor activities such as trekking and hiking. Drizzle and sudden rain, however, are likely to occur as the weather sometimes becomes unpredictable. Foggy and cloudy days seem less prevailing.
May Weather
May is a tranquil time in terms of festivals. However, Sapa's other charms still wield power to win over visitors' hearts. Sapa not only stands out with its natural beauty but also differentiates from other well-known destinations by its unique and profound cultural history. A visit to Sapa Museum with its excellent showcase and vibrant demonstration will equip you with a general glimpse of Sapa's history and ethnology. The museum also offers ethnic-style handicrafts for sale so take a chance to select some souvenirs for your family and friends.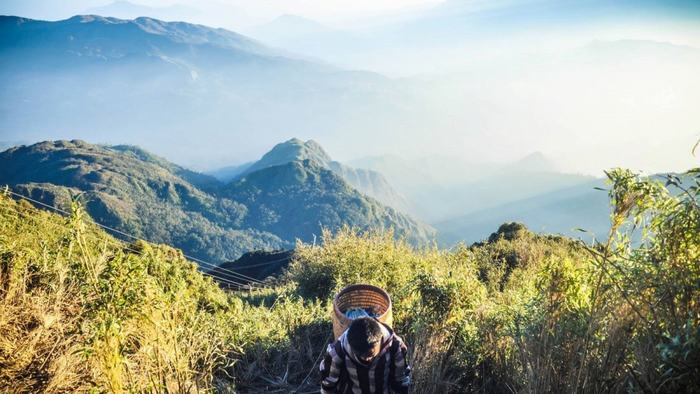 Trekking in Sapa
June Weather
Higher rainfall level may be an obstacle in trekking or outdoor activities but will offer you a chance to enjoy other fascinating aspects of this lovely town. Enjoy a retreat in a spa is worth trying as it can relieve you of all the tiredness. One way to makes this even more unique, and memorable is to try taking a hot bath with medicinal herbs of Dao ethnic people.
It is considered as a traditional yet effective therapy inherited by generations as these mountain dwellers are nearly oblivious of modern medicine. Home staying at a wooden house nestled in the misty mountain with a Dao family, trying a hot bath with wild herbs picked directly from the dense forest, having a cup of tea and chatting over the wood fire will leave visitors feeling peaceful in mind and longing for more moments like this.
July Weather
In this month of the year, visiting and admiring the beauty of green terraced rice fields may be one of the most common activities. Photographers and nature-lovers will find this time perfect for contemplating and capturing the beauty of this unique farming method. Not only do these terraced fields feature some of the most spectacular landscape but they also play an extremely role as the livelihood of local people, provide them with essential goods.
August Weather
August, the last month of summer, is notorious for its peak level of rain and typhoon. Weather does not go through any significant changes since July except for the level of rainfall. Possessing the highest level of rainfall throughout the year, August is described as the wettest month with rain spreading over 23 days during the month. In other words, sunny days are less observed.
September Weather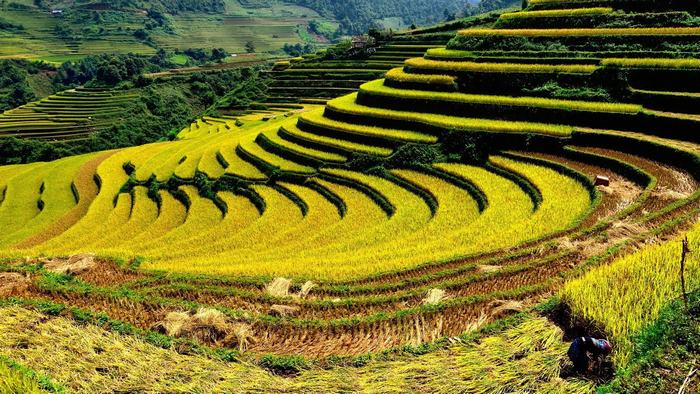 Rice terraces in Sapa
In September, Sapa greets autumn with pleasantly mild weather. Daily average temperature standing at 20°C combined with a moderate level of rainfall make this time such a delight for tourists. Sometimes, heavy rain is expected in the afternoon, but it is often brief and sure to not harm your journey. The taste of four seasons on a day is fantastic, especially to tourists who are not used to this exotic subtropical climate. Outdoor activities are prevalent in this time of the year.
October Weather
In October, Sapa enjoys a cooler atmosphere since daily mean temperature drops to 17°C. Tourists can expect occasional drizzle, but heavy rain seems to absent during this month as the precipitation level experiences a dramatic plummet to roughly 100 mm. Four hours of sunshine per day is enough to illuminate the town and clear the sky. The fresh air along with mild weather is one of the most indispensable ingredients of an ideal journey one looking for.
November Weather
In November, the temperature continues falling, settle between 17°C and 11°C as winter approaches in Sapa. Generally, the weather is considered nice and comfortable though it gets more cloudy and foggy towards the end of the month. The ambiance is dry and clear with the low figure of rainfall. Sapa in this time is positively reviewed as one of the most common destinations for one preferring a more laid-back nature and authentic experience.
December Weather
Sapa in December endures the harshest weather of the year. Despite the absence of rain and drizzle, it is still wet with frost and ice caused by low temperature ranging from 8°C to 14°C with the lowest ever recorded even under freezing point. The day usually starts with foggy and chilling morning, followed by warmer noon, though it turns cold again at the end of the day. Visiting Sapa in this time, one should be fully equipped with warm clothes if you do not want to be attacked by the coldness.
We hope that our information will help you plan a perfect Sapa tour. Visit our website to get further guides and tips about this beautiful spot. Share this article with others if you find it helpful. Thank you!