It's a piece a cake to find out the list of the best hotels with just a few clicks on any hotel booking website. However, how do we defy the "best"?
Because it depends on the budget of your trip as well as your traveling taste. On hotel booking websites, sort the hotel list from the highest star and price to the lowest, tourists who look for a luxury trip would be satisfied, but what about tourists who seek for a trek, delicious food or simply low price but fair quality.
This article is going to help you with the list of four superior hotels in Sapa.
Top 4 three-star hotels in Sapa
Sapa Panorama Hotel
Royal View Sapa Hotel
Heart of Sapa Hotel
Hmong Sapa Hotel
Sapa Panorama Hotel
Address: No 10 Hoang Dieu Street, Centre of Sapa Town, Lao Cai Provine, Vietnam
Sapa Panorama Hotel is a new and highly popular hotel in Sapa Vietnam; It is ideally situated in the peaceful center area of Sapa. The hotel is excellent value for money with all the comforts and services of an international standard hotel, including 35 king-size double, twin, triple and VIP rooms.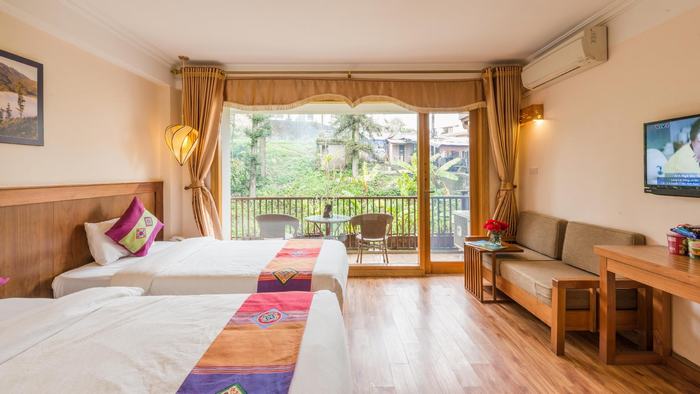 Sapa Panorama Hotel
All guest accommodations feature thoughtful amenities to ensure an unparalleled sense of comfort. The hotel's recreational facilities, which include a garden and massage treatments, are designed for escape and relaxation. While staying at the hotel, guests can also enjoy the mountain view which is the highlight of the hotel. With an ideal location and facilities to match, Sapa Panorama Hotel hits the spot in many ways.
Royal View Sapa Hotel
Address: 34 Cau May Road, Sapa Town, Lao Cai Province, Vietnam
The Royal View Sapa Hotel is a 3-star hotel and comprises modern and fully equipped guestrooms. Most rooms of Royal View Hotel have spectacular mountain views, as the hotel has been built on the high point of a hill. All rooms are equipped with a work desk, mini bar, satellite TV, direct dial telephone, coffee facilities, heater, and hairdryer.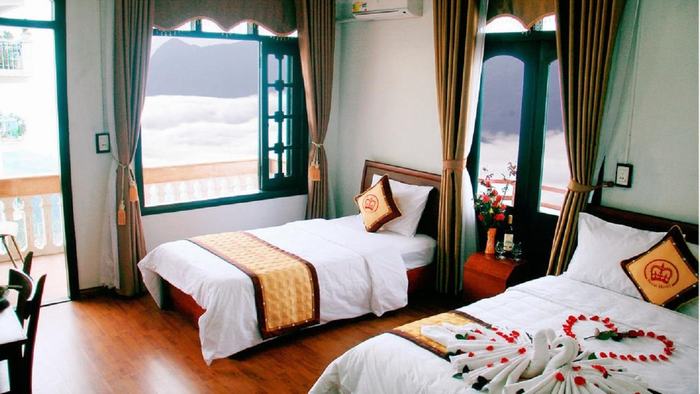 Royal Sapa Hotel
Heart of Sapa Hotel
Address: 08A Dong Loi, Sapa
Conveniently located in the center of Sapa Town, Heart of Sapa Hotel is one of the best choices for tourists when taking Sapa private tours. From the hotel, you can easily get to Fansipan Mountain and Sun Plaza Shopping Mall - favorite destinations of tourists.
All rooms in the hotel are equipped with air-conditioning, private bathroom, flat screen TV and sitting area. Some rooms offer mountain views.
The staff at the 24-hour front desk can provide information on what to do in the area.
Hmong Sapa Hotel
Address: 27 Thac Bac, Sapa, Lao Cai, Vietnam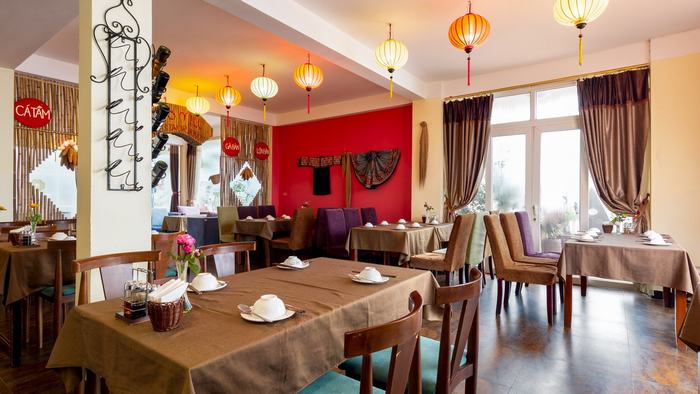 Hmong Sapa Hotel
Hmong Sapa Hotel is an excellent choice for travelers and businesspeople when visiting Sapa (Lao Cai). The deluxe hotel is within a convenient 7-minute walk to Sapa Church and the vibrant Sapa Market.
At Hmong Sapa Hotel, every effort is made to make guests have an unforgettable stay with excellent services and superior facilities that we provide. The best in services, as well as amenities and an excellent location, make the Hmong Sapa Hotel the perfect base from which to enjoy your stay in Sapa. If there is anything else you need, just let us know, and we will do our best to assist you.
The Hmong Sapa Hotel offers you 30 rooms spread over six floors, complete with TV and in-room free Wi-Fi. The TV is cable and includes BBC and CNN for your news and kids channels when you want some moments of peace or time for yourselves. The staff is also trained to help our guests and give honest and genuine advice. We wish for you to have a safe, reliable and most of all an enjoyable holiday.
Welcome to Pomu Restaurant. The Hmong Sapa Hotel is proud to serve food and refreshments in association with The Pomu Restaurant. Please click on the image for more details about the restaurant and our exclusive menu.
We hope that with our suggestions, you can find the most comfortable one for your upcoming trip to Sapa. If you want to know more about this beautiful land or have any questions, feel free to contact us via our website. Share this article with others if you find it helpful. Thank you!