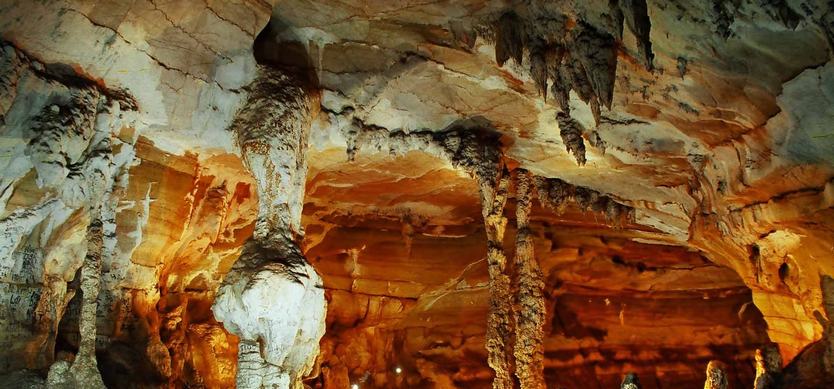 Sapa has been renowned for the breathtaking natural landscapes and the unique, diverse local culture of the ethnic tribes. With the wilderness and natural boldness, Coc San always captivates the heart of tourists. Coc San is truly a must-visit destination when coming to Sapa. Do not forget to take Sapa tours to get more information about things to know when to go to Sapa and what to do in Sapa.
Where is Coc San?
Situated in Coc San commune, Bat Xat district, about 7 kilometers from Lao Cai city, Coc San is a system of waterfalls and grottos in different sizes. Going along National Highway 4D, tourists will see a small road about 1 kilometer in length leading to Coc San. The road to Coc San is very winding, dark and covered with rock blocks. To approach Coc San, visitors must cross several big stones and trees along the way. In two sides of the path, the residential cultivate their crops on small fields, dotted with their small houses among the immense nature. When being about 300 – 400 meters away from Coc San, visitors can hear the murmuring streams.
Coc San's charming beauty
Coc San is located between two small low hills, forming an average slope. Coc San has the stepped waterfalls ranging from low to high like stairs because of the gentle slope of the stream created by the hill's canyon. Every few tens of meters there are running cascades, the distance between the cascades are the clear crystalline streams flowing between the sand. Almost every bend of the waterfalls has a special shape. Running 2 kilometers through many cliffs, the streams contribute to the flow of Coc San waterfalls originating from Hoang Lien Son mountain ranges. These streams run through Sapa and join the Red River in Lao Cai.
Coc San Cave
After their long journey, thanks to the combination of the small streams from the hills and canyon of the mountains, the streams become more powerful and fierce. The sound of bubbling water joists always excites any travelers. Coc San landscape is truly harmonious. Setting foot on here, tourists will surely feel the miraculous excitement from the rushing waterfalls, stone blocks, and caves.
Coc San system of caves is distributed in many spots, mostly located under the waterfalls. Being hidden behind the curtain of water, these caves own several stone columns and plates having the extraordinary shapes. Moreover, entering the caves, tourist will take a chance to watch many stalactites in all shapes and sizes. Nothing can excite you than standing inside the caves to tuck up the water curtain, and you will be surprised and amazed to contemplate the superb stone blocks. Moreover, there are lots of huge stone plates where a dozen people can sit on.
Caves, water and rocks in Coc San are harmoniously combined. However, Coc San is popular within Lao Cai province and nearby areas. Coc San has been still lesser-known for the tourists. Despite having a lot of stunning caves, very few caves in Coc San are explored. In other words, the charming beauty of Coc San remains to be untouched, and worth exploring.
Coc San has stony terraces that consist of many small rock blocks of various sizes, with a spike. Excitingly, there are several wide and flat rock slides that can sit a few dozen people. Coc San's climate is so fresh and cool, which always make visitors feel refreshing and relaxed. Therefore, Coc San is an ideal place for everyone to escape from the blazing heat in summer days as well as smoke from vehicles on busy roads of urban areas. In summer and fall, many tourists visit Coc San to enjoy the picturesque sceneries, take pictures as well as take a bath in cool water. It is so exciting to sit down on the flat stone, touch the cool blue water by feet or pay water with family and friends.
Moreover, tourist can also catch fish from the streams. There are lots of fish, and you can see them clearly, but these fishes are very quick. Therefore, it is not easy to catch them. If lucky, you can have a yummy meal with Coc San fish.
Standing on the top of the mountain, tourists can get the panoramic view of the tranquil and peaceful Coc San commune. In the season of harvesting, Coc San seems to put on itself the golden yellow coat. The air is filled with the pleasant natural aroma of ripe rice. From distances, the scenery of Cao Son mountain range hidden in the early morning mist looks like a water painting. Despite being not as awesome as on the beaches, Coc San's dawn has its mystery. The dim curtain of mist is broken by the gentle sunlight of the early morning. The surrounding landscape seems to be woken up since the moment the sun rises from the feet of mountains and hills as well. At the high-altitude, the picture of sunrise is spectacular when the red sun glows up on the mighty heaving mountain.
If you want something peaceful and tranquil, Coc San is for you. Among the famous tourist destinations in Sapa, Coc San is truly a masterpiece of Mother Nature. Don't hesitate to explore Coc San and its charming pristine beauty will blow your mind away.
For more information about Sapa tours, you can visit our website. If you have any questions, feel free to contact us. Share this article with others if you find it helpful. Thank you!