You dream of conquering Fansipan, but your physical health is not good enough for a trekking tour? Don't worry, Fansipan cable car will help your dream come true.
Here are some guides we show you to have an itinerary to conquer Fansipan where to go in Sapa on a cable car trip.
A new sight of Sapa from Fansipan cable car
Officially opened to welcome tourists since February 2016, Fansipan cable car route has welcomed thousands of both domestic and foreign tourists within 2 last years. Many people are eager for experiencing the Fansipan cable car while the journey to conquer Mount Fansipan.
After finished this construction, Fansipan cable car route holds immediately two Guinness World Records including the largest three-wire cable with the difference between the station in the world and the world's most extended three-wire cable.
How to reach Fansipan Cable Car
From Hanoi to Sapa
To enjoy a trip in Fansipan cable car, you have to move from Hanoi to Sapa first. There are numerous ways to get to Sapa from Hanoi.
By motorbike
It is a favorite kind of transportation for many young people. They love to ride on a motorcycle to explore the new land in the country. If you want to catch up with the trend, you can get to Sapa by motorbike.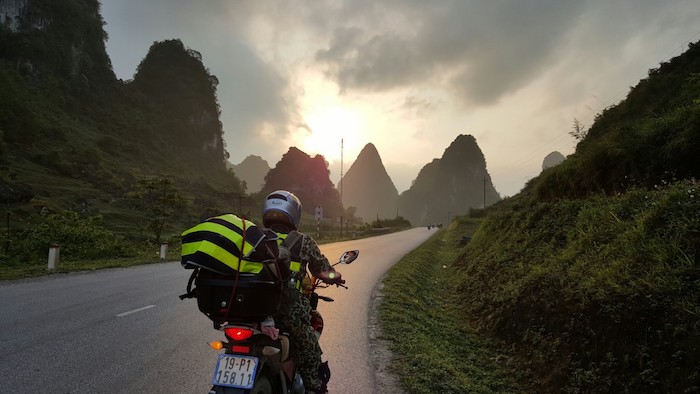 Traveling by motorbike will bring to tourists an adventurous feeling
However, there are many risks when you drive for over 3000 kilometers long road, especially when you are a new and not familiar with drive motorbike. Moreover, the road to Sapa is quite hard to drive with a lot of bend hills and mountain roads, but the landscapes along the way are genuinely breathtaking. So, give it a try if you have good health and a steel spirit as well as an adventurous heart.
By night train
There is a way that you can save time to get to Sapa. A night train going to Lao Cai is such a smart choice for you, there is a wide range of train tickets for you with different qualities and prices. Trains often start at 9 pm from Hanoi and arrive in Lao Cai the next morning. From Lao Cai train station, you have to take a taxi to get to Sapa.
By tourist car
If you travel in a group or go with your family, you can rent a car to get to Sapa. It is more convenient that you can control the time and itinerary. The price is about VND 3-4 million/turn depending on the type of car.
By passenger car
The most popular option to get to Sapa is catching a coach. Since the Hanoi - Lao Cai highway is finished, more and more tourists choose to travel to Sapa by coach because it is faster and safer.
Many companies offer high quality touring cars which go from Hanoi to Sapa such as Sapa Express, Camel Travel, Queen Cafe, Sao Viet, Hung Thanh, Inter Bus Liner, etc. You can buy a ticket for a high-quality car with all modern facilities such as leather chairs, air conditioner, TV, wifi, etc.
It takes you about 5-6 hours to the center of Sapa town.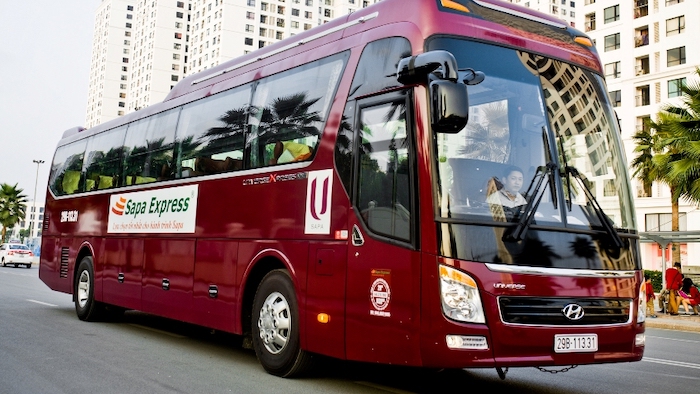 Traveling to Sapa by passenger cars
From Sapa to Fansipan Cable Car Station
Fansipan cable car station is 3 km away from the center of Sapa town. There are multiple choices for you to get to the cable car station. Here are some options for you.
By taxi
It takes you about 10 minutes moving by taxi, and it is also a great option to get to the Fansipan cable car fast.
By mountain train
From March 2018, visitors have an even better option for going, which is the Muong Hoa mountain train connecting Sapa town with the Fansipan cable car station. With a total length of approximately 2 km, this is the longest mountain railway in Vietnam up to now.
The train departs from the MGallery hotel in Sapa town and finishes its journey on the Fansipan cable car station. The train goes through several mysterious tunnels, crosses the viaduct and offers passengers a view of looking down the majestic natural beauty of Muong Hoa valley, peaceful ethnic villages.
Fansipan Cable Car itinerary
Each cabin can accommodate from 30 to 35 people. The capacity of the whole system is about 2000 passengers/hour. Sapa station is in Muong Hoa valley with 3000 meters high which are very close to Mount Fansipan. The distance between the two stations is over 1400 meters that only takes 15 minutes to get to the top instead of 3-day climbing as before.
The journey is fascinating enough for visitors to admire the beautiful natural landscape at an altitude of thousands of meters. It is the primitive forests in Hoang Lien Son range, poetic Muong Hoa valley that you can overwhelm in your vision.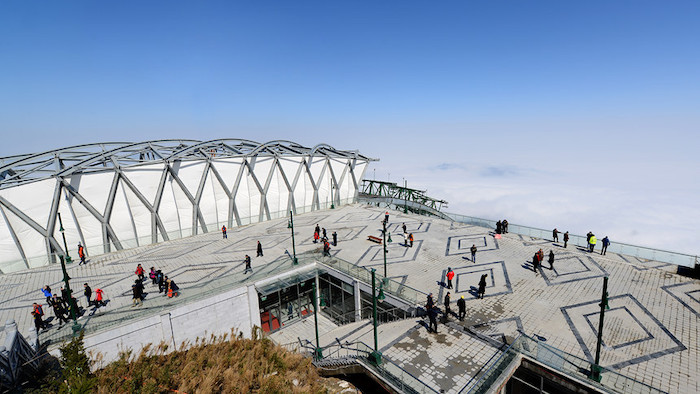 Arriving on Fansipan peak by cable cars
The higher you go, the more clouds you see, the temperature will also decrease, and the wind can make your cable swing a little, but don't worry, it is just a little challenge for your courage.
After arriving at the station, visitors will take about 20-30 minutes to climb over 600 ladders to reach the top of Fansipan, and touch the landmark in the roof of Indochina. The roof of Indochina is no longer a dream with many people as before since the Fansipan cable car was born.
How to get to the Sunworld Fansipan Legend cable car station
Sunworld Fansipan Legend cable car station is located in Fansipan Legend tourist area, about 3km away from the Stone church - Sapa town center. You can catch a taxi or walk to the cable car station. The price for a 4-seat taxi is about VND 50,000 - 100,000 ($2-$4) and travel time is about 10 minutes. If you choose walking, it takes about 30 minutes. Departing from the Stone church, you go in the direction of the Silver waterfall about 1km, then turn left to Nguyen Chi Thanh street and go straight about 1.7 km to Fansipan Legend tourist area. There are signposts on the way, so you can easily go to the station without looking on maps or asking for directions.
A better option is to take the Muong Hoa train that connects Sapa town to the Fansipan cable car station. Starting from Hotel De La Coupole - MGallery - the first international 5-star hotel in Sapa town and ending in the area of ​​Fansipan cable car station, the train passes through 2 tunnels and 4 viaducts with a maximum speed of 10 m/s and the capacity reaches 2,000 guests/hour. The operation of the Muong Hoa railway will shorten the travel time to 4 minutes instead of 15-20 minutes by car on the rugged mountain roads.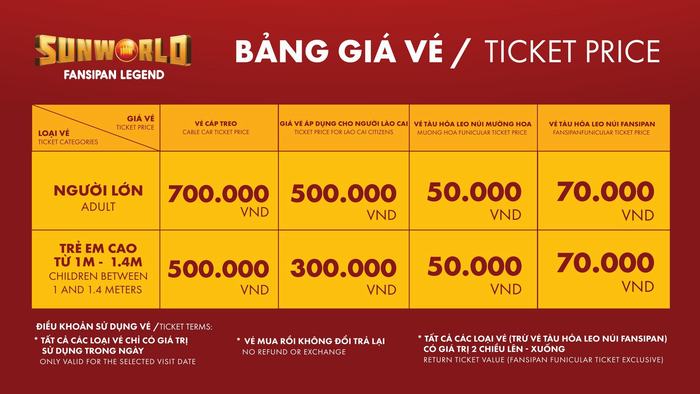 Ticket price of the cable car
After taking the cable car, from Fansipan station to the peak, you will have to climb another 600 steps. For those who have a good health condition or on good weather days, it is not too difficult. But for the elderly or if you go on windy, misty days, you should choose Do Quyen train to go straight to Fansipan peak.
The advantage of the Do Quyen railway is that you can actively buy round-trip or one-way tickets.
Ticket prices for Sun World Fansipan Legend cable car 2019
Adults: VND 700,000/guest ($30)
Children (1 - 1.4 m): VND 500,000/guest ($22)
Children under 1 m: Free
Ticket prices for Muong Hoa mountain train 2019
Adults: VND 50,000/guest ($2)
Children (1.1 - 1.4 m): VND 50,000/guest ($2)
Children under 1 m: Free
Ticket prices for Do Quyen mountain train 2019

Adults: VND 70,000/guest ($3)

Children (1.1 - 1.4 m): VND 70,000/guest ($3)

Children under 1.1 m: Free
Thanks to Fansipan cable car, your journey to reach the top of Indochina becomes more accessible and convenient. If you have any questions about Sapa trekking tour reviews, let's contact us via Sapa tour. Don't forget to like and share the article with others if it's useful for you. Thank you!