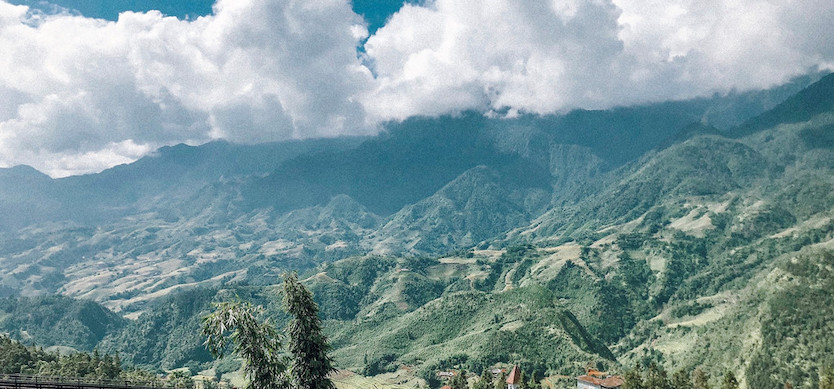 If you are first-time travelers, you will have a lot of questions. Here is a summary of the most frequently asked questions about Sapa tourism that we collected.
Sapa is a famous tourist town of Sapa district, Lao Cai province, located about 330 km from Hanoi. This place was once a French resort, so it retains the European style. Visiting Sapa, you will have the opportunity to visit the beautiful scenery and learn about the lives of ethnic minorities. The 7 main groups locating here includes H'Mong, Dao, Tay, Kinh, Day, Xa Pho (Phu La), and Hoa.
Specialties in Sapa
Salmon or sturgeon hotspot
You can eat Sapa salmon and sturgeon with the fresh vegetables, mushrooms and sip Sapa docynia indica wine. The dish is excellent in the cold Sapa weather.
Salmon salad

Salmon eggs with salad (in season)

Salmon steak

Fried sturgeon

Roasted Sapa pork

Stir-fried vegetables with garlic and dried buffalo meat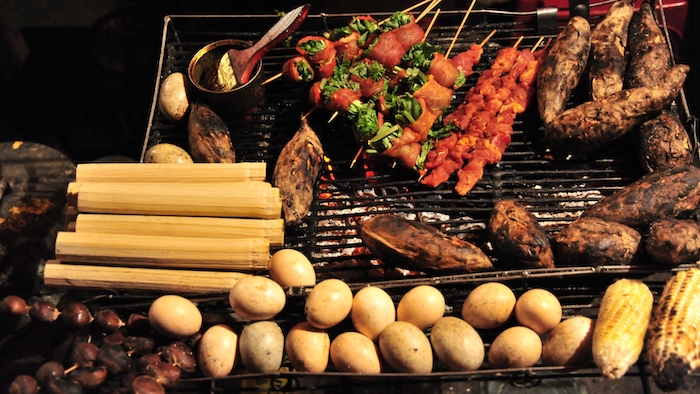 Sapa grilled cuisine
How many bus companies providing the transportation service to Sapa?
Going to Sapa from Hanoi now has the following lines.
Queen Vip Cafe Open Bus

Ha Van Painters

Hung Thanh

Sapa Camel

Sao Viet

Sapa New

Viet bus

Sapa Express

Good morning Sapa

Sapa Shuttle Bus

Inter Bus Line

Ecosapa car

Sapa Luxury Van
What are the unique Sapa markets?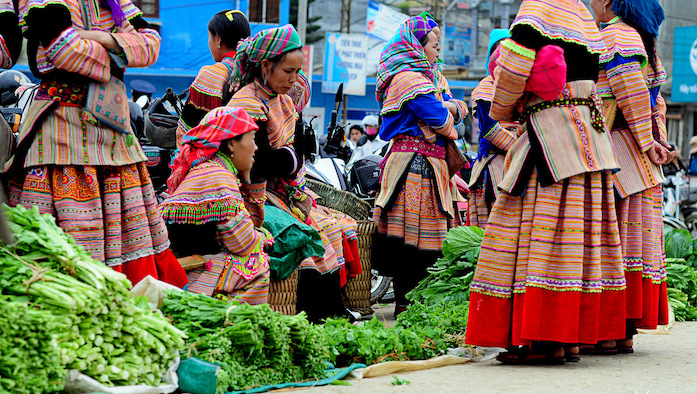 Sapa market
Coc Ly market (open on Tuesdays only)

Cao Son market (open only every Wednesday)

Lung Khau Nhin market (open only on Thursdays)

Can Cau market (open on Saturday only)

Bac Ha market (open only on Sunday)

Muong Hum market (open only on Sunday)

Khuong Muong market (available on Sunday only)
The information about Fansipan Sapa cable car
Where to buy cable tickets for Fansipan?
Fansipan cable car has three options for you
Option 1: Buy tickets directly at the terminal - You line up to buy
Option 2: Book by phone. When you are in Sapa, you call the free delivery tickets at Sapa. (Ms. Thuy 0988 911 777)
Option 3: Book cable car Sapa online with the payment 30% deposit in advance. It also has the policy of discount for the big group.
How long will it take for a trip by cable car?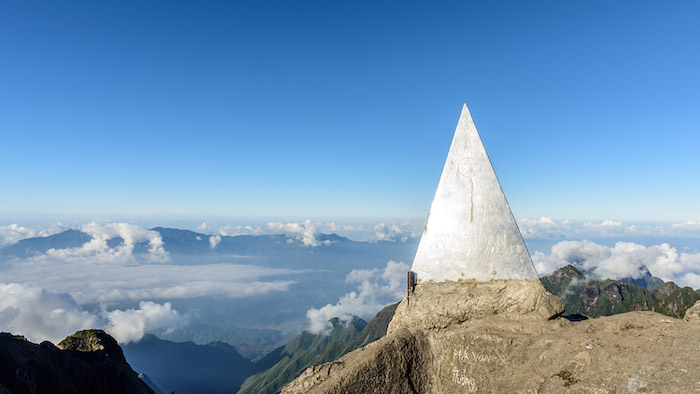 Fansipan peak
To take a Fansipan cable car from Sapa town center and save money, you can take taxis in Sapa such as Green Taxi, Northwest Taxi, and Phanxipan Taxi. The route is about 2.5km, costing VND 50,000/way. You can take Sapa Sapphire bus ride from Sapa Township Primary School, opposite to Sapa Sapphire Stadium (near Sapa Rock church) at VND 10,000/person, departing every 30 minutes.
The total length of the cable car ranges from 3 to 4 hours depending on your time. Sitting time in the cabin is 20 minutes/time, then you walk about 600 steps to Fansipan peak at 3,143 meters high.
Fansipan cable car ticket
Fansipan cable fare is divided into three levels.
Individual
Adult: VND 700,000/ ticket
Children of 1-1.3 meters high - VND 400.000/ticket
Children under 1m are free
Delegation
For delegations of 21 guests or more, the discount is VND 500,000/delegation
For groups of 42 guests, the discount is VND 1,000,000/delegation
For groups of less than 20 guests, the discount is VND 10,000/person
NOTE: Tickets are not returnable. The tickets are valid during the day.
To book the Fansipan cable car, please call 0988 911 777 for assistance. Besides, you can book a hiking Sapa tour cheap.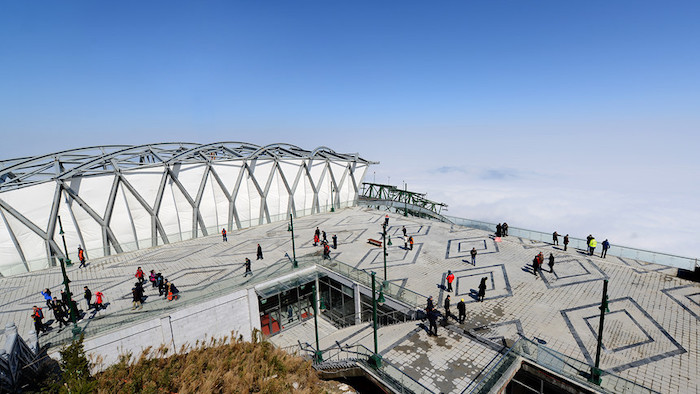 Reach Fansipan peak by cable car
What should be prepared for staying at Sapa homestay?
If you spend 2 or 3 days in Sapa with a tour guide, the first day you will experience a long walk about 5-6 hours (depending on your health and weather). Here is some useful information for your trip.
You should bring a few small water bottles, or you can buy them on the way.
You should have good shoes, carry raincoats, and sun umbrellas in case of changing the weather.
Sapa is very sunny, so you need to bring sunscreen, insect repellent and clothing to change every day.
It will be cooling in the evening when you should bring your summer jacket and a warm jacket in winter.
You do not need to bring a sleeping bag and food because when you go to the guide's home, they will prepare thoughtful meals, resting place, and clean bath for you.
Travelers wishing to travel for 4 days or more, besides the above items, need to bring warm clothes for winter or comfortable clothes for the summer.
For those who travel by themselves, take snacks such as bread, snacks, and drinks for lunch. When you come to the village, you will see a lot of houses. You can ask the hosts to stay overnight, and they will prepare the meals they cook directly.
Sapa travel experience
Which season is the most beautiful in Sapa?
Sapa is beautiful all year round. Spring is the blooming season of peach blossoms and plum blossoms everywhere from the town center to the village. Beautiful summer is full of sweet fruits and flowers such as peach, pear, plum, especially the terraced fields in the harvest.
Autumn is also an ideal time for trekking excursions because the rice fields are ripe. Winter is cold at the high altitude with fog covering throughout the day. Watching the mist is very poetic, while in the coldest time of 0 degrees Celsius, you can have a chance to play with the snow.
Laundry tips when traveling
Wearing too many clothes on a Sapa trip, you can refer to some of the ways below to have clean and fragrant clothes but still economical.
The first is laundry detergent. You do not need to carry a detergent as this will make your luggage heavier. Just wash your clothes with shampoo or shower gel. The added advantage of cleaning with these two detergents is that you do not need to rinse the water as laundry detergent.
After squeezing, spread the hotel's towel to wrap your shirt inside, then continue pressing it again. The sheets will draw water from the clothes, so drying clothes will be quicker.
If you prepare for a long journey with little clothes, you should also carry a small rope as a drying line to hang out your clothes.
Before you go, you should also prepare a small bag. If the next day the clothes are not dry, then you put in bags and put them outside the luggage. When you move the clothes will continue to dry.
Here are some common concerns of first-time visitors to Sapa. If you have any other questions, please contact us for an answer! Don't forget to like and share the article with others if you find the article useful. Thank you.