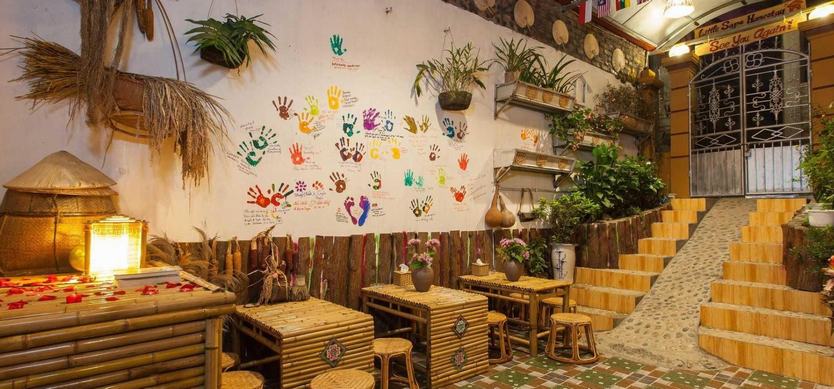 As the name suggests, a homestay is an overnight stay in someone's house. In Sapa, the house is likely to be the home of a Hmong or Red Dao family.
To legally provide homestay accommodation, hosts must be registered. The registered homestay must have a flush toilet, bed with a mosquito net and, most importantly, be hygienic after the host undertakes food hygiene training and pass an exam.
It's likely that you'll stay in a room that has been added to a traditional house, which is unlikely to have separate rooms. This gives both hosts and guests some privacy and space.
Following here is our list homestay that selects the best ones in Sapa.
Best homestays in Sapa
Viettrekking Homestay
Gem Valley
Phori's House
Hmong Mountain Retreat
Nam Cang Riverside Lodgy
Eco-Palms House
1. VietTrekking Homestay
Located in the peak of the mountain, VietTrekking is far from the busy markets downtown. But it just takes nearly 5 minutes to go there. If you go straight ahead from Food Street to the cross of Fansipan - Rattan Bridge, then ask local people the way to go Bien May Hotel or Coal Mineral Area, you will see the house with the white fence at the end of the road. It is Viet Trekking Homestay.
One of the things making this homestay precious is its view with one side seeing to Moutain Fansipan while the other's rice terraced fields underneath.
Usually, the price for one single room is 200.000VND and 300.000VND for a couple sharing one. In the weekends, it can raise more 50.000VND for each room. Besides, for the standard room, the price is 80.000VND each person. You are recommended to make the reservation before going here.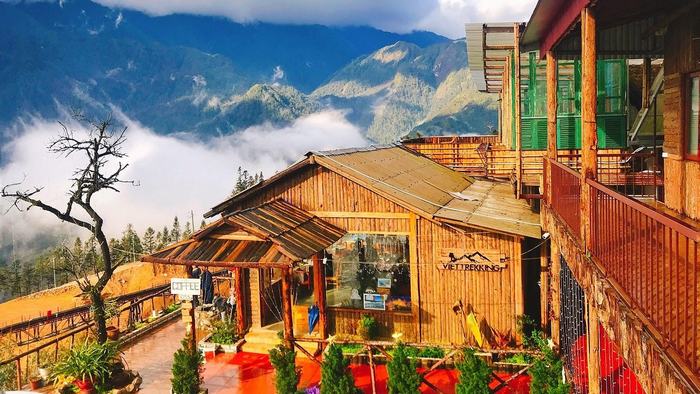 VietTrekking Homestay
2. Gem Valley
If VietTrekking Homestay brings you to the most beautiful mountain view, Gem Valley will make you feel like living at your home. After waking up, you can relax the morning with the coffee cup while seeing the new day on the rice fields of Cat Cat village underneath. Then, you can try the breakfast made from fresh ingredients plucked in the garden by the hostess of this homestay. The menu is quite various serving pork, chicken, vegetable. The hosts are the Hanoian artist couple. Therefore, space is opened and artistic.
One night costs approximately 200.000VND for each person. Like VietTrekking Homestay, you should book the room or share the room to save your budget.
3. Phori's House in Ta Van, Sapa
Far away about 10 km from Sa Pa town and nestled within Ta Van Village, Phori's Homestay offers peaceful and romantic accommodation with calming views of the stream in front. It provides complimentary WiFi access throughout the property. Simply furnished, rooms come with linens, blanket and mosquito net. Guests have access to a shared bathroom with towels and a shower facility. Fishing and hiking activities can be enjoyed on site, while shuttle service is available at a surcharge.
Phori's House
The price for one night is $30 for each person for couple room but just $140 for the whole homestay that is enough for 14 people.
4. Hmong Mountain Retreat
Unlike 3 homestays above, Hmong Mountain Retreat is conveniently located in Sapa and is an excellent base from which to explore this colorful city. Only 6km from the city center, guests are well welcomed to enjoy Sapa's attractions and activities. No less exceptional is the boutique hotel's easy access to the city's myriad attractions and landmarks, such as Rattan Bridge, Thac Bac Silver Waterfall, Mau Temple.
The homestay offers impeccable service and all the essential amenities to invigorate travelers. Especially, Hmong Mountain Retreat offers numerous on-site facilities to satisfy even the most discerning guest. The accommodations have been carefully appointed to the highest degree of comfort and convenience, with shower, balcony/terrace, shared bathroom, fans, nonsmoking rooms in each room.
The hotel's garden is ideal places to relax and unwind after a busy day. When you are looking for comfortable and convenient accommodations in Sapa, make Hmong Mountain Retreat your home away from home — booking a room online with us to get special discount rates and write hotel reviews after your stay.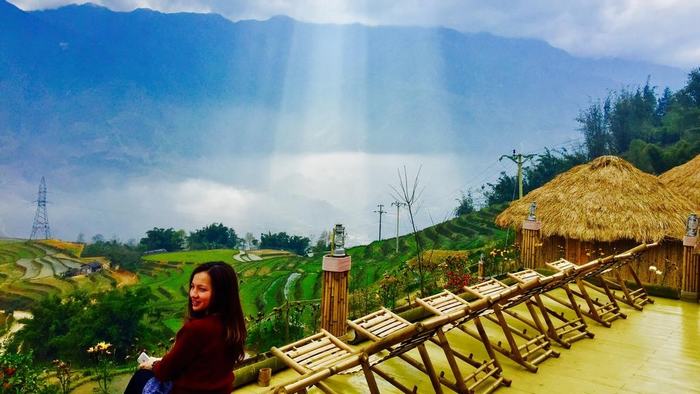 Hmong Mountain Retreat
Hmong Moutain Retreat provides two kinds of room. First one is a shared room with 200.000 - 250.000VND/person — the second one - bungalow costs 800.000VND that enough for 2, three people.
5. Nam Cang Riverside Lodgy
Located deep in the remote Sapa Valley, this new lodge is built and owned by a Red Dao minority family and operated in partnership with and opened at the end of 2013. If you want to escape to relax in the romantic space, you don't find a better location for staying overnight in an old traditional minority village. With a beautiful river running in front of the lodge and green forest just behind, the lodge is perfect for you.
Moreover, the area is brand new to visitors so prepare to whiteness the real and remote Vietnam when we go beyond the tourist routes. Please don't be surprised when you catch close looks of local minority people, the children who swim in the river next to your lodge and to be welcomed to private homes as the local mountainous hospitality is unique.
We hope you would like to share our interest in unique experiences and welcome you a remote stay but in comfortable rooms combined with good food and service.
6. Eco-Palms House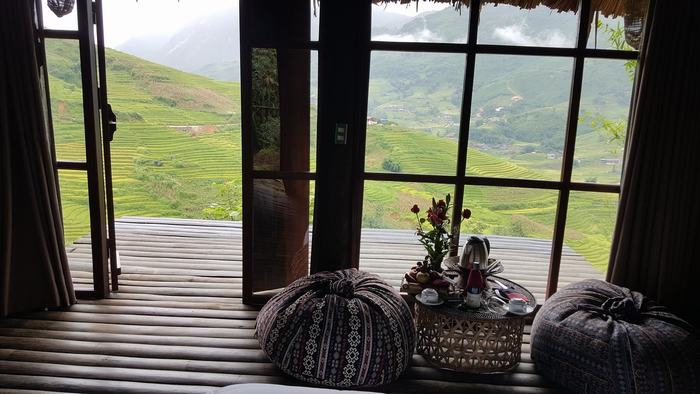 Eco-Palms House
Eco-Palms House is located in a Black Mong Village, Lao Chai with the best views of the Hoang Lien Son Mountain and the Muong Hoa Valley.
With five private Bungalows on a beautiful terraced rice field, guests will be close to Mother Nature and get away from the bustle of life. Each of the five Bungalows follows the real local minority group house styles in Sapa including H'Mong, Red Dzao House, Dzay, Tay and Xa Pho.
We also offer traditional dress of each minority that you can wear when joining with us in every activity if you likcre.
Eco-Palms House also offers a Family House where travelers can meet each other and share valuable information when they are traveling alone. A traditional wooden House of the Tay ethnic group with a fireplace and roof of palm leaves is a perfect place to greet and meet each other and make everyone feel at home.
For more information about Sapa tours review, you can visit our website. If you have any questions, feel free to contact us. Have a nice trip!