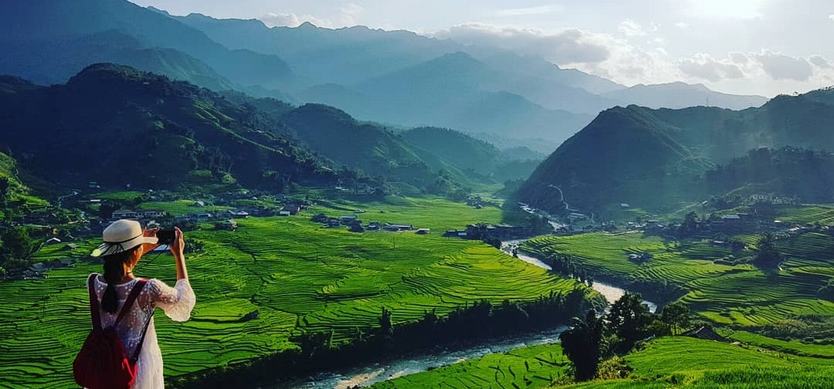 To enjoy the trip and have the best experience in Sapa, tourists are advised to be well-prepared before setting off. The average temperature in Sapa is much lower than other regions in Vietnam, and the mountainous terrain may require specialized tools. Our list of what-to-bring items will wipe out all of your worries over the preparation.
The best time to visit Sapa
Sapa climate is pleasant all year round so that you can visit there at any time of the year. However, the ideal time to come to Sapa is from March to May or September to November.
Traveling to Sapa in May, you have the chance to admire the beautiful flower valleys and lush green fields.
September and October is the time when rice fields start to ripen with the autumn sunshine of the Northwest. Also, Sapa at this time has dry air and moderate cold. Therefore, many tourists come to Sapa to conquer Fansipan Peak in September.
December – February is the time when cherry blossoms and plum flowers begin to bloom. The weather is quite cold, and the mist covers the entire town that creates a romantic setting. Maybe the most expected thing of tourists when coming to Sapa at this time is to see snow.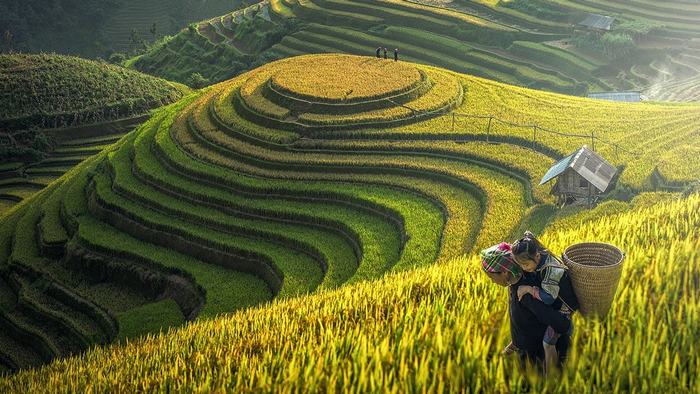 Sapa in September
What to bring to Sapa?
Money and identification papers
The first thing you need to prepare for every trip must be money and identification papers. Deciding how much money to bring depends on your duration and your budget. Usually, the average money is about three million dongs for three days two nights, including the total expenses for car, meals, accommodation, and attraction tickets.
However, you can save money if you take Sapa tours. Also, you should bring your credit card in case of the amount exceeding the initial estimate.
The identification paper is necessary when you check-in your hotel or rents a motorbike to get to villages.
Clothes and shoes
You can choose suitable clothes depending on the time you travel.
In comparison to Hanoi and other tourism destinations in Northern Vietnam, Sapa is colder, with the temperature around 13-15oC. Consequently, do not forget to bring some long sleeve shirts in summer; and a warm coat in winter, as it may even snow in this season (mostly from mid-December to mid-January).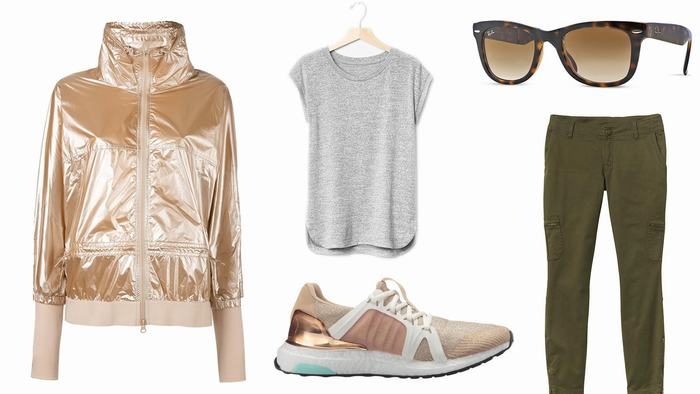 Prepare clothes for traveling
In the hot season, it is really easy to get a sunburn, so suntan cream, hat, and umbrella are necessary items.
In most of Sapa tours, you have to walk a lot, so a pair of comfortable shoes is necessary. Do not wear high heels because it is inconvenient and can make your feet hurt.
Motorbike and repair tools
If you travel by motorbike, you must prepare well before you go. Make sure your motorcycle can pick up a distance of nearly 400 kilometers from Hanoi to Sapa and ensures safety for the driver. Also, you should prepare the sparer, repair tools and fill the gas tank. It takes you 6-7 hours to get to Sapa, depending on the speed and the weather, so you must consider carefully whether ride to Sapa by motorbike or not.
Other necessary things
Besides the items above, do not forget to bring your things such as towels, sunglasses, sun cream, or toothbrushes.
Prepare a Sapa map: A map of Sapa tourist will help you plan your visit in more detail. Visitors can find Sapa map online, or buy in grocery stores in Sapa.
Mobil phones and camera: The phone is an indispensable item, so be sure to turn on the GPS every time.
For trekking trips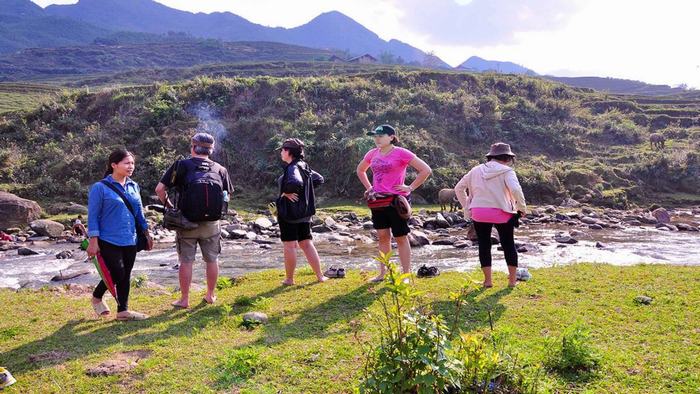 Trekking in Sapa
If you intend to join Sapa trekking tours, there will be more things you need to have inside your suitcase:
• Small money notes and change
• Personal small water bottle
• Insect repellent
• Good shoes, raincoat, and umbrella
• Bread, snack, canned food
• Personal Torch
• Personal knives
• Camera with backup or rechargeable battery
• Medicines for popular diseases such as flu, diarrhea, fever, etc.
From the above list, Sapa Trekking Homestay hope you have the best preparation for your vacation with Sapa tours. If you find this article useful, please share with others. Visit our website for further information or leave any questions. Have a safe trip!