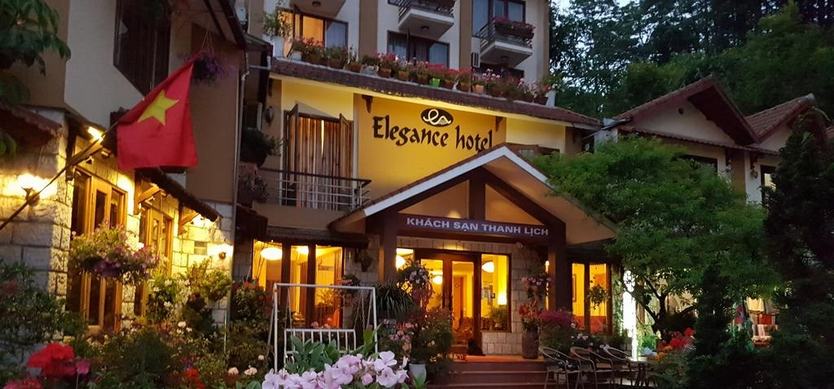 Sapa has loads of places to stay, particularly in the flashpacker to midrange brackets, with a few choice luxury and boutique options. Most hotels overlook the valley, and feature views of Mount Fansipan and the Hoang Lien mountains, to varying degrees.
Sapa stays more chill than the lowland coastal areas, so few rooms feature air-con or even a fan, but your chief concern, arriving on a cold winter's day, should be heating -- go for a room with a fireplace that works or decent heater. Hotels that don't offer tours, train tickets, visa arrangements, and market trips are rare.
Sapa can get extremely busy, particularly at weekends and peak holiday periods, so if you've set your heart on somewhere or don't fancy trekking around trying to find an available room then book in advance. It's also worth noting that prices tend to go up at the weekend, promotions in summer are frequent and hotels can be vague and inconsistent when providing hotel prices, so those cited here should be taken as an approximate guide only.
Top budget hotels in Sapa
Gem Valley View
Pinocchio Hotel
Lotus Hotel
Sapa Backpackers
Viet Thanh Guesthouse
Fansipan View Hotel
Cat Cat Hotel
Cat Cat View Hotel
Sapa Lake View Hotel
Sapa Summit Hotel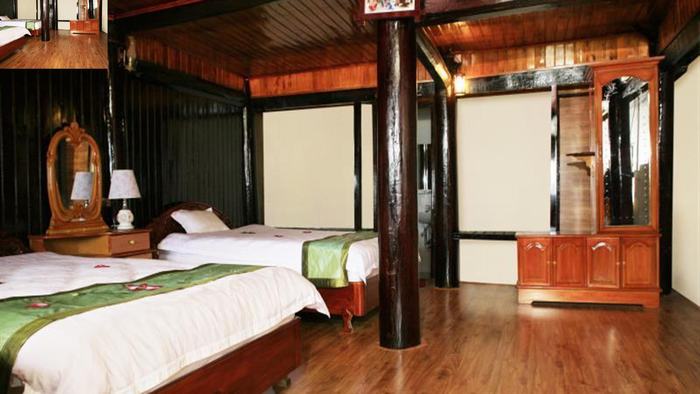 Pinocchio Hotel
Gem Valley View
While Cat Cat village itself doesn't offer any homestay options, a couple of places on the way down provide accommodation if you want to stay out of Sapa town and live the more simple life. Gem Valley View is the first place you'll come to, about a kilometer past the ticket booth. It's an art gallery, with some impressive pieces by owner Tran Trong Chien, on display and for sale, and serves up
Pinocchio Hotel
Address: 15 Muong Hoa (Pho Cau May)
This popular backpacker option has a good reputation, and deservedly so. Rooms provide a top combination of low prices and good views. Rooms are reasonably spacious, with cable TV, cheerful bedding and basic bathrooms with shower or tub. Some comfortably sleep three so this is the right choice for a group. A dorm room is also available on the sixth floor with single beds, each with a locker.
Lotus Hotel (Huong Sen)
Address: 5 Muong Hoa (Pho Cau May)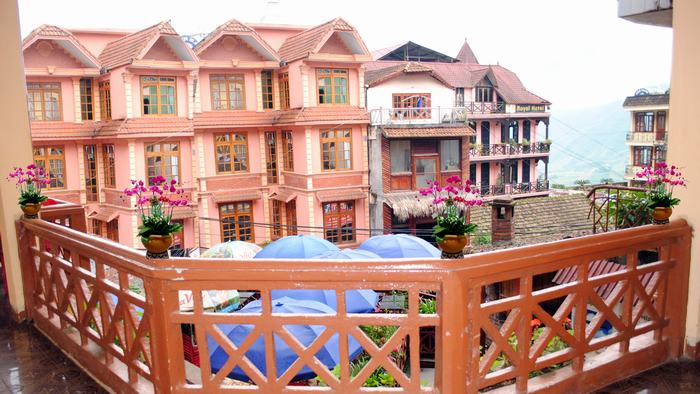 Huong Sen Hotel
This place sits right up against the Auberge. Although is directly accessible from Muong Hoa Street up a steep flight of stairs, and while the views aren't quite as good, it's a much cheaper option. The rooms are nothing special -- unless you have a penchant for frilly mossie nets -- but are comfortable, with wooden flooring, and the mosaic staircase is quite something.
Sapa Backpackers
Address: 6 Ham Rong St, at the start of the steps, Sapa
Next door to Thai Binh Hotel, on Ham Rong Street, Sapa Backpackers pitches itself as a community center with rooms. The community center is primarily the small room on the ground floor that acts as an English-language school for kids, although the front terrace also appears to be a gathering point for local men. With no reception area, it's a case of wandering over and waiting for one of the crowd
Viet Thanh Guesthouse
Address: 10 Ngu Chi Son St
Next door to Sapa Lake View Hotel stands small and budget Viet Thanh Guesthouse. Rooms here are not of the quality of their neighbor, but those at the front still get the lake view from a balcony, and they're cheaper. Beds have soft foam mattresses and are merely made up with white sheets and flowery duvets. There's not much in the way of furnishings, although rooms do have a TV.
Fansipan View Hotel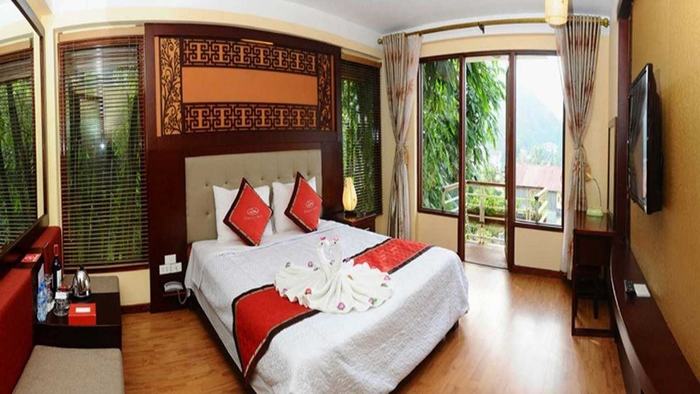 Fansipan View Hotel
Just down the steps from the Victoria Sapa Hotel, Fansipan View is a good midrange option if you want to stay away from the tourist hordes and hawkers around Cau May but can't face the walk to Sapa Summit.
Despite the name, not all rooms have a mountain view, but they're all priced the same. If you can't get a look we'd go elsewhere for the price but that said, the hotel has a boutique feel to it, with stylish polished dark wood and decorated merely comfortable rooms. Staff is welcoming and speak good English. Their Sapa Cuisine restaurant next door is charming but has a similar menu to the other places in town. The hotel offers breakfast and a free pick-up from the train station.
Cat Cat Hotel
Address: 42 Fansipan Rd
The views aren't quite as good here as at the neighboring Cat Cat View, but rooms are slightly better value, staff members are more welcoming, and it has a more intimate and homely feel to it. The terrace cafe at the front of the reception is a great place to relax and chat with other guests. Rooms are quite traditional in style but well decorated and comfortable with above average shower bathrooms.
Cat Cat View Hotel
Address: 46 Fansipan Street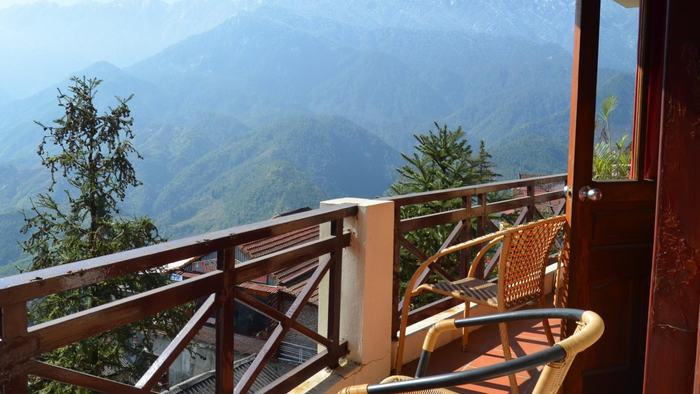 Cat Cat View Hotel
The stand-out feature of Cat Cat View is, as the name suggests, the views. They are amazing — and although the balconies are communal – except for the suite, which has its private terrace -- plenty of seating is scattered around. Views are of course better from the higher floors. Rooms are standard fare; simply decorated with splashes of color, open fireplaces.
Sapa Lake View Hotel
Address: 2 Ngu Chi Son St
If you're not bothered about proximity to Cau May Street, then a hotel overlooking the lake is a good option. It's peaceful, except for the Sapa minibusses, convenient for the multitude of dining options along Xuan Vien Street and the lake view doesn't get shrouded with mist like the valley and mountain views from Cau May and Fansipan. Sapa Lake View is a newly opened hotel along Ngu Chi Son.
Sapa Summit Hotel
Address: T10 Thac Bac, Sapa
The Summit is not quite at the summit, but it's one of the last hotels you'll find along the road as you climb Thac Bac. It's popular with tour groups, but with 70 rooms it's usually possible to snag one as a walk-in, except in peak periods. Even though gloomy hallways rooms are of an excellent standard for the price: spotlessly clean, with cable TV, minibar, kettle, balcony, and very good bathrooms,
The above is the suggestion of cheap hotels and hostels in Sapa. If you make a plan for Sapa tours, it is beneficial. We hope that this article is helpful to you. Have a nice trip!