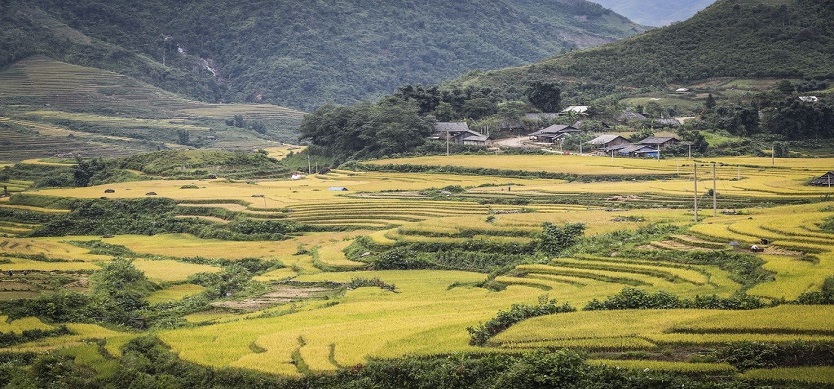 Established as a hill station by the French in 1922, Sapa today is the tourism centre of the northwest. Sapa is orientated to make the most of the spectacular views emerging on clear days; overlooking a plunging valley, with mountains towering above on all sides. Views of this epic scenery are often subdued by thick mist rolling across the peaks, but even when it's cloudy, local hill-tribe people fill the town with colour.
Though Sapa has long been familiar with tourists, Ta Phin Village is still a new name to almost everybody. Located about 17km in the west of Sapa, Ta Phin is a village of Red Dao's people possessing a rich culture that has not been damaged by the modern life.
Overview
Ta Phin is the nearest village of Red Dao's ethnic group within the area of Sapa district. From Sapa, it will take about 30 minutes to reach here by motorbike. The mountainous road can make it difficult for cars to move, so the best solution is to hire a "xe om", or motorbike taxi, and the experienced driver will take you to right place at a very reasonable price with many useful advices and tips.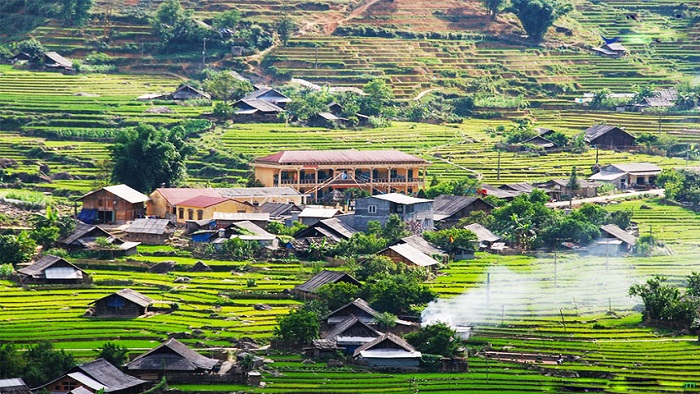 Ta Phin village
What to see?
Coming to Ta Phin, you will immediately catch sight of groups of Red Dao's women gathering together, keeping inside their hands colorful reels of thread and cloths. They sew continuously, even when offering the goods to the customers. Amazingly, most of them can speak quite well, some use Vietnamese less than English. Since 1998, Ta Phin has officially become the "brocade village", where tourists can find the distinctively hand-made brocades made by ethnic people. All of the products are eye-catching with numerous bright colors and patterns, ranging from bag, scarf, purse, to skirt, and even backpack and coat. Ta Phin is also the main supply of brocades for shops in Hanoi and Ho Chi Minh City, and the products are exported to foreign countries as well.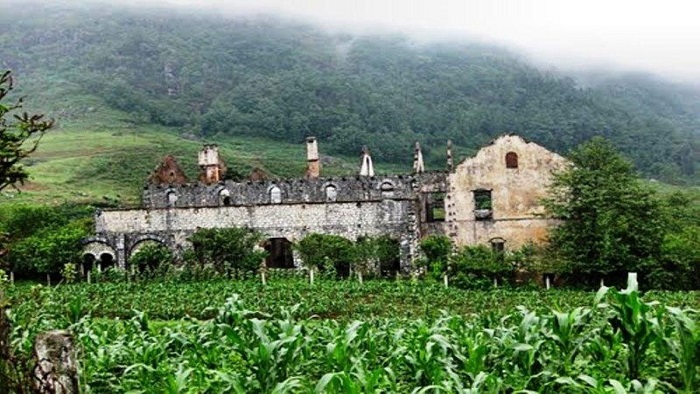 Ta Phin ruined monastery
What to do?
Visit Ta Phin cave
Ta Phin cave has a unique charm which is very suitable for those who love discovering. Ta Phin cave is located at the height of 5 meters with the width of 3 meters. When you go deep into the cave, you can see the system of stalactites with special shapes.
Visit the ruined old French monastery
This monastery was established in the early 1940s and it became a base of French military when Viet Minh army attacked the northwest region. The monastery was a fighting place and the occupants are said to have made a swift retreat to Hanoi.
Take a herbal bath
Herbal bath is one of Ta Phin specialties, this is the prescriptions of the Red Dao people. So we highly suggest you to experience this when visiting Ta Phin village. It is the time you can relax and renew the energy after a long trekking day.
Take a brocade weaving lesson
Brocade weaving is a traditional occupation of ethnic groups in Sapa. Coming to Ta Phin village, visitors will experience participating in brocade weaving classes from local people, many tourists enjoy being hand-made with colorful and colorful brocades under the guidance of local artisans. This is also a good way to learn the culture of local people.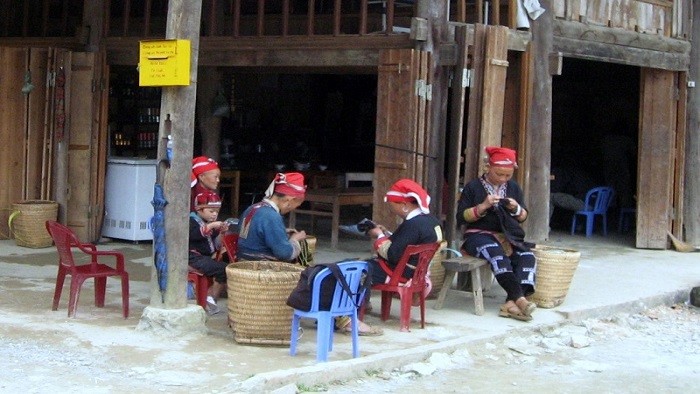 Embroidery artisans
Where to sleep in Ta Phin village
There are around 12 homestays in Ta Phin village. It is hard to book rooms in advance because most of the homestays are owned by local people, so the only way to book room is to go directly to Ta Phin village. You can go to the 1st hamlet where some ladies are waiting for you in front of the houses, let's ask them to book a room for your stay.
Hence, the most common choice is come back to Sapa homestay if you have a one day trip in Ta Phin. If you want to experience the life as a real Vietnamese, it is good to stay one night in Ta Phin local homestay.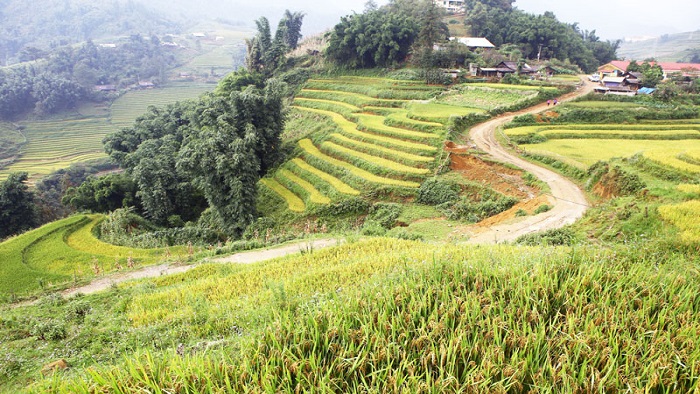 Road leading to Ta Phin
Through times, Ta Phin Village, however, still can remain its special traditions. If you are lucky enough, you can have a chance to participate in a Red Dao's wedding, seeing how carefully they prepare and many complicated customs for this occasion. There are also several local festivals such as "dancing festival", "greeting for the new house", "oath-taking ceremony" that will help you understand more about the simple but happy and amiable life of ethnic people. Let's join Sapa tours from Hanoi or Sapa trekking tours to have chance to visit this village.