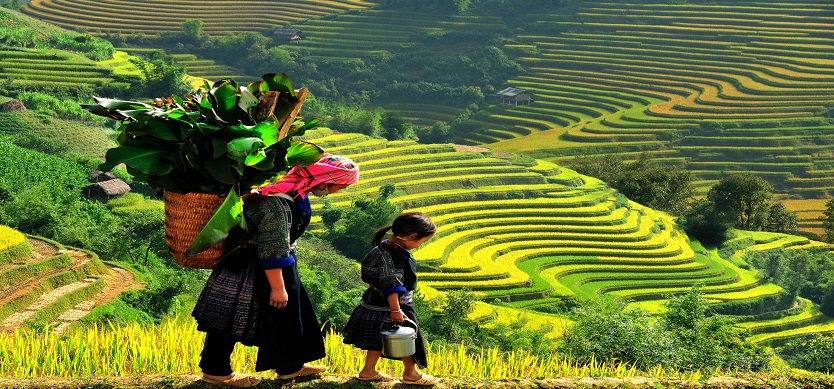 For those who are the traveling addicts, Sapa is a wonderful tourist location in Vietnam with gorgeous natural landscape, temperate climate and profound cultural identity. If you have a plan to visit Sapa, don't forget to visit Sapa walking street on weekend, it is where you can see clearly the culture and lifestyle of people in Sapa and enjoy the atmosphere of festival.
Overview of Sapa
Located at 1500 meters (4921 feet) above sea level in Vietnam's remote northwest mountains, Sapa is famous for both its fine, rugged scenery and also its rich cultural diversity. Sapa is an incredibly picturesque town that lies in the Hoang Lien Son mountain range near the Chinese border in northwestern Vietnam, known as "the Tonkinese Alps". Sapa and its surrounding region is host to many hill tribes, as well as rice terraces, lush vegetation, and Fansipan, the highest peak in Vietnam. Other great mountains like Aurora & J, where Sa Pa sees the first rays of sun, make up a very steep valley. However, as a result of a recent surge in popularity Sapa has rapidly become a tourist hotspot where money is the new drug of choice. Don't be put off by the rush, your explorations of the surrounding countryside will be worth the trouble. Be mindful of all the locals selling in the streets as they can be quite demanding. Groups of locals can be known to follow visitors around, aggressively selling handmade goods. The local government does not encourage tourists to buy from street sellers or give money to children, however it has become customary to hand out toothbrushes to the children.
Established as a hill station by the French in 1922, Sapa today is the tourism centre of the northwest. Sapa is orientated to make the most of the spectacular views emerging on clear days; overlooking a plunging valley, with mountains towering above on all sides. Views of this epic scenery are often subdued by thick mist rolling across the peaks, but even when it's cloudy, local hill-tribe people fill the town with color.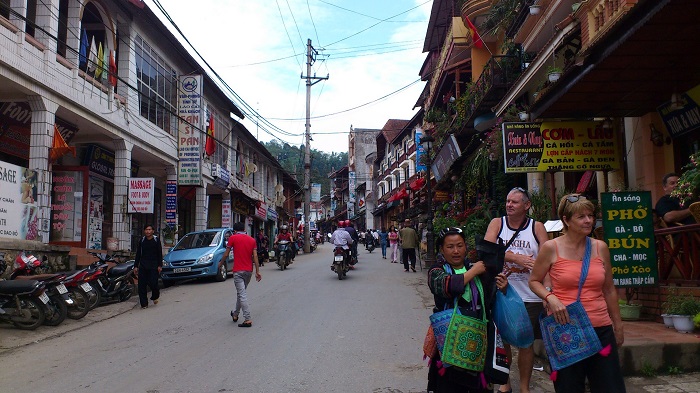 Sapa walking street
Sapa walking street
Cau May Street has been turned into a walking street for tourists coming to the fanciful "town-in-fog" of Sapa in order to celebrate 110 years of Sapa tourism, according to the Sapa People's Committee.
Thanks to the convenient location of being in the town centre, Cau May is one of the main and most crowded streets in Sapa. At weekends (every Friday and Saturday), the street will be closed for vehicles and residents will be allowed to sell souvenirs, brocades, and food along the street on these days. The street is expected to become a special cultural space that gives a great chance for both domestic and international tourists visiting Sapa at weekends to enjoy. Furthermore, the walking street is also an ideal place for craftsmen and local residents to promote traditional industries, along with their cuisine culture.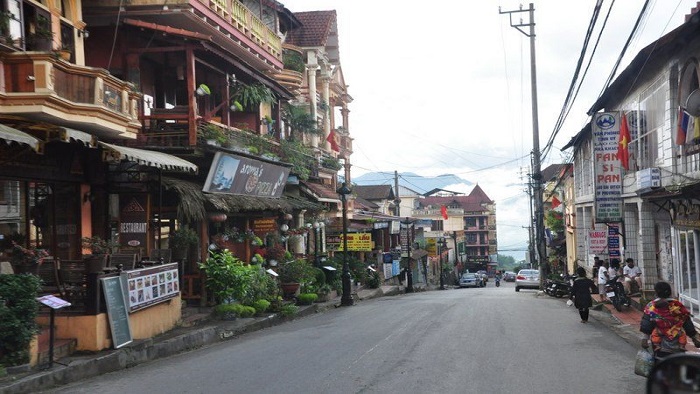 Cau May walking street
Other destinations to explore Sapa on weekend
Love market
If you have a chance to visit Sapa at the weekends, don't forget to visit Love market. This market's operation is associated with the cultural identity of northwestern ethnic minorities. On the night of Saturday and Sunday, the market is opened and it is where the young boys and girls of H'mong ethnic come to make friends and have a date, it is an ideal time for tourists to experience the culture of local people here.
Guests coming here will be immersed in the lines of local people and enjoy the exciting experiences. This is the evening entertainment place in Sapa that only takes place on two weekends but is always crowded with tourists and indigenous people.
Sapa night market
Among many Sapa tourist attractions, Sapa night market is a should-not-ignore place that you must spend time to visit. Sapa town will become quiet and peaceful when night falls. But in Sapa Night Market, it is the exact opposite. In the evening, this market is always crowded and bustling.
The characteristic ethnic clothes are eye-catching are sold quite a lot on the sidewalk. The smoke and the scent of barbecue stalls make your stomach growling. Here you will be immersed in the rich cultural identity of the Northwestern people.
Sapa walking street is an interesting cultural and entertaining place in Sapa town that anyone must come when traveling to this city. If you have any question about Sapa tour package, don't hesitate to contact us. Thank you and have a great trip!