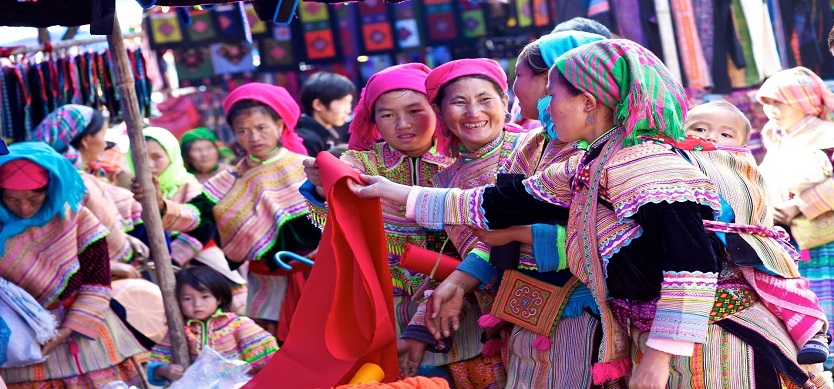 Though there are few stalls during the week, the main Sapa market is organized every Sunday at the main square. If you travel to Sapa with Sapa trekking tours or Sapa homestay tours, let's spend time on exploring this market.
In the early morning, streets in Sapa downtown are filled with hundreds of Hmong and Red Dao people in colorful ethnic attire heading to Sapa market. The traditional Sunday market, which is bustling until late afternoon, is not only for trading, but also for socializing and unwinding after hard working days.
Location
Sapa market is located right at the heart of Sapa town, just a short walk to Sapa stone church that is built by the French in the early 20th century.
The new Sapa market was built and operated since 2015, this market is located at the junction of Lao Cai - Lai Chau road away Sapa stone church about 1,5 km.
Central market of Sapa is a place of trading, providing items of daily necessities. Market is built with a large scale, in front of the market is Sapa bus station. Two-storey central market area is the place for trading clothes, brocade, traditional medicine, souvenirs, etc. Behind is the area selling food.
Sapa market
What to buy
The market consists of both indoors and outdoors space. While stalls along the stone stairs outside sell flowers, fresh produce, groceries and food; little workshops on the second floor offer ethnic fabrics.
Once getting inside the market gate, tourists will see stalls full of mountain fruits like peach, apricot, pear and plum. Buying some fruits for the dinner dessert or enjoy during the trip is a good idea. Dropping by the right hand side stalls, tourists will find trinkets (ethnic silver jewelry), medical herbs and local products that are good for health like forest honey, notosingeng and ganoderma.
For the ones who are enchanted by colorful costume of H'Mong, Dao people in Sapa, and looking for authentic ethnic fabric, the second floor of Sapa market is a must-visit. Here, one can find a number of embroidered skirts, handbags, blankets, pillow shams and table covers with unique patterns, made by the indigenous. Ethnic women who sell brocades here can converse quite well in English.
What to eat
Visiting Sapa market in the morning, travelers will see a lot of local people gather at food stalls to enjoy favorite breakfast of "mèn mén" (steamed corn wheat), "thắng cố" (horse soup) and corn wine. These are traditional food and beverage of local people in Sapa, and must-try for any tourists who come here.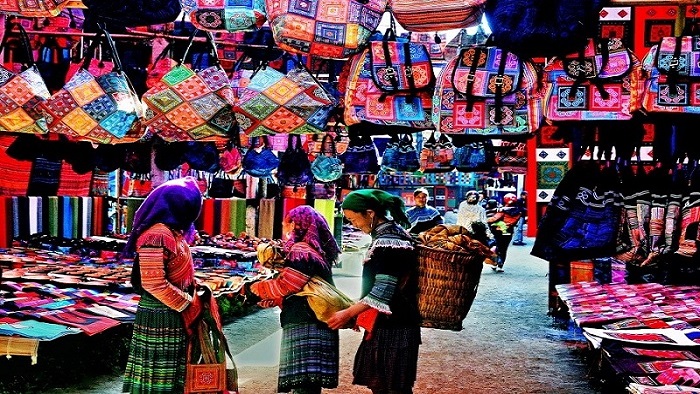 Sapa market
When to visit
As a weekly market, Sapa market only opens on Sunday. Hence, tourists should wake up early on Sunday morning to visit the market and enjoy hearty breakfast with the locals.
How to get there
It only takes tourists staying in Sapa town few walking minutes to get Sapa market, which is located right in the heart of the town, nearby Sapa church.
The market is located outside the center so it is relatively far away if walking, you can catch a motorbike taxi (xe om) about 20.000 VND / person, if you are traveling with a group of 2-4 people, it is better to catch a taxi which takes about 30.000- 40.000 VND from hotels in the central area.
Sapa tourism not only attracts tourists by the natural beauty from the peaks, hills, terraced fields steeped in fog or brilliant in the new rice season but also attracted by the cultural features of ethnic minorities. And especially, the markets converge with the customs and habits of the ethnic people here, and Sapa market is a wonderful market like that. If you visit Sapa via Sapa tour packages, don't forget to visit Sapa market. Thank you!