The Northwest is attractive, especially in springs with a variety of colorful festivals. Let's explore the ceremony of Visit Vietnam Year 2017 - Lao Cai - Northwest.
In the evening of 11 February 2017, in Nam Cuong square, Lao Cai city, Lao Cai province, the Ministry of Culture, Sports and Tourism in coordination with People's Committee of Lao Cai province and Northwest Steering Committee organized the opening ceremony of Visit Vietnam Year 2017 – Lao Cai – Northwest with the theme "Northwest Colors."
The attendees of the ceremony
The ceremony had the presence of Mr. Nguyen Van Binh - Head of Northwest Steering Committee, Mr. Vu Duc Dam - Deputy Prime Minister, Mr. Nguyen Ngoc Thien - Minister of Culture, Sports and Tourism, Head of Steering Committee of Visit Viet Nam Year 2017, Mr. Nguyen Van Vinh - Lao Cai Provincial Party Committee Secretary, Mr. Dang Xuan Phong - Chairman of Lao Cai People's Committee, representatives of ministries and central agencies, representatives of provinces/cities, international organizations, press agencies, numerous local people, and domestic, foreign visitors.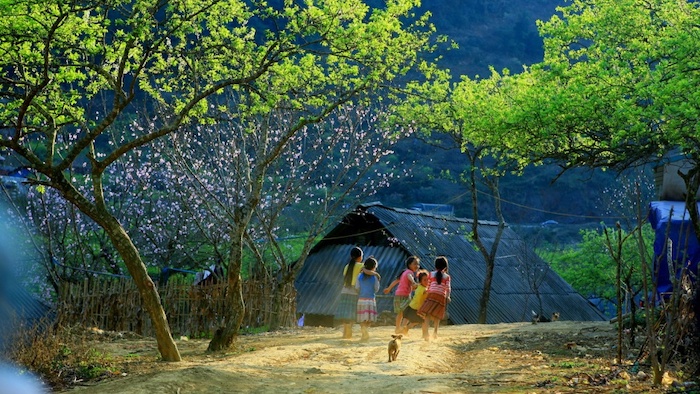 The beauty of the Northwest in spring
The primary contents of the ceremony
Speaking at the opening ceremony, Mr. Nguyen Van Binh affirmed that in 30 years of innovation, the tourism industry has always been defined as a key economic sector. Notably, in recent years, tourism of Vietnam and the Northwest region in general, Lao Cai province, in particular, have had remarkable development, achieved many encouraging results, and contributed significantly to Vietnam's economic growth.
Visit Vietnam Year 2017 will contribute to honoring the cultural values and promoting the image of the Northwest region with more than 30 ethnic groups, majestic natural scenery, the diversified ecosystem as well as many beautiful tourist sites and unique festivals, etc.
With specific and meaningful activities in Visit Vietnam Year 2017 and practical actions of the authorities, businesses and local people, Northwest tourism and also Vietnam tourism will have breakthrough developments in 2017.
The excellent art program of the ceremony with the theme "Northwest colors in the country's spring garden" had the participation of more than 600 artists, actors and portrayed the beauty of the Northwest land and people, at the same time promoted the image of some other localities nationwide.
Attractions of Northwest tourism
Sapa, Lao Cai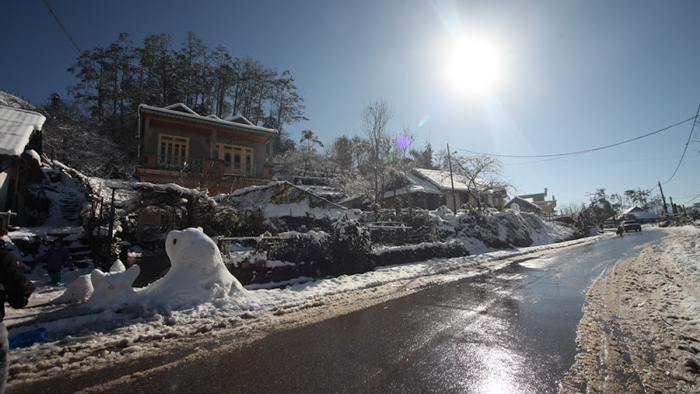 Sapa in winter
The valuable resource of Sapa trekking Vietnam is an airy and cooling climate with many different shades of temperate climates. Sapa is also an unusual place in Vietnam where snow falls. Arriving in Sapa in winters, visitors will have the opportunity to immerse in the snow-covered space with light snowflakes flying in the air, play, and take photos with white snow.
Mai Chau, Hoa Binh
Although there are not many tourist attractions in Mai Chau, travelers still love its poetic beauty, cooling, fresh air, unique culture, and typical culinary features. Mai Chau is a destination for those who like relaxing, sightseeing, and cultural - community tourism.
Moc Chau, Son La
Each season in Moc Chau contains a captivating beauty, but overall, the climate of Moc Chau is always fresh and pleasant. If you want to find a clean and quiet place to escape the noise of the city, you can go to Moc Chau at the best time in November and January.
Pha Din, O Quy Ho, and Khau Pha pass
They are three out of four "Greatest passes" in the Northwest. The curves of these mountain passes are hidden among the wild old forests. At the foot of the passes is the valley with idyllic and peaceful villages. Besides, there are green corn fields and shiny golden terraces.
Phan Din pass is located on Highway 6, 32km long, connecting Dien Bien and Son La provinces. The highest point of the pass is 1,648m with rugged terrains. One side is the cliff, and one side is the abyss. The road is steep and winding with many dangerous bends.
O Quy Ho pass is also known as Hoang Lien pass or Cloud pass, belonging to National Highway 4D, crossing Hoang Lien Son range and connecting Lai Chau, Lao Cai provinces.
Khau Pha pass is one of the most dangerous roads in Vietnam with steep slopes, winding corners, crossing the top of Khau Pha mountain - the highest mountain in Mu Cang Chai.
Dien Bien
The most prominent in Dien Bien is the historical relics system of the Dien Bien Phu victory, including Headquarters the Dien Bien Phu - Muong Phang campaign; Him Lam, Doc Lap, and Ban Keo bases; The hills A1, C1, D1, E1, and the center of the center of the French fortification. This historic complex is a valuable resource for tourism development of Dien Bien province in particular and the country in general.
Mu Cang Chai, Yen Bai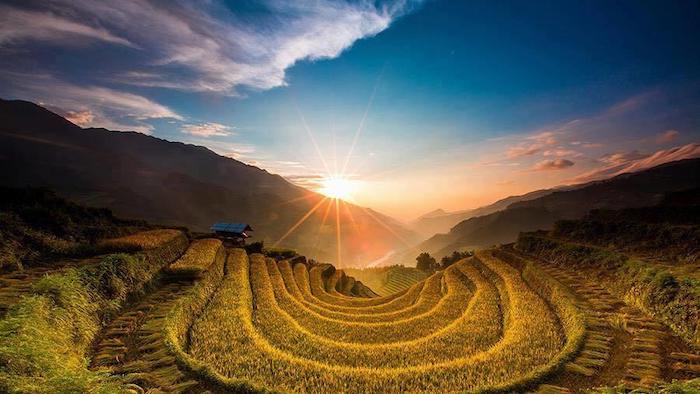 Mu Cang Chai
Traveling to Mu Cang Chai, tourists not only admire the enchanting beauty of the magnificent terraced fields, but also learn and discover extremely interesting customs of Thai and H'Mong people, or enjoy unique specialties such as Tu Le green rice, Tu Le sticky rice, salted roasted crabs, salmon, sturgeon, roasted grasshoppers, docynia indica fruits, etc.
Visit Vietnam Year 2017 - Lao Cai - Northwest with many unique cultures, sports and tourism activities is a regular national event hosted by Lao Cai province and the expanding Northwest provinces. Please contact us or visit our website for more information about Sapa homestay. If you find the article interesting, don't hesitate to like and share with others. Thank you.