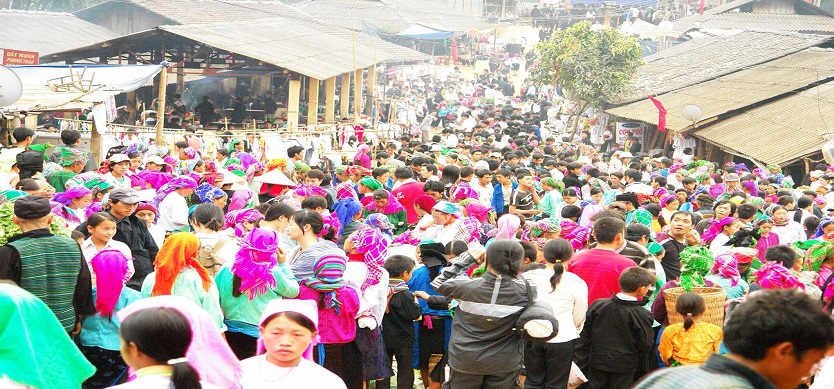 Some of the most rewarding and memorable moments you will have during your time in Vietnam will occur while visiting local ethnic markets. Markets differ greatly across Vietnam, from the water markets of the Mekong to the hustle and bustle of Hanoi's old quarter, but nowhere are they as diverse, nor as interesting, as they are in the mountains of Northwest Vietnam. Here, we will explore one of the most ancient markets of Lao Cai province - Lung Khau Nhin Market.
Lung Khau Nhin Market - one of the most ancient markets of Lao Cai province
Lao Cai is a province in the northwest of Vietnam. It's known for its mountains, rivers, waterfalls and ethnic hill tribes. The province's towering peaks include Fansipan and dragon-jaw-shaped Ham Rong Mountain, which offers panoramic views and gardens with hundreds of orchids. The town of Sa Pa, in the Hoang Lien Son mountains, overlooks the terraced rice fields and ancient stone engravings of the Muong Hoa Valley.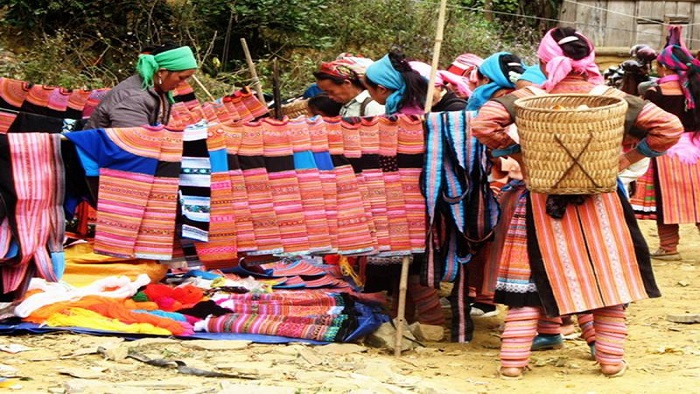 Lung Khau Nhin market
Lung Khau Nhin Market is a market in Muong Khuong district, well-known as a large market with diversified goods, especially with the national identity of indigenous people. Lung Khau Nhin Market meets every Thursday morning. Like other highland markets, Lung Khau Nhin is filled with the vibrant colors of dresses, blankets, brocade pieces, the green of specialty vegetables, and the typical fruits that indigenous people bring to the market.
Lung Khau Nhin is a small market very close to the border with China, close to Muong Khuong town. The Black Dao, Giay, Tay, Flower Hmong (Red Hmong) minority peoples all attend this market. Lung Khau Nhin Market has meeting on Thursday of every week, starting around 7.30am and closing in the early afternoon. It is one of the famous ancient markets of Lao Cai province. Like other fairs, Lung Khau Nhin has vibrant color of the dresses, blankets, green cabbage and yellow citrus. With Sapa private tours, you will have chance to visit this market.
Different local products sold in market
The main road that runs through the market, people sell fruit and vegetables, pots and personal items. From the main road turn to market is place that people sell dresses, brocade and blankets… After that, visitors come to sell livestock such as: pigs, chickens, dogs and cats… Walk from section to sections, corner to corners, seeing and smelling of different local products such as spices; vegetable; farming tools; handicraft; and even medicinal herb…, meeting smiling peoples everywhere. The people who sell goods come from all ethnic H'Mong, Nung, Man, Kinh… but the number of people can not speak mandarin fluently. Arrive in Lung Khau Nhin at about 09.30 am, right at the crowded time of the market.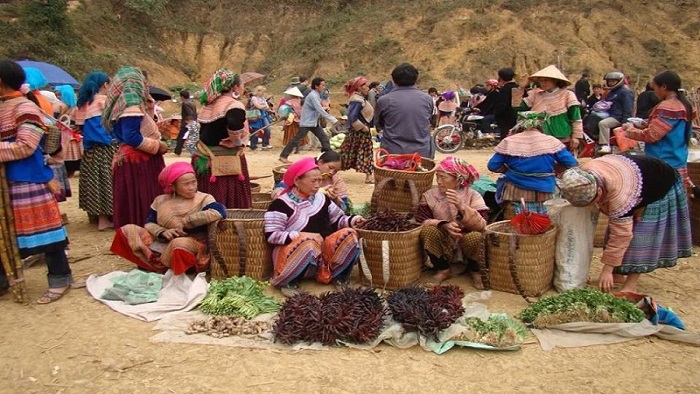 Lung Khau Nhin market
Like other local markets in the northwest of Vietnam, Lung Khau Nhin market owns the profound local identity that makes you surprised. If you feel this information useful for your Sapa trekking trip, like and share this post with others. Thank you and have a great trip!