Sapa is a laid back, a mountainous town in Northwestern Vietnam, blessed with a cool climate throughout the year. The Hoang Lien mountain range dominates the area, setting a dramatic backdrop for many scenic treks.
Just venture out a little to nearby indigenous villages, and you'll be rewarded with views of stepped paddy fields – emerald ripples that flow across entire stretches of valleys. Here're five things you got to do when having Sapa tours.
Climb Fansipan - Roof of Indochina
Besides being the highest peak in Indochina (Vietnam, Laos, and Cambodia), Fansipan is also the last major peak of the Himalayan range. So even if the 3,140m summit is less than half of Mount Everest's, you can take pride in having conquered a mountain at the tail end of Himalayas.
That said, it's not an easy hike. The fittest may do it in a strenuous day hike, although most Sapa hiking tours last over 2D1N, or 3D2N if you want to take it slow. The climb promises majestic views of the Hoang Lien mountain range.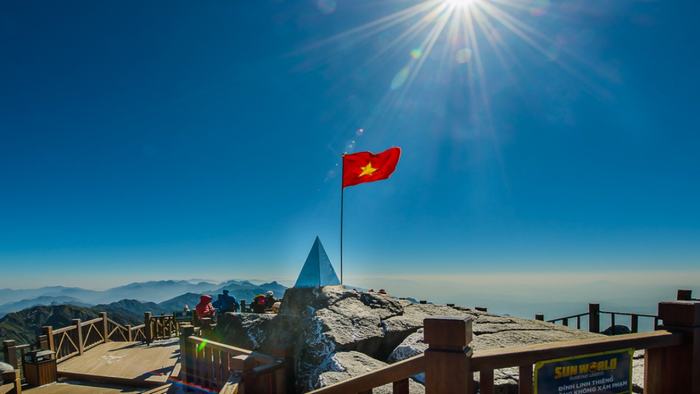 Fansipan peak
Ride a bike through Muong Hoa Valley
Muong Hoa Valley is a stunning stretch of land that lies at the bottom of Fansipan's northern flank. It is the largest strip of rice fields in the Sapa region, dotted with villages of different minority groups.
Muong Hoa Valley is a stunning stretch of land.
Many trekking tours bring visitors from Sapa into the valley on foot. It's about 3-5 hours hike downhill, from initial panoramic views of the rice terraces to close-ups of the Muong Hoa River, flowing right next to the paddy fields.
Worn out from Fansipan hike yet wanting to explore the place on our own, renting a motorbike was our best option. It's cheap (USD4/day), efficient and an experience in itself – riding between two high mountain ranges, fresh air against our cheeks with the occasional roaming farm pigs to avoid.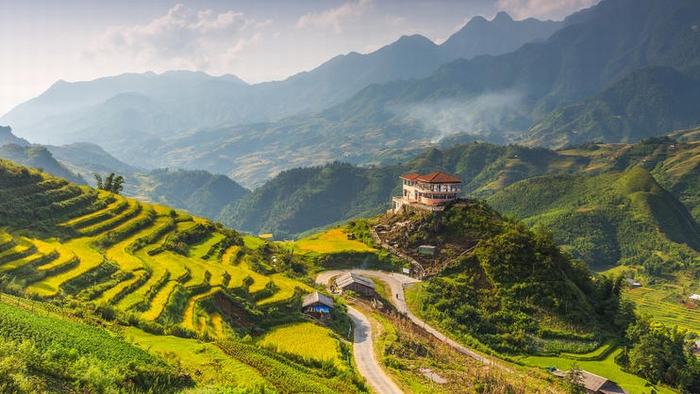 Muong Hoa Valley
Spend a night at a local village homestay
Many villages around Sapa town offer visitors a glimpse of how each ethnic minority group goes about their everyday life.
The nearest is Cat Cat Village – a short 30min walk from Sapa. Due to its proximity, it is also the most touristy. But for me, its multiple descriptive boards gave a good introduction to the culture and lifestyle that take place in a typical H' mong village.
With our motorbike, we could venture further southeast to explore the villages of Lao Chai and Ta Van. We ended up having dinner and spending a night at a cozy homestay by the river, which we chanced upon in Ta Van Village.
Stop by the waterfalls
If you're a fan of waterfalls, here are a few around Sapa town to check out:
Love Waterfall
Originated from Mount Fansipan, the Love Valley has a height of nearly 100 meters. The white flow pouring down the Golden stream creates a majestic scenery. From a distance, the fall looks like a hat hiding behind trees.
Silver Waterfall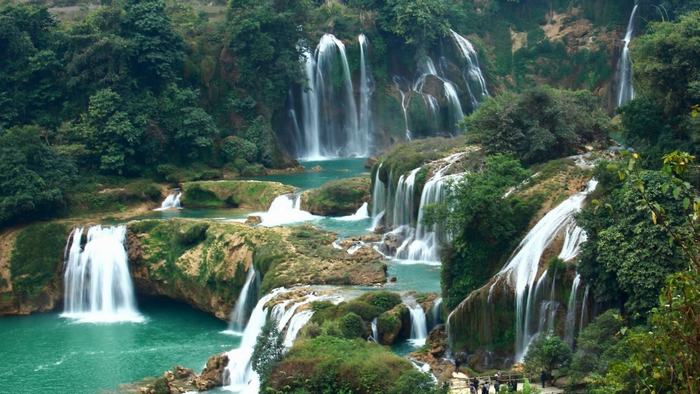 Silver Waterfall
Silver Waterfall is one of the most famous waterfalls in Sapa that you cannot miss in your Sapa luxury tours. From the ridge, the water stream roars down creating white foam like flowers.
At the foot of the fall, there are many restaurants where you can enjoy many specialties of the Northwest such as bamboo tube rice or salmon hotpot.
Cat Cat Village
Located in Cat Cat Village, Cat Cat waterfall is an extremely wonderful place for young people who love nature and want to explore the majestic beauty of the Northwest. Originated from Hoang Lien Son range and flowing through many untouched forests, the water flows down Cat Cat valley and creates this wild landscape.
Chill out at Sapa town
For a small village tucked away in northern Vietnam's mountains, Sapa is surprisingly modern. It offers a wide variety of gastronomic options – from local street food and Vietnamese eateries to high-quality Italian restaurants and wine bars. Not to mention local cafes that serve super robust Vietnamese drip coffee.
It is also a haven for adventurous souls on a budget. We happened to be a perfect match of their street shops' target segment and went a little crazy.
Gortex jackets, track pants, hiking boots, waterproof backpacks – there's a replica for every type of hiking equipment. Don't be fooled though – it may be a good deal, but it's not the real deal.
For more information about Sapa, you can visit our website. If you have any questions, feel free to contact us. Share this article with others if you find it helpful. Thank you!