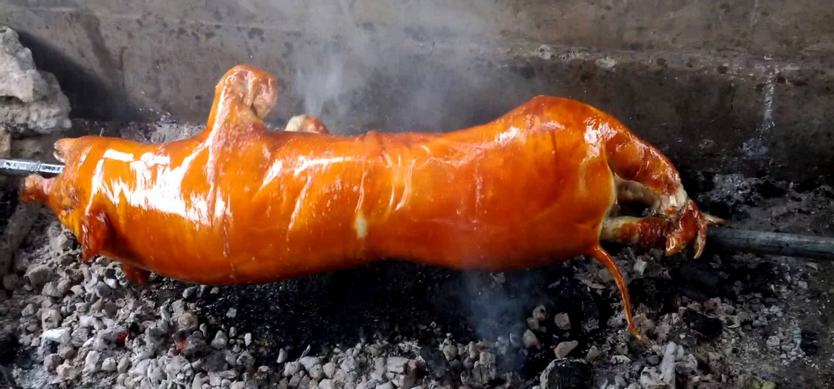 Sapa is not only famous for stunning scenery, colorful markets and a great diversity of ethnic minorities but also known with unique dishes. The following list is a suggestion for you when joining Sapa tours.
Sapa Cap Nach Pigs
At the fair of Lao Cai, you can easily see local people selling small pigs whose weight is less than 20kg so that people can put into the baskets, even put in the armpits. "Cap nach" pigs are special food of Sapa. They are not locked up, but they had to find food by themselves. The food includes trees in the garden or forest, corn, cassava. Because they ought to adapt to the environment, the "Cap nach" pigs are healthy as wild animals.
"Cap nach" pigs are special food of Sapa.
Each pig is often feeding for approximately one year. If there have good living conditions, the pig will bigger but less than 20 kg. The fair in Muong Hum, Sin Cheng, Bac Ha has many "Cap nach" pigs. The restaurant or people in Lao Cai and some neighboring provinces often buy. The price per kilograms is a range of 100 - 120vnd. More and more people come to the fair to buy "Cap nach" pigs. With those pigs, local people can create many dishes which attract not only people in Sapa but also tourists. The meals are a grill, fried, steaming, etc.
Sapa Chinese Black Mushroom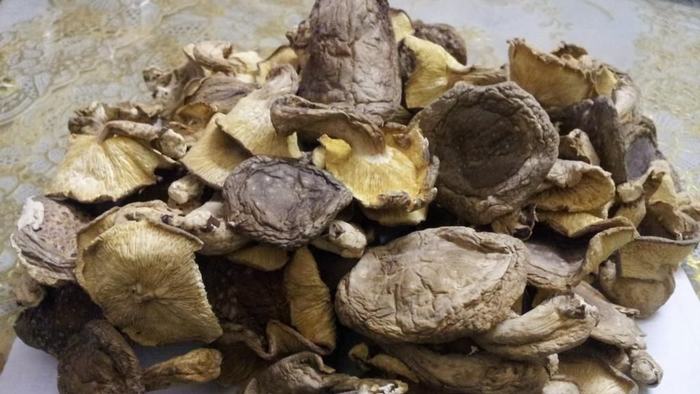 Sapa mushrooms
Tourists can enjoy Chinese black mushrooms with meat, dried squid
Sapa has a cool temperature which is the invaluable resources that heaven has given to this place. Sapa is the place where Chinese black mushrooms hidden in the forests. Coming to the fair of Sapa; tourists will be invited to buy Chinese black mushrooms that are special food of Sapa. At the restaurants, you can require Chinese black mushroom dishes. If dried mushrooms soak in water, they will bigger; however, they maintain its flavors. Also, tourists can enjoy Chinese black mushrooms with meat, dried squid.
Round sticky rice cake
Round sticky rice cake is made from glutinous rice. Glutinous rice is soaked in water for about 2 hours and then pours it into the pot. After that, sticky rice will be put into the mortar. Round sticky rice cake can be eaten with sugar. These cakes have unique flavors of glutinous rice.
Sapa Thang Co
"Thang co" is one of the most famous dishes of the H'Mong in the northwest of Vietnam.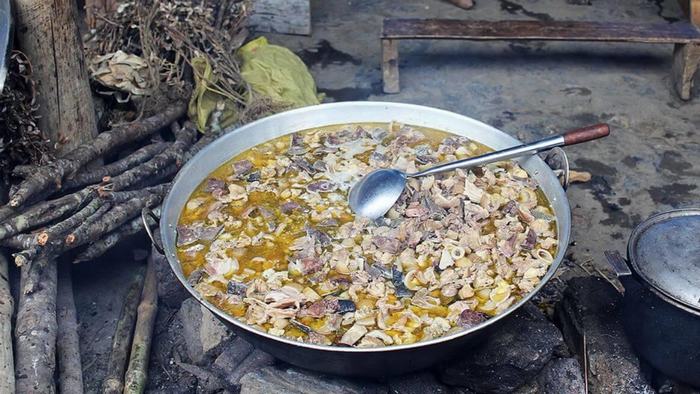 Thang Co
"Thang co" is one of the most famous dishes of the H'Mong in the northwest of Vietnam. "Thang co" usually use for festival or special day. On the weekend, it is sold at the fair. Its name means a pot of soup which includes meat, organs of the horse, vegetables and special kinds of spices. Today, "Thang co" is cooked to serve all people in Sapa, especially to serve tourists. Now, the Dao, Tay know how to cook "Thang co." However, the special flavors that tourists can unforgettable are made by the H'Mong. With the H'mong, "Thang co" is not only delicious but also shows the ingenuity and cultural beauty of ethnic.
Khang Gai Dried Meat in Sapa
The meat of horses, pigs are usually hung up by the H'Mong. This meat will be chopped into pieces about 2-3 kilograms and hung up to store. When eating meat, they will clean dust and cook with tomatoes, bamboo shoots. Dried meat is fleshy, fragrant and crispy.
Black Chicken
Have you ever seen a little chicken in black? In Sapa, it has!
Black chicken is a kind of small chicken with dark skin. Sapa people often graze these black chickens naturally, so the chicken is quite sturdy and tasty. You can try black chickens processed in many different ways, but the best recommendation is the chicken soaked in honey before being grilled directly on the charcoal. It can be better if you eat the chicken with a mixture of salt, pepper and lime juice.
Tao Meo Wine – a Local Whiskey of H' mong
Tao Meo wine is a popular and original wine of H'mong people. It is made from Tao Meo whose tree grows naturally on Hoang Lien Son Mountain. It blooms at the end of spring and autumn so you can buy this fresh kind of fruit from August to October. Its flavor is quite sweet, and light is coming along with the taste of nature. So for those who are seeking something unique in the mountainous region, Tao Meo can be the right choice. Especially, Tao Meo wine matches perfectly with unbelievably good brook fish.
For more information about traveling in Sapa, you can visit our website. If you have any questions, feel free to contact us. Share this article with others if you find it helpful. Have a nice trip!