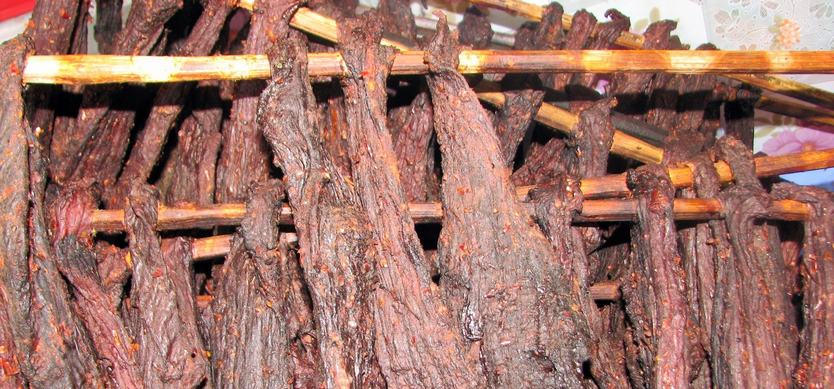 Being favored by nature, Sapa is known as the paradise for tourists to relax.
People those who come here will be enchanted by its fresh air, cold climate, range after range of mountains, outstanding scenery and especially the fantastic culinary scene.
If you have a chance to visit Sapa, plan to fulfill your belly with these ten local dishes following here.
10 must-try dishes in Sapa
Thang Co
Pork
Pau Play Day Cake
Salmon sour hotpot
Bamboo tube rice
Brook Fish
Tao meo wine
Khang Gai dried meat
Black mushroom
Black chicken
Thang Co
Thang Co is the traditional food of Hmong people, and it has been cooked for hundreds of years. Thang Co is a type of soup which is made of horsemeat, horse's viscera and horse's bone. You might feel a little bit panic-stricken when hearing about the ingredients, but that feeling will be blown away once you taste it. Cooking this dish requires time as well as the cooking skill. The seasonings comprise of 12 spices including from cardamon, ginger, citronella, anise to cinnamon twig.
The locals stew horsemeat with these 12 spices in a big pot within a couple of hours. To elevate the flavor of Thang Co soup, they serve it with fresh vegetable and a unique red hot pepper name Muong Khuong.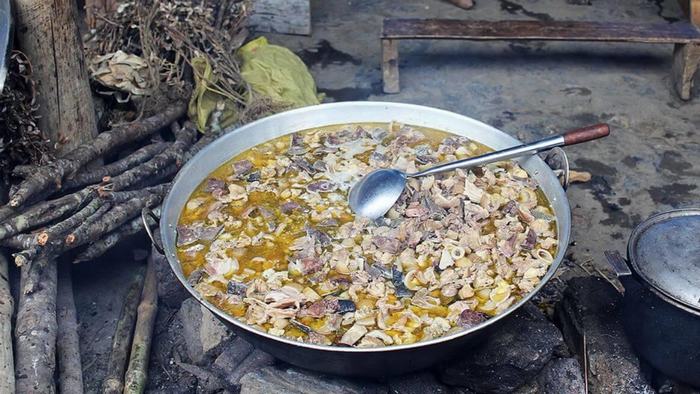 Thang co in Sapa
Sapa Cap Nach Pork
Cap Nach pork is a specialty of Sapa mountainous region. The ways to make this dish is diverse. The locals usually roast a whole pig directly on charcoal so that the skin covering the pork can be very brittle while the meat inside is fleshy. Others stir-fry the pork with little or no water and herbs. No matter how do you cook it, make sure the pork is soft with a hint of spicy.
Pau Play Day Cake
Pau play day cake has been in Viet Nam for a long time since the Hung King. Time flies, the cooking manner has been changed but the original taste of Pau Play Day cake remain.
This cake is made of glutinous rice and green peas. The white round shell cake is not easy to make as it looks. Firstly, you have to choose the best glutinous rice. This first step is seen as an essential part of all. Then, the rice needs to be dried out carefully. After that, it is soaked in water for nearly 2 hours and steamed till the rice well done. Next, soaked rice is poured into a big wooden rice polisher and grind until well-kneaded, viscous and sticky. Lastly, the filling is made from green peas which softly and smoothly is ground. When you break into the cake, you could see a rich green mixture inside.
Salmon Sour Hotpot
Does Salmon live in the sea? So what's about Salmon in Sapa? Isn't that true, right?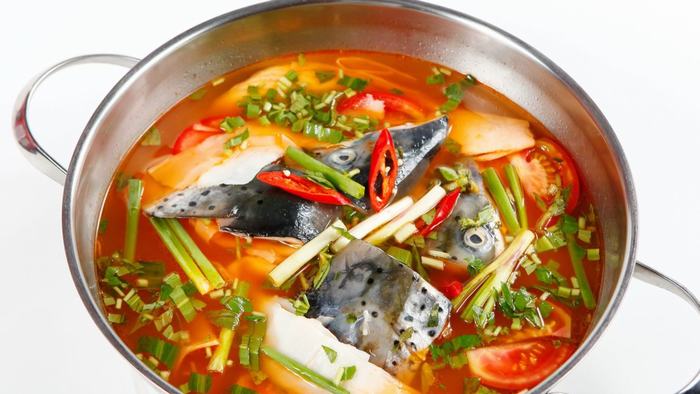 Salmon sour hotpot
Sapa is located in the high mountain. Therefore, the weather is often extremely cool all year round. That's why the water here is pretty cold which is suitable for salmon to exist. It's explained why salmon sour hot pot is a simple food to local people. The menu has a timeless quality.
The real star of the hot bot is its broth. People also put several vegetable types and freshly caught salmon. With salmon, diners become elegant and have a delicate flavor. Nestle up to a restaurant on Sapa hill road and make an order of salmon sour, hot pot, your heartbeat is just a little bit faster.
Bamboo Sticky Rice (Com Lam)
With the wet-rice history and agriculture, Vietnamese have invented more than an obsession with rice. You can taste several kinds of rice along the way.
Bamboo sticky rice in Sapa is just one of the abnormal versions of rice. Different from others, it is thoroughly cooked inside bamboo sections. Local people spend hours on collecting the bamboo then cleaning and chopping them into smaller ones at about 30 centimeters in length. The locals mix rice with a little bit of salt before they stuff up bamboo with salty rice. Notice that doesn't forget the water used to cook this dish. It came from the streams. Therefore it is fresh and a little bit sweet. The biggest secret here is that you need to resolve the bamboo sections while grilling.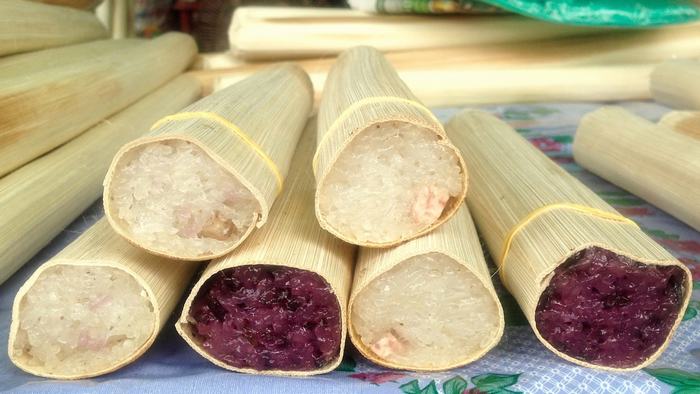 Bamboo sticky rice
Brook Fish
Apart from salmon, brook fish is also a popular and favorite dish of both local people and tourists. Usually the locals just grill brook fish directly on the charcoal. Step by step, the fishy smell will not be anymore. Instead, it's now crunchy, greasy, and packed full of tastiness.
Tao Meo Wine – a Local Whiskey of H' mong
Tao Meo wine is a popular and original wine of H'mong people. It is made from Tao Meo whose tree grows naturally on Hoang Lien Son Mountain. It blooms at the end of spring and autumn so you can buy this fresh kind of fruit from August to October. Its flavor is quite sweet, and light is coming along with the taste of nature. So for those who are seeking something unique in the mountainous region, Tao Meo can be the right choice. Especially, Tao Meo wine matches perfectly with unbelievably good brook fish.
Khang Gai Dried Meat
Besides Thang Co, Sapa is also famous for dried meat especially dried buffalo meat. As the name refers, meat is well dried with some special seasoning. Each dried part of meat weighs about 2 kilos and can be stored for years. Khang Gai dried meat has a unique taste that can't be tried in anywhere of Vietnam. If you are a finger food lover, this food is for you.
Black Mushroom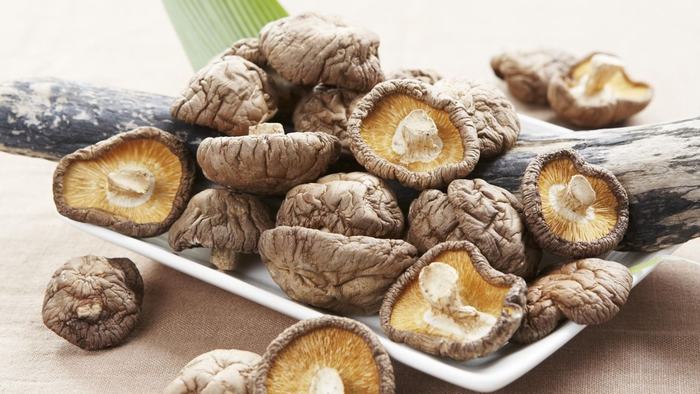 Sapa mushroom
Be favored by nature; Sapa has a suitable climate that can develop many kinds of temperate plants. One of the most famous plants which are so delicious to eat is black forest mushroom.
Although local people are not food experts, they always know how to take advantage of natural plants to make outstanding dishes. For these mushroom, they stir fry it with pork as well as using it as the main ingredient for hot-pot. On any cold day of a year, a plate of stir-fried black mushroom will bring you to warm heartland.
Black Chicken
Have you ever seen a little chicken in black? In Sapa, it has!
Black chicken is a kind of small chicken with dark skin. Sapa people often graze these black chickens naturally so the chicken is quite sturdy and tasty. You can try black chickens processed in many different ways, but the best recommendation is the chicken soaked in honey before being grilled directly on the charcoal. It can be better if you eat the chicken with a mixture of salt, pepper and lime juice.
With food, we hope that not bring you to eating and how to make but knowing a little bit about people and stories behind each one. For these above-mentioned dishes, we also hope that you can take consideration for a memorable food trip.
For more information about Sapa tours, you can visit our website. If you have any questions, feel free to contact us. Share this article with others if you find it helpful. Thank you!