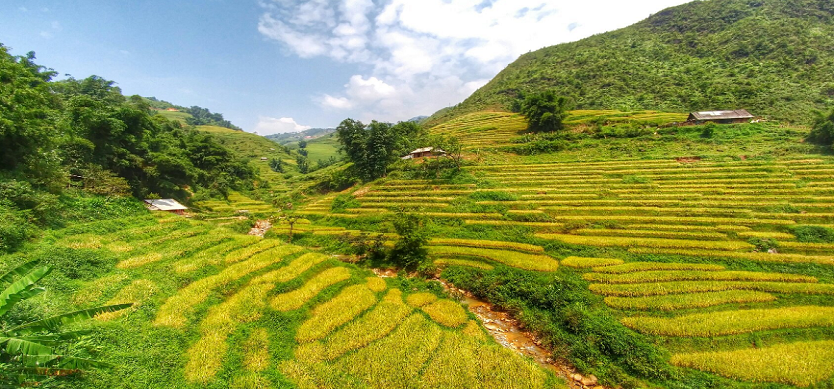 If you want to spend your holiday days on traveling in Vietnam, Sapa should be on top your list of destinations. Sapa tours, with all valley villages are spotlights which you should not miss. Following there is a list of ethnic villages in Sapa, let's check with Sapa Trekking Homestay:
Cat Cat Village
Nestled in a beautiful valley about three kilometers from Sapa Town, Cat Cat lies at the bottom of the Muong Hoa Valley and near the stunning Cat Cat Waterfall. It is an old village of Sapa still keeping its distinctive customs and practices which have been lost in almost ethnic villages. This is an age-old village of H'Mong ethnic group from the mid 19 Century. With Sapa tours to Cat Cat village, you have many things to do here.
To visit Cat Cat, you have to walk through Sapa Market down the valley. When you go out of the market, you'll be surprised by the nature's beauty with high mountains of over 3000 meters and the green rice terraced fields dropping nearly 1000 meters below. The sun shines across and there are H'Mong houses scattered in the valley.
Visitors to Cat Cat have an opportunity to experience the daily life and traditional customers colorfully here. You will see the image of young women sitting by looms with pieces of brocade decorated with patterns of flowers and birds. When these pieces are finished, they are dyed and embroidered. A noteworthy is that H'Mong women use plants and leaves to dye these brocade fabrics. Finally, they roll a round and smooth section of wood covered with wax on fabrics to polish them, making their colors durable.
In addition to the brocade weaving craft, many residents in Cat Cat are good at manipulating gold and silver jewelry. Their products are fairly sophisticated, especially jewelry for women.
Tourists to Cat Cat are most attracted by its unique customs including "pulling wife". These custom is that a man can ask his friends to lure a girl he likes to his house and keeps her there in three days. During these days, if the girl agrees to become his wife, a wedding will be held. However, if the girl does not like him, she can go back home after that.
Traditional houses of H'Mong people in Cat Cat have three rooms with three doors and covered with "po mu" wood roof. In the house are three columns standing in round or square stones. The walls are made from sawn timber. The main door is always closed and only opened when the host wants to organize important events. Altar, inlaid floor containing food, places for sleeping, kitchen and receiving guests are indispensable parts of the houses.
Visitors to Cat Cat Village can discover countless unique features of H'Mong people.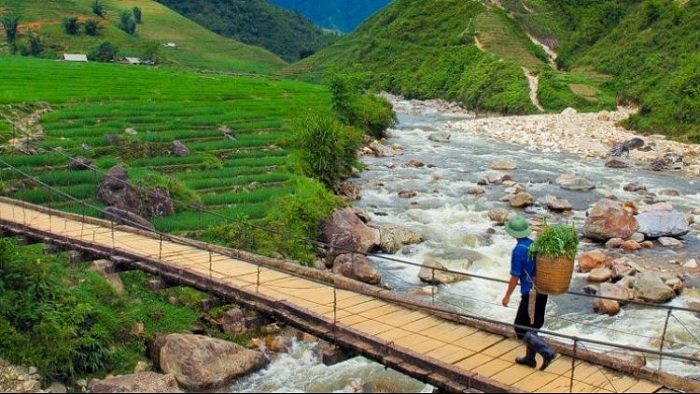 Cat Cat village
Muong Hoa Village
Besides Cat Cat, Muong Hoa is one of the most famous villages for breathtaking scenery. It is also is the largest farmland for rice growing in Sapa. Going to visit Muong Hoa, you can trek along Muong Hoa River through the valley nearby Sapa town. Along through the mountains are many strange carved stones. Spread over 4 kilometers length, 2 kilometers width with at least 159 stones, Sapa's Muong Hoa Valley has mysterious graphics.
It takes about nearly 5 hours for visitors to walk downhill to the village, tracing the Muong Hoa River, through its terraced fields and passing hamlets of minority groups here. The village, being part of Mt. Fansipan's varied topography, is at the lowest altitude of about 1000 meter and is the home for H'mong, Zao, Zay minority people, who have been working on the slopping land and living their own ways of life for hundreds of years.
On the main road leading to Muong Hoa Valley, you can take photos and sight Sapa's views. The village has terraced fields which is the most beautiful ones of Sapa. Crossing the suspension bridge, you will explore the art of weaving and dyeing cloth of the Hmong. Furthermore, you will also visit to small and isolated hamlets and meet the Black H'mong, Zay and Red Zao at their home.
From the highest elevation of the mountain range covered by endless forest, rain water follows dozens of streams downhill to the floor forming the Muong Hoa, which follows across the small town and rice fields of the ethnic minority people of H'Mong, Dao and many others. They has been working on the slopping land and living their own ways for hundreds years.
Muong Hoa River peacefully flows through the valley, weaving itself along foots of mountains, nourishing the earth and the people. On rice season, the rice farmland valley serves up different shades of green and yellow, in ranges of ranges. Patches of colors lining side by side each other creates amazing sensual patterns and a sublime and majestic landscape.
Visiting Sapa's Muong Hoa Valley, you will have chance to enjoy an easy walk downhill and along Muong Hoa River, through terraced fields passing some hamlets of the H'Mong people as Y Linh Ho, Lao Chai…, watching the locals at work. In the night, spending in Ta Van village which is Giay minority's unique village in Sapa will be an excellent and remarkable experience.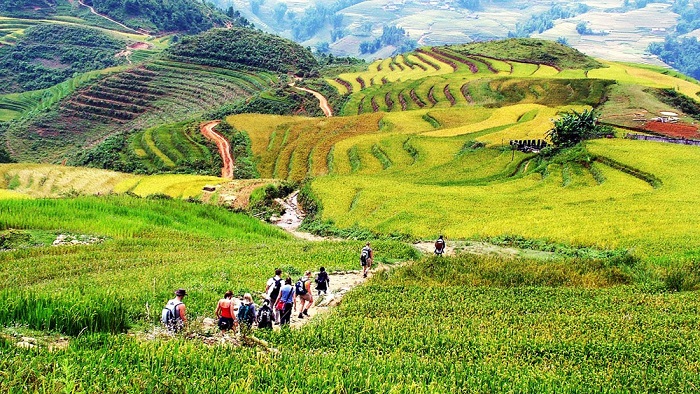 Muong Hoa valley
Ta Van Village
Also located in Muong Hoa valley, Ta Van is a peacefully village that is the home for mainly the H'Mong ethnic, Giay, and Red Zao... with approximately 1000 people. From Ta Van, we can travel very convenient to other popular villages of Lao Cai such as: Lao Chai, Cau, Ta Phin, Cat Cat...
The road leads to Ta Van village that is small and narrow. Along two sides has a fertile terraced field which adorns by the green of corn and rice. When visitors come here, they can't help being amazed at the simple beauty of the houses in the village. Previously, Ta Van based on the customs and characteristic of the Giay in Lao Cai. They live together at the bottom, mountains, the valleys, along streams. They rarely live in the mountain or the top. Because living in a same local, according to historical process, the Giay is influenced by the culture of the Tay, Thai, Nung about language, home, dress and some cultural activities…
Growing rice is the major profession of the Giay. Besides, they also produce instruments and engraved silver which is different from Cat Cat and Muong Hoa villagers. They live in both stilted houses and common houses with a solemn central part which is served as a place for ancestor altar and guest reception. The Giay have quite various cultures with fairy-tale, poetry, proverbs and riddles. Costumes of the Giay are simple: women with short eczema, wearing cloth bag with embroidered flowers; man also wears pants and shirt.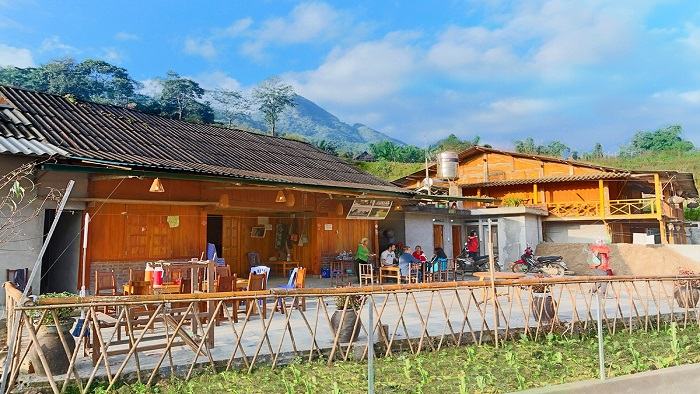 Ta Van village
If having the opportunity to come here, visitors can enjoy some special dishes of ethnic Giay such as: roast fish of Muong Hum, horse meat of Muong Khuong, sticky rice of Van Ban… and enjoy festivals, folk games of the Giay: Nao Cong, Roong Pooc… and participate in tours of the village.