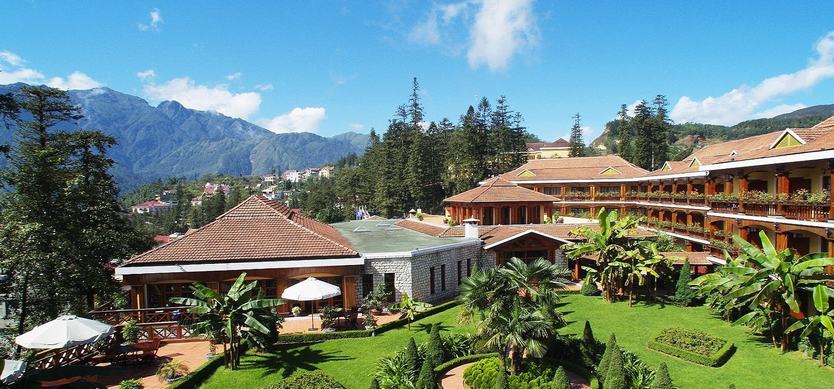 Sapa during the four seasons is an attractive destination for many domestic and foreign tourists. The essential factor creating a memorable trip in Sapa, besides beautiful tourist attractions and comfortable transportation, is a great place to stay which will make a Sapa trip unforgettable. It is great to be able to visit all the attractive destinations of Sapa and enjoy relaxing moments in luxurious resorts. Let's explore the three most beautiful resorts in Sapa right now!
Topas Ecolodge - a paradise resort in Sapa
Location
Situated about an hour's drive from Sapa town center, Topas Ecolodge is located in the Lach Village, overlooking the majestic Hoang Lien Mountains - a popular destination in Sapa tour trekking. Topas Ecolodge is considered as a resort with an excellent location.
What is unique in Topas Ecolodge?
The resort consists of 25 bungalows set amidst a green hill in the middle of terraced fields, possessing a beautiful clouded landscape, surrounded by straight and green trees.
The space of Topas Ecolodge seems to bring visitors into a world utterly different from the hustle and bustle of urban life. There is only beautiful and majestic natural beauty. Life is slow and full of exciting surprises to discover.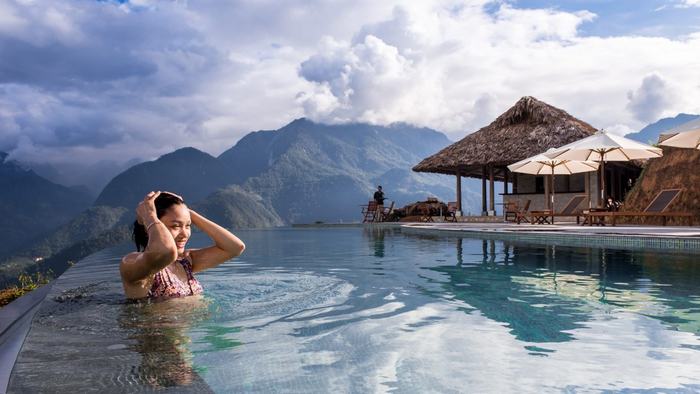 Topas Ecolodge
From the bungalows of Topas Ecolodge, visitors can view their eyes to see the romantic Muong Hoa Valley, the green terraced fields in the summer, golden blooms every fall. You can also admire the Muong Hoa spring winding around the foot of the mountain, feeling like touching the clouds, into the hills, and into the sky Sapa.
The interior is entirely made of natural materials such as wood, rattan, bamboo, and stone. The cozy and romantic space is simple and rustic.
There are no fridges, TVs, wifi, computers, or electric lights, just light on stone paved walkways. Here, only human with nature, no longer "happy, angry, love, stain" but only peace and warmth only.
The pool is located between terraced fields in the main resort area, just steps from the spa and bar. The water in the pool is hot, has a massage function. It also has a dedicated children's area.
Topas Ecolodge's room rates range from 3,400,000VND per room per night, depending on the type of villa and bed type. During peak periods, the room rates may be higher.
Amazing Sapa Hotel - A dreamlike resort in Sapa
Location
Located in the heart of the beautiful Sapa town, Amazing Sapa attracts and lures visitors by a beautiful natural landscape with stunning views. As a 4-star international hotel with modern architecture, let's explore how beautiful this resort is!
Incredible things of Amazing Sapa
Taking advantage of the beautiful natural surroundings, most of the rooms of the Amazing Sapa have views of nature, the corners of the balcony and the windows are the perfect scenic spots.
Amazing Sapa is one of the rare hotels in Sapa with all modern amenities. It is a professional gym, swimming pool in the attic which is equipped with a high-grade hot and cold water system which is always clean, karaoke room for ultra-modern entertainment, restaurant with a super lovely balcony overlooking a hill the mountains. It is extremely rich and attractive. These are relaxing spaces, exciting entertainment for you and your family.
In the center of the town, so very quickly so that visitors can see from Amazing Sapa to the famous tourist attractions of Sapa like Cat Cat village, Stone Church, Ham Rong Mountain, and Fansipan cable car.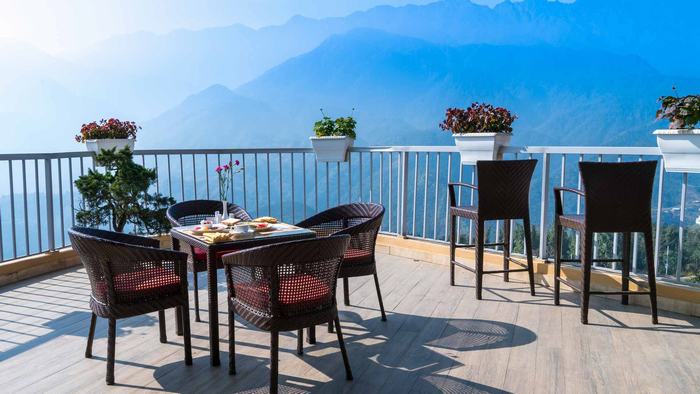 Amazing Sapa Hotel
Amazing Sapa room rates range from 2,400,000VND to 4,000,000VND/double room/night, depending on the type of room. For reservations on promotion occasions, the room rates range from 2,000,000VND - 3,500,000 VND per room per night.
Victoria Sapa Resort & Spa - Sapa luxury resort
Location
Victoria Sapa Resort & Spa is one of the leading hotels in Sapa. Owning an extremely favorable position, in the center of Sapa town, the area is vast, space is airy and surrounded by green terraced fields and hidden mountains in the thousands of clouds.
What is excellent about Victoria Sapa Resort & Spa?
Victoria Sapa Resort & Spa impresses visitors from the very first time that the design is incredibly unique. It is a harmonious combination of stone and wood, creating the highlight of the colors that make the space of Victoria Sapa Resort & Spa extremely artistic but still very warm.
Among the many hotels in Sapa, Victoria Sapa Resort & Spa is the most spacious and beautiful hotel in Sapa.
From the hotel, visitors can see the entire town of Sapa beautiful, the terraces are green, especially a view from Sapa lake which is extremely beautiful.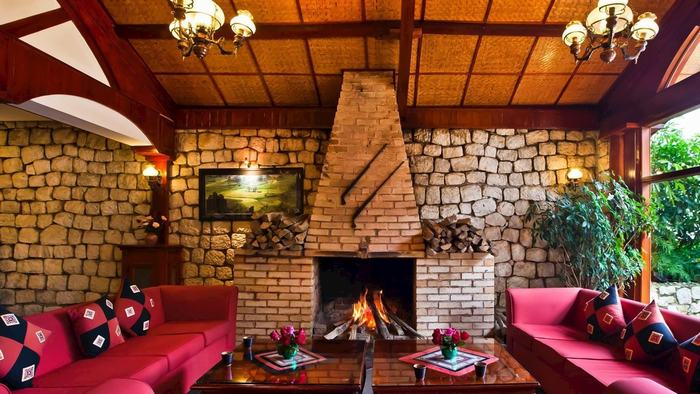 Victoria Sapa Resort & Spa
The roofs which are filled with clouds and fog, the fanciful trees and lush green lake, a fresh air, and a quiet space will help passengers stay away and forget all the weak things in life.
The hotel has a spacious campus so that families and groups can have fun, organize parties, BBQ, and delicious meals. The view of Victoria Sapa Resort & Spa can be a real experience. In each room, there are ancient fireplaces made of stone, burned with wood to create a cozy space for tourists while resting after a long Sapa tour package, the cold of Sapa will not be any more ominous.
The price of Victoria Sapa Resort & Spa ranges from about 2,000,000 VND/night/room. Ticket prices may vary from time to time during the year or when there are promotions.
If you have a chance to visit Sapa, surely you should explore one of the three most beautiful resorts in Sapa. The experience will be extremely enjoyable, and Sapa will be even more attractive! Visit our website to get more information about Sapa tours! Have a nice trip!