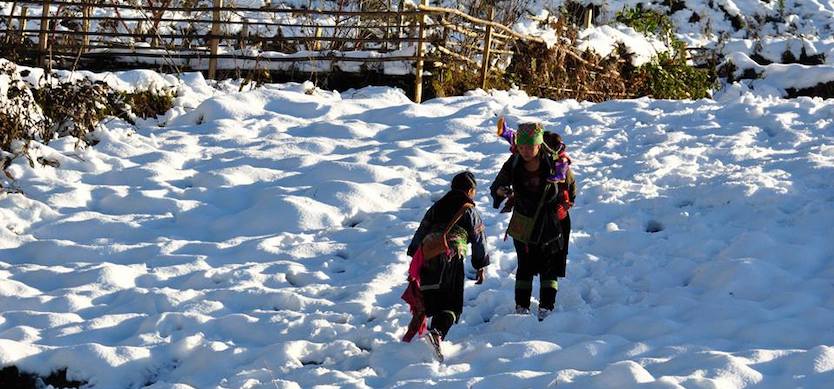 Visiting Sapa, it would not be enough if you only spend 1 day here. Let's explore the majestic nature and rustic yet unique culture of the town with our 3-day trip.
Sapa is known as the "Dalat" of the North, where nature is romantic, and climate is as fresh, comfortable as the Central Highlands. However, Sapa still has its characteristics.
For those who live in the South and want to enjoy the cold winter with reasonable time and cost, Sapa is the ideal choice. You can contact the best Sapa tour company or make your trip. The following is a suggested travel schedule to Sapa from Saigon in 3 days for your reference.
Time and transportation when traveling Sapa from Saigon
Ideal time
The winter is the best time for you to experience the amazing things in this remote town. For those who like to watch the snow, they should not miss a trip to Sapa winter if they cannot go abroad.
Three days is enough to reach some ideal places in Sapa, enjoy the cold weather, and admire the beautiful snow and ice. According to Sapa travel experiences from Saigon, the perfect time is from mid-December to mid-February.
Transport
First, you need to move from HCMC to Hanoi, and the fastest means is the plane.
Depending on the airline and the time of booking, the price may fluctuate between 2 and 3 million VND per person. Should book as soon as possible to get the best price. Pick the first flight early morning (late take off at 8 a.m) to arrive Sapa when it is not dark.
From Noi Bai Airport (Hanoi), there are many car manufacturers of all kinds going straight to Sapa. These cars usually pick up passengers from the airport at Noi Bai (Kim Anh intersection), about 3 km from the airport gate.
NOTE: You should choose the lower berth to avoid car sickness. Pick a time between 1 - 1.5 hours after the plane landed to take rest and eat before the next long journey. In case of a late reply, you can notify the garage to go on the next trip. Should book tickets for the return from Sapa to Noi Bai.
In Sapa town, you should rent motorcycles to travel which is reasonable and convenient. If you take a taxi, the best way is to choose a meter taxi because the taxi fare in Sapa is quite expensive.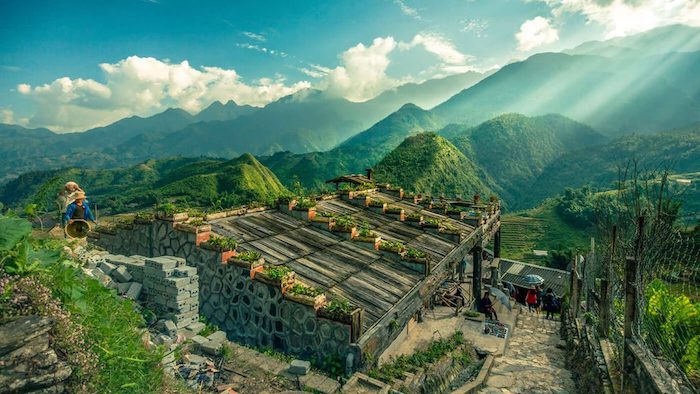 Cat Cat village
Besides, some roads are short, but the price is high because the way is challenging to go. For example, from Sapa to Cat Cat is only about 3 km but the price is about VND 100,000. If you are a small group of people, choosing a motorbike taxi will be much cheaper.
Staying while traveling Sapa from Saigon
4 or 5-star hotels, resorts outside the town are priced at VND 2-5 million/night for two people. The rest of the hotels in central Sapa is generally not expensive, with prices about VND 500,000/night.
Traveling to Sapa from Saigon in 3 days, you book a hotel room in 2 nights.
Suggested Sapa tour schedule from Saigon in 3 days
Day 1
After arriving in Noi Bai, you should call a taxi at the airport gateway to Noi Bai intersection. After that, you can sit at the eateries along the road to wait for the car to Sapa.
From Noi Bai to Sapa is about 300 kilometers, taking approximately 6 hours. Many companies run straight to Sapa by bus or to Lao Cai by small cars (about 30 kilometers from Sapa).
The distance from Noi Bai to Lao Cai is accessible due to the highway, but the road from Lao Cai to Sapa is steep downhill. Therefore, you should bring medicines to avoid car sickness.
Arriving in Sapa, let's pick up a taxi to the hotel and take a rest in the room. You should ask the hotel staff to help get cable tickets to the top of Fansipan for the next day. The cable price is VND 700,000/person for the day only. If you do not go on the weekend or Tet holiday, you don't have to book in advance.
Then, you can go hiking around the town in some Sapa hiking tours and enjoy the cuisine. After dining, guests can walk to the Stone church in the center for sightseeing, souvenirs, or barbeque before resting.
Day 2
You should get up before 6 am to drink coffee in the early morning. The ideal destination for hot coffee is Gem Valley at the beginning of Cat Cat.
There are also some other beautiful coffee shops in Sapa, where you can enjoy terraced fields, valleys, Cat Cat village, and the whole town in the middle of the mountain.
At 10-10.30 am, you depart to Fansipan. Note that the temperature on Fansipan peak is low so pay attention to wear warm clothes. There are many coffee shops for sightseeing and taking beautiful photos.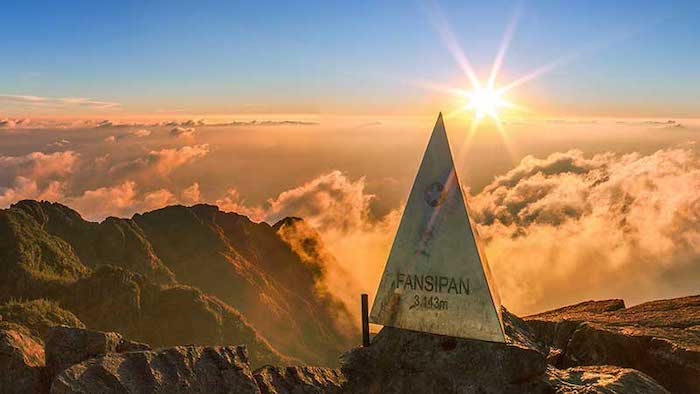 Fansipan peak
At noon, you can dine at the barbecue in front of Fansipan Gate, costing about VND 100,000/person.
Next, you move to Heaven Gate which is about 13 km far. On the way, you can visit Silver and Love waterfalls. Heaven Gate is a beautiful place where you can see the vast valley. However, this scene only appears when there is no fog.
From Sapa center or Fansipan to Silver and Love waterfalls, it is about VND 300,000-400,000. Do not go on the foggy days because you won't be able to see anything.
After going back to the hotel for a break, you'll have dinner, drink rice wine, or choose foot massage with the herbals of the Dao ethnic group. Sapa massage price is not low, about VND 200,000 (excluding tips), but this is also a specialty of Sapa, especially on the cold days.
Day 3
Sapa market is an exciting experience you should not miss while traveling here. Apart from fresh vegetables, you can buy buffalo meat, chestnuts, or dried apples as specialties and gifts.
Sapa market
At 9.30 am, you return to the hotel to check out. At 11 am, the bus departs from Sapa to Noi Bai Airport. At around 5 pm, the bus reaches Noi Bai intersection. From here, you take a taxi to the airport to return to Ho Chi Minh city.
Above is the suggested itinerary based on our Sapa travel experience. Depending on the specific conditions, you can flexibly adjust it. For further information, don't hesitate to let us know. Like and share the article if it's useful for you. Thank you and have a nice trip to Sapa!