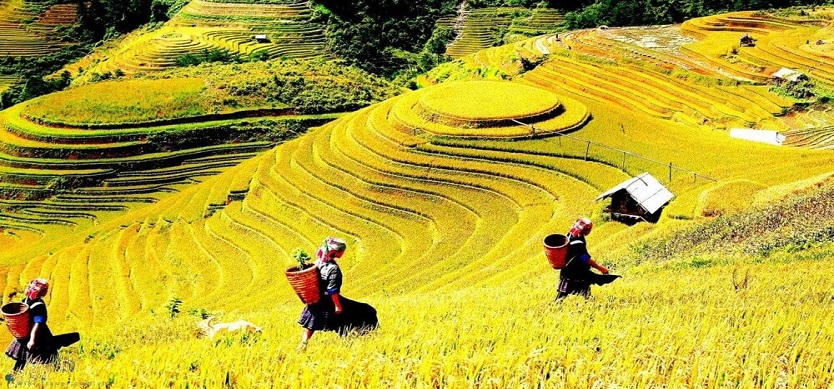 Located in the northern mountainous province of Lao Cai, Sapa hides in its many beautiful natural wonders of terraces mingling with green trees.
Here is the list of top 6 amazing destinations that visitors cannot miss when visiting Sapa:
Ham Rong Mountain
Ham Rong Mountain is considered a potential tourism spot which plays an important role in the transition of the economic structure of the province.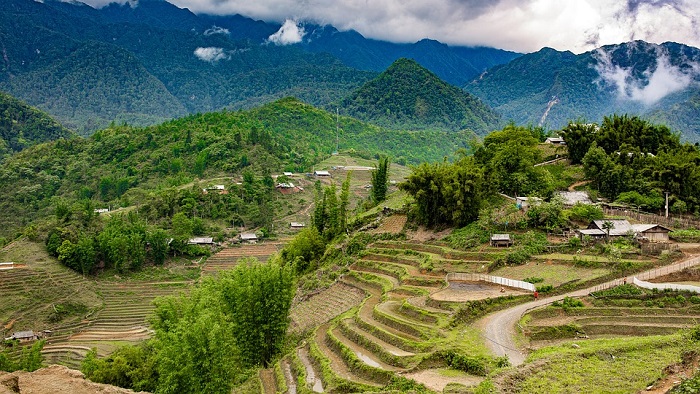 Six Amazing Destinations in Sapa
As part of the Hoang Lien Son mountain range, Ham Rong Mountain is one of the few mountains in Vietnam that have clear and beautiful figurativeness.
Ham Rong Mountain peak rises as dragon-head. The name of Ham Rong was derived from the legend that, in primitive age there were a couple of dragons which became attached to each other while the deluge was rising high. Walking up, they hurriedly separated from each other but failed. They were drifted to different places. After a long time, the female dragon was petrified but still tried to raise its eyes to the male dragon on the Hoang Lien Mountain in the west because its instinct for survival remained.
Currently, the Ham Rong Mountain is home to a number of some pretty orchid gardens and "rock gardens".
The Sapa Stone Church
Sapa Stone Church has been nominated by the Vietnam Records Book Centre (VietKings) as one of the top five over 100-year-old churches in Vietnam.
It is introduced as a unique and attractive spiritual tourism destination. Located in downtown Sapa, with Ham Rong Mountain behind, this Roman Gothic architecture church was built with distinct pyramid rooftop, belfry, and arches. Covering 6,000sq.m, the stone church includes 7 compartments, and a 20m belfry with a 1.5-meter bell, weighing 500 kilograms.
Cat Cat Village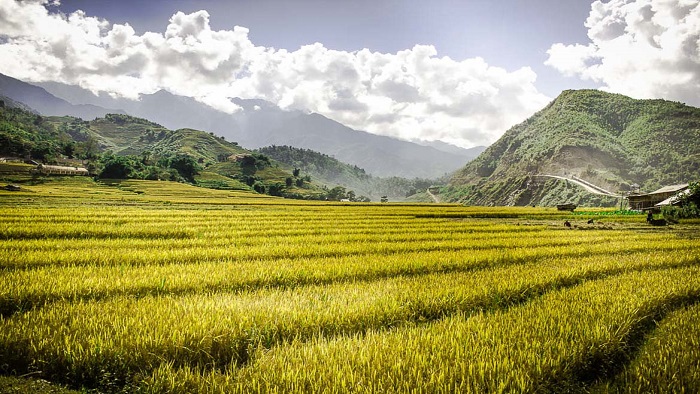 Six Amazing Destinations in Sapa
Nestled in a beautiful valley about three kilometers from Sapa Town, Cat Cat - the old village of ethnic groups- attracts tourists from all over the world for its distinctive customs and practices which have been lost in almost ethnic villages.
The village is within easy walking distance from any hotel in downtown Sapa.
Cat Cat cultural village was formed in the 19th century after families of some ethnic minority groups from northern Vietnam mountainous areas, especially the Black H'Mong gathered here. They lived next to each other along the mountain side and cultivated the soil around their home.
Rice and corn were grown in terraced fields, and traditional handicrafts such as twisting flax and weaving fabric have been well-kept. Through times, Cat Cat Village has transferred to one appealing feature of Sapa's tourism.
Ta Phin Village
Ta Phin Village is located in Ta Phin Commune, Sapa District, about 12km northeast of Sapa Town. The village is surrounded by mountains and owns spectacular rice terraces.
The best time to visit Ta Phin is in the late afternoon when tourists can enjoy amazing view of sunset over the village and the whole surrounding areas.
Two ethnic minorities living in harmony in Ta Phin Village. They are the Red Dao, who make up the majority, and the Black Mong. It is the best for tourists to distinguish the difference in culture and way of living of ethnic minorities in Sapa.
Ancient Rock Field
Sapa ancient carved rock spreads out on the territory of three communes of Ta Van, Hau Thao, and Su Pan. It is located in Muong Hoa valley with an area of about 8 km2. Located on the steep windy mountain road, the ancient rock carving ground consists of 159 small and large boulders alternating in trees, near the side of the road or in water rice paddies.
Love Waterfall
Located about 4km to the North-West of Sapa Town in San Sa Ho Commune, the 100m high Love Waterfall starts from the peak of Fansipan Mountain and rush noisily into the Gold Stream. Love Falls is the name by which it kept the area a romantic love story. The story tells that long time ago, this waterfall was the bathing place of fairies from heaven.
One day, a fairy was mesmerized by the flute sound of a young boy near the fall, so she spent every night listening to his melodies. Not a long time after, her parents came to know the secret, and forbade her from coming back to the fall. The passionate fairy transformed herself into a bird so that she could live with her love forever. From then on, the name Love is born.