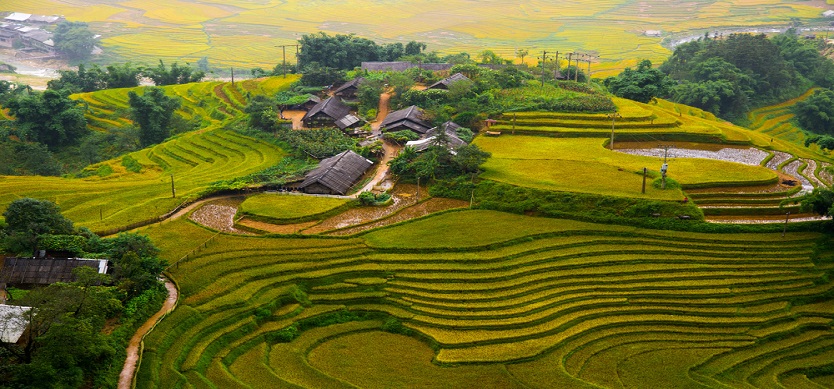 Located in the northwest of Vietnam, Sapa hides many wonders of its nature and people. The cloudy town attracts a lot of tourists with spectacular mountain views and unique experience about the life of ethnic minorities.
Coming to Sapa (Sapa tours are a wonderful choice for you) tourists will have the opportunity to conquer the majestic Fansipan peak, take a trip to the villages hidden in the mist. Admire the imposing mountain and forest scenery with blooming flowers. Everything would certainly delight travelers when arriving at this place.
Weather
Cool fresh air is the invaluable resources of Sapa. Situated at an average altitude of 1,500m - 1,800m, Sapa climate is more like the climate of the temperate zone, with average temperatures of 15-18 ° C. From May to August, Sapa has much rain. When winter comes, Sapa temperature can drop below 0 degrees Celsius, sometimes with snow.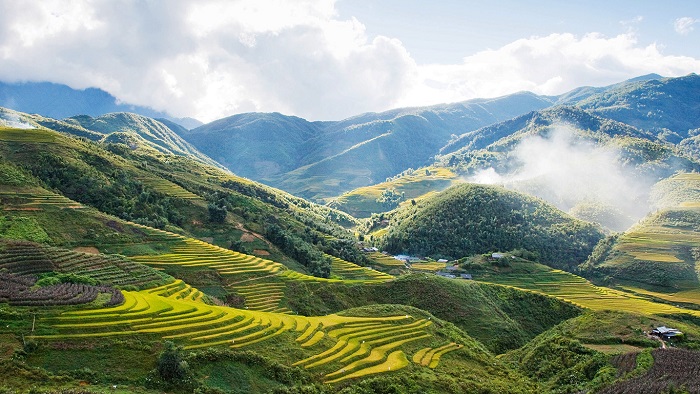 Sapa Travel Guide
Best time to visit Sapa
The great time to travel to Sapa is from September to November or from March to May. In these times, Sapa weather is stable, dry and sunny in the daytime, cold at nights. ( It is the best time for you with
Sapa Trekking Tours
).
April and May are the times when ethnic minorities grow rice on terraced fields. And this is also the season of many beautifully blooming flowers. Rice transplanting scene is very beautiful, paparazzi love to go in this season.
September and October are the harvest season of rice. At this time every angle of Sapa is bright yellow. Sapa is like wearing the new color - golden yellow across the hills. However, you should travel in the middle or end of September because in October many places have finished harvesting.
From December to February, it is very cold, ice can appear and occasionally snowfall. This is also the season of cherry blossoms blooming. A lot of young couples choose to travel to Sapa this time to see snowfall.
How to get into Sapa
Sapa is far from Lao Cai about 38 kilometers and 376 kilometers from Hanoi. To travel to Sa Pa, tourists can choose many types of vehicles such as car, motorcycles or train. The most popular way to go to Sapa is by train that operates at night from Hanoi to Lao Cai station. The train runs from about 7 p.m to 10'30p.m. You can go by Victoria Express, Livitrans Express, Royal cruise with air-conditioning system and soft bed. You will take about 8 and half hours to Lao Cai station. Then, you have to use cars, mini truck to go from Lao Cai to Sapa.
Prices depend on your seat and the time. On holidays, price is very expensive and you can not buy so that you should book it before as soon as possible. With one bed, tourists must pay from 220.00vnd to 250.000vnd (one-way).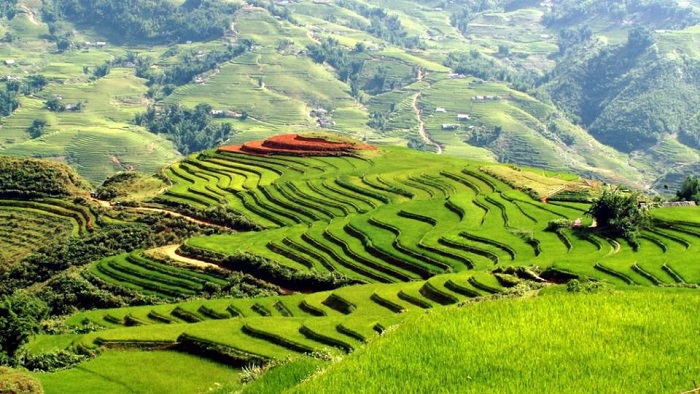 Sapa Travel Guide
Besides, with Sapa day tour from Hanoi, tourists can also travel by high quality bed of buses. These are the high quality bus from Hanoi to Sapa such as Express Bus, Good Morning. Travelers will be offered with 28 beds/car, television, blankets, cold towels and a small water bottle for free. Departure 2 flights per day. Additionally, visitors can go to Sapa from Hanoi by motorcycle. It takes about 10 hours.
Things to do
Sapa is a laid back, mountainous town in Northwestern Vietnam, blessed with a cool climate throughout the year. The Hoang Lien mountain range dominates the area, setting a dramatic backdrop for many scenic treks.
Just venture out a little to nearby indigenous villages and you'll be rewarded with views of stepped paddy fields – emerald ripples that flow across entire stretches of valleys. Here're 5 things you got to do when arriving Sapa.
Climb Fansipan, 'Roof of Indochina'
Besides being the highest peak in Indochina (Vietnam, Laos, and Cambodia), Fansipan is also the last major peak of the Himalayan range. So even if the 3,140m summit is less than half of Mount Everest's, you can take pride in having conquered a mountain at the tail end of Himalayas.
Fansipan
That said, it's not an easy hike. The fittest may do it in a strenuous day hike, although most
Sapa hiking tours
last over 2D1N, or 3D2N if you want to take it slow. The climb promises majestic views of the Hoang Lien mountain range.
Ride a bike through Muong Hoa Valley
Muong Hoa Valley is a stunning stretch of land that lies at the bottom of Fansipan's northern flank. It is the largest strip of rice fields in the Sapa region, dotted with villages of different minority groups.
There are many trekking tours that bring visitors from Sapa into the valley on foot. It's about 3-5 hours hike downhill, from initial panoramic views of the rice terraces to close-ups of the Muong Hoa river, flowing right next to the paddy fields.
Worn out from Fansipan hike yet wanting to explore the place on our own, renting a motorbike was our best option. It's cheap (USD4/day), efficient and an experience in itself – riding between two high mountain ranges, cool air against our cheeks with the occasional roaming farm pigs to avoid.
Spend a night at a local village homestay
There are many villages around Sapa town that offer visitors a glimpse of how each ethnic minority group go about their everyday life.
The nearest is Cat Cat Village – a short 30min walk from Sapa. Due to its close proximity, it is also the most touristy. But for me, its multiple descriptive boards gave a good introduction to the culture and lifestyle that take place in a typical H'mong village.
With our motorbike, we could venture further southeast to explore the villages of Lao Chai and Ta Van. We ended up having dinner and spending a night at a cozy homestay by the river, which we chanced upon in Ta Van Village.
Stop by the waterfalls
If you're a fan of waterfalls, here are a few around Sapa town to check out:
Cat Cat Waterfall
Love Waterfall
Chill out at Sapa town
For a small town tucked away in northern Vietnam's mountains, Sapa is surprisingly modern. It offers a wide variety of gastronomic options – from local street food and Vietnamese eateries to high-quality Italian restaurants and wine bars. Not to mention local cafes that serve super robust Vietnamese drip coffee.
Sapa street food at night market
It is also a haven for adventurous souls on a budget. We happened to be a perfect match of their street shops' target segment. And went a little crazy.
Gortex jackets, track pants, hiking boots, waterproof backpacks – there's a replica for every type of hiking equipment. Don't be fooled though – it may be a good deal, but it's not the real deal.