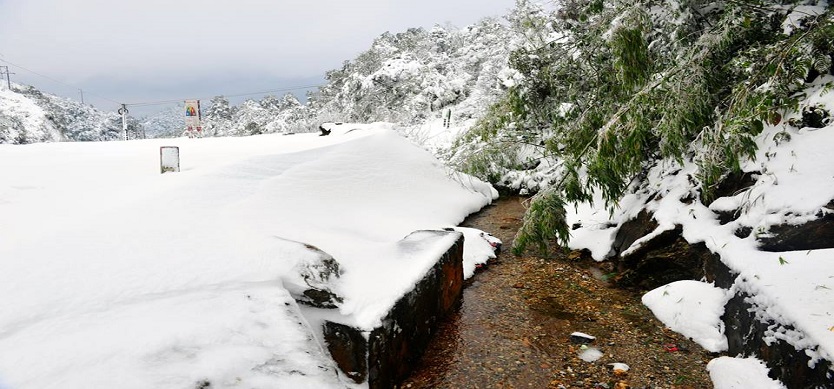 Rare snowfall causes 10 billion VND losses for Lao Cai
Losses from the recent prolonged, heavy snowfall in numerous districts of northern mountainous Lao Cai province amount to nearly 10 billion VND (4.7 million USD), according to a local official.
Sapa resort town is the hardest hit with a loss of up to 5 billion VND, said Ma Quang Trung, Director of the provincial Department of Agriculture and Rural Development.
Rare heavy snow damaged large areas of crops.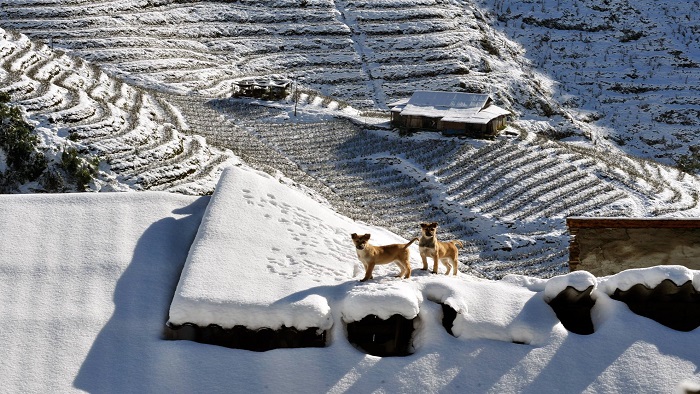 Sapa snowfall damages farms, attracts tourists
According to the Office of Agriculture and Rural Development of Sa Pa, more than 100 hectares of chayote and another 100 hectares of flowers were buried under snow.
Tran Thi Dung, a flower grower in O Qui Ho, said with great sadness on December 17 that thick snow had come all of a sudden, destroying her flowers worth hundreds of millions of Vietnam dong.
The Hoa Dao Cooperative in Sapa town has fared even worse with more than 50 hectares of chayote and rose destroyed at an estimated loss of VND25 billion. Fifty member families are just waiting for snow thawing to start a new crop from a scratch.
Along Highway 4D from Trung Chai to Coc San, hundreds of huts have been set up to provide shelter for buffaloes.
By December 17, dozens of buffaloes had died in addition to the destruction of more than 2,000 sq.m of orchid gardening and 60 percent of chayote grown acreage.
The snowfall attracted tourists to Sapa, causing congestion from the provincial capital of Lao Cai to the resort town.
From the height of 1,500m above sea level, ice sheets were about 2.5 cm thick.
Attract tourists
Wintertime in Vietnam is very cold and humid, especially the northern mountain areas of which Sapa is a popular destination, however, winter is the best time to discover the beauty of this high land.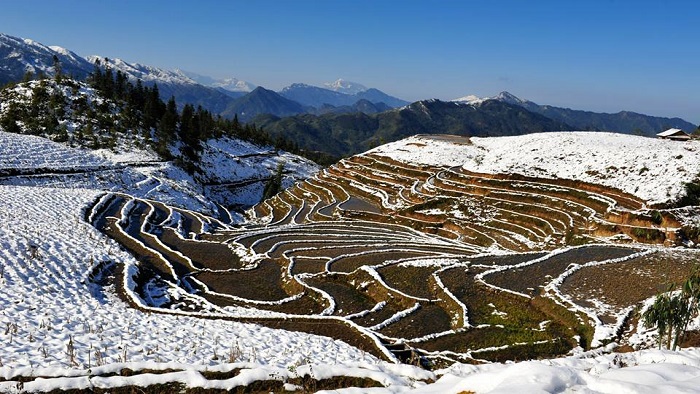 Sapa snowfall damages farms, attracts tourists
Sapa always stands on the top list of winter destinations in Vietnam. "City in the fog" has the specific of northwest mountains with blue skies, white clouds and colorful flower blooming all year round and many travelers come to Sapa in the winter. Winter is very cold in Sapa, sometimes weather drops to below zero degrees, tree branches and grass are covered with ice. Sapa on icy days always attracts many tourists and photographers and strangely all the most beautiful pictures about Sapa are taken in wintertime. Sapa has many walking paths into the village with beautiful scenes of nature, flower forest. The hamlets on the hillsides, along streams, brocade gown spread on huge rocks, pieces of newly dyed linen flying in the thin haze makes Sapa becomes more beautiful and romantic. While is beach tourist spots are empty in winter Sapa is still bustling with tourists, mostly foreigners, they come to find out the natural and cultural beauty of the land over 100 years old.
Located in Muong Hoa valley, less than 10 km from Sapa, the Cat Cat village is a vivid picture of the Hmong culture. The houses are roofed by Po Mu wood, with the pillars placed on the round or square rock. The outer room is full with brocade clothes for sale, souvenirs, bronze and silver jewelry and ethnic instruments such as Dan Moi, pan leaf, bamboo flute
Close to Sapa, Y Ty (in Bat Xat district) is inspiring tourists to return after their first visit. There is still large number of tourists coming to Y Ty on cold winter days, this place is reckoned as a paradise for young backpackers. The wonderful thing in Y Ty is the natural landscape, there is here jungle, cardamom, Son Tra flower and little houses plastered with the earth. Coming to Y Ty, homestay in the village is the most interesting, travelers stay and have dinner with the hosts, enjoy herbal bath served by local ethnic people. Y Ty in wintertime is still very attractive captivating adventurous tourists to experience life in a distant land.
In recent years, homestay has become a favorite experience especially for young people thanks to reasonable prices, culture, and closeness to nature. In response to the increasing demand, many families have renovated their houses in order to receive tourists, visitors can stay the night with family, learn about cultural characteristics, enjoy local cuisine of the area.
In the famous places such as Sapa, Bac Ha, Bat Xat homestay is developing very fast with more and more professional services of the hosts. In addition to accommodation and food, homeowners can also become tour guides taking visitors to experience life in the village.