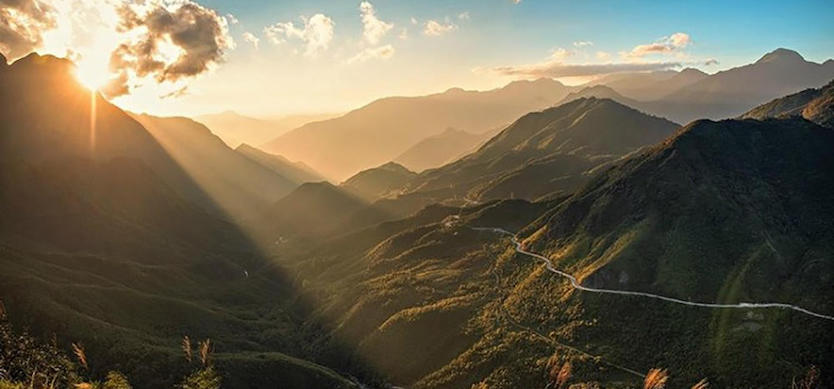 Traveling to Northwest Vietnam, you will be stunned by the majestic nature and unique culture of Sapa with a variety of things to do and attractions to visit.
Sapa is located in the Northwest of Vietnam, at an altitude of 1600 meters, 38 kilometers from Lao Cai city center, and 376 kilometers from Hanoi. As a highland town, Sapa not only is a famous resort but also owns a host of miracles of nature. The mountainous terrain, green forests, and unique local cultures are all the features that create a harmonious, charming and poetic landscape picture of this region.
Best time to travel to Sapa
From April to August annually is the peak tourist season of Sapa. During this period, with a mild climate, Sapa becomes an ideal place for family vacations. If visiting Sapa at this time, you will get the opportunity to admire a stunning Sapa covered with brilliantly-colored flowers and green fields.
In late August and early September, terraced fields are lush with ripening rice. That is also the time when a considerable number of tourists go to visit Sapa. It brings a great experience to watch the town in a new yellow dress across the hills. You should go to Sapa in the middle or end of September instead of October because many places already finish the harvest in early October.
Between November and March, the weather gets freezing, especially when the night falls. Nevertheless, you can admire the sunrise on the high valley in the early morning. In recent years, there have been snowfalls in Sapa. If wanting to see this romantic scenery, you should choose this time to join the Sapa tour in Vietnam.
Must-see destinations
Fansipan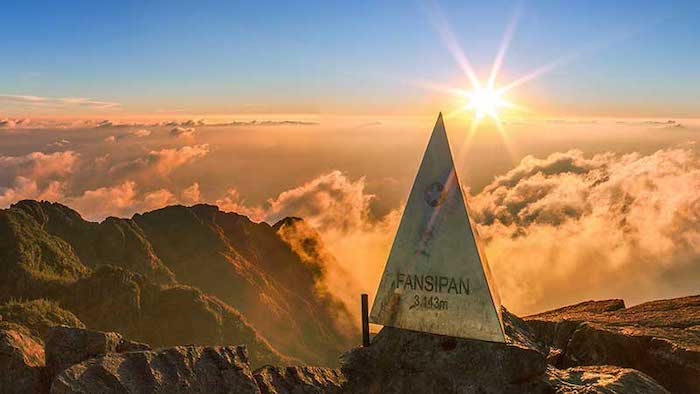 Fansipan peak
Fansipan is 9 kilometers from the Sapa town center to the southwest. To move here, you can catch a taxi to Tram Ton, then go on foot and begin the journey to conquer the peak. Note that to discover Fansipan, you need at least three days. If you intend to spend only one or two nights in Sapa, you can get there by cable cars.
O Quy Ho pass
O Quy Ho is 18 kilometers from the town center to the north. The road to O Quy Ho pass is quite tortuous and narrow. Therefore, a motorcycle is probably the most available transportation.
Muong Hoa valley
Muong Hoa valley is situated in Hau Thao commune and 8 kilometers from the Sapa town center to the southeast. From Sapa town, you have to go through a high mountain pass to reach the valley. The highlights of the trip are the ancient rocks and picturesque terraced fields. Besides, you should not miss Lao Chai and Ta Van villages.
Silver waterfall
To come to Silver waterfall from Sapa town, you move a distance of 12 kilometers towards Lai Chau province.
Fairy cave
To get to the Fairy cave - the terrestrial Halong Bay, you take a boat from Bao Nhai (Bac Ha district) and go through the Trung Do ancient citadel.
Coc San
Going along the small road of one kilometer on the National Highway 4D, you will witness an unspoiled and mysterious scenery. It is rather difficult to enter Coc San, so you should have a partner or hire a guide to travel with you.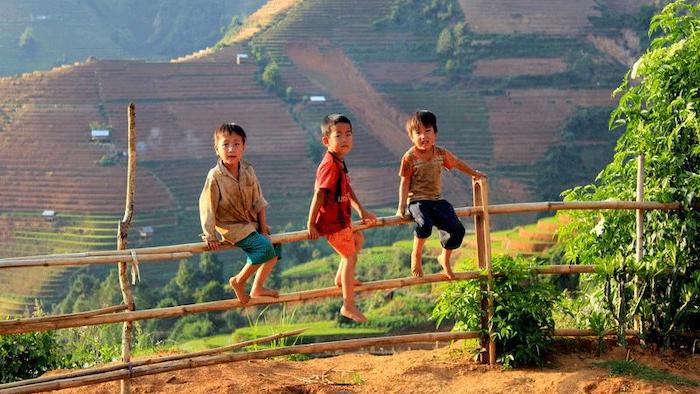 Ta Van village
The villages such as Ta Phin, Lao Chai, and Ta Van have the flat terrain, and a taxi can approach here. Ta Phin is located 17 kilometers far from Sapa town to the east, and Lao Chai lies next to Muong Hoa stream.
Things to do in Sapa
With each tourist destination of Sapa, you will enjoy different activities. For example, in Ta Phin village, you can have a bath with the herbal medicine - a service offered by the Red Dao, experience the feeling of adventure in O Quy Ho pass, and see the ripening rice in Muong Hoa. Besides, if taking a trip to Ta van village, you will get a chance to do trekking, discover the local cuisine, and learn more about the regional culture through market meetings and Sapa love market.
Watch sunrise and sunset in Sapa
Crisp breezes in the early morning will make you a bit shiver with cold. Some tourists sit beside the window to enjoy a hot cup of coffee and a plate of fried egg and admire the landscape from the hotel. When the nightfall comes, and the sun is gradually hidden from view by Hoang Lien Son mountain, Sapa is surrounded by the purple color, which brings the poetic beauty.
Use homestay service
Coming to Sapa with a Sapa hiking tour, you should try the homestay service of the locals and eat unique idyllic dishes. Homestay services have been increasingly developing, so you feel secure about food hygiene.
Enjoy Sapa cuisine
Grilled dishes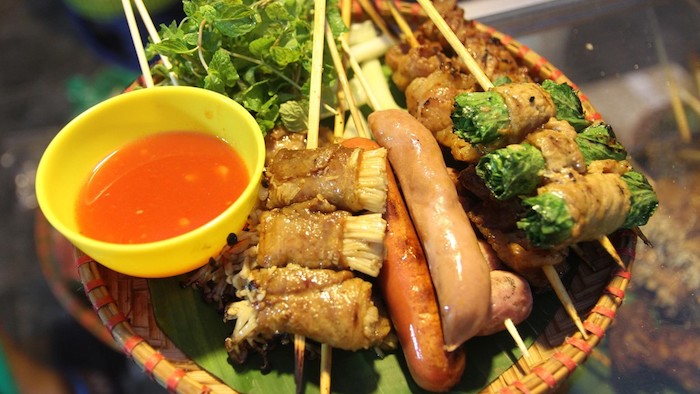 The tasty grilled cuisine of Sapa
Because of the cold weather in Sapa, there is a lot of grilled food such as chicken eggs, duck eggs, barbecued meat, meat wrapped vegetables, and bamboo-tube rice. In cold evenings, the area for barbecued cuisine attracts most of the tourists due to the warm space and delicious taste.
Spring fish
There are many types of spring fish. A unique point of this food is that it has no fishy taste. The cooking method of spring fish is quite simple. Spring fish is grilled on the charcoal, then served hot. Another way is baking the fish, then fry them until crispy, and deep fry them with tomato sauce, curry powder, and black pepper powder.
"Thang co" (Horse meat and viscera)
Ethnic minority people often cook "thang co" with beef, pork, and buffalo meat. To have a tasty dish, we need 27 different spices such as cinnamon, anise, cardamom, and chive. Forest vegetables are also essential ingredients. This food contains fatty, sweet and fragrant flavors.
The combination of all these flavors will make a deep impression on diners. You will have a great feeling when enjoying a hot bowl of "thang co" and sipping a cup of corn wine in the cooling atmosphere.
Hope that with our guides, you will be able to share the most enjoyable time in Sapa with your beloved people. For further information, don't hesitate to let us know or visit our website. Like and share the article if it's useful for you. Thank you and have a memorable Sapa trip!