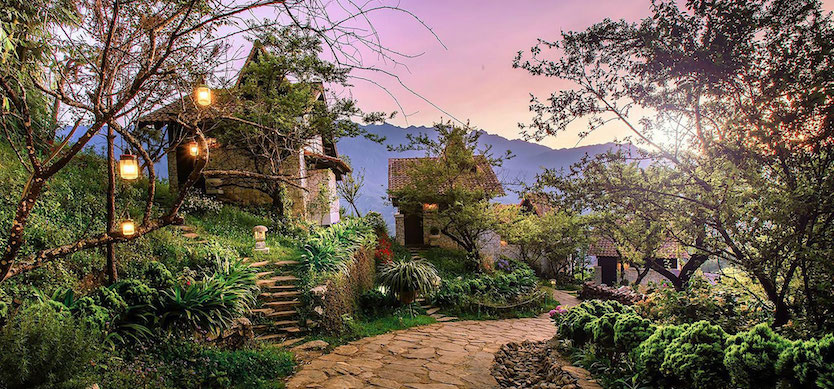 With the clean rooms, high-quality service and beautiful view, Sapa hotels and resorts as a ticket to ensure the success of your honeymoon trip.
Let's find out these 5 places to stay in Sapa to have a memorable honeymoon.
Sapa Jade Hill Resort
Recently appeared a few months but Sapa Jade Hill Resort has become a phenomenon that many people coming to Sapa are impressed. It is built as a tiny European village in the heart of the beautiful town of Sapa with brilliant white walls and rustic, warm brown wood.
Sapa Jade Hill Resort is located on a high hill, surrounded by green mountains and misty mist. On cold days, you can feel the fog flooded the aisles, very beautiful and magical.
Although the outer space and the landscape are quite cooling, inside the resort is pretty and warm. The 4 villas here are huge, both over 120 square meters with the different exterior.
If choosing Sapa Jade Hill as the destination for your honeymoon, you should select plum garden villas or hotels in Lao Chai with the most beautiful and romantic scenery. Enjoying the relaxed atmosphere of the mountains, tasting the unique dishes of Sapa, and experiencing the holiday at Sapa Jade Hill will be an unforgettable memory in your life.
U Sapa Hotel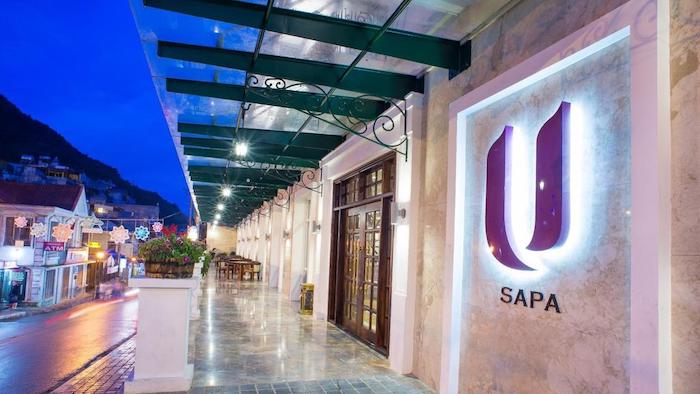 U Sapa Hotel
Located right on Cau May street, the busiest street of Sapa, U Sapa is one of the most beautiful locations in Sapa town. It is a mixture of beautiful French architecture mixed with local identity.
With a desirable location and a large facade overlooking the Stone church, all the rooms of the hotel offer guests a beautiful view. Just walk out to the balcony, you will observe the space around the town, watch the stream passing through the central street, and in the upper-floor rooms, you can zoom out to the green mountains of Sapa. For this reason, the hotel is popular with both domestic and foreign tourists.
Services in U Sapa are very professional. Especially if you come here at the weekend, you can enjoy the delicious barbecue party at the restaurant on the balcony of the hotel. Just watching Sapa at night, inhaling the fresh atmosphere, sipping a cup of tea, and enjoying a delicious dinner will be extremely hard to forget.
H'Mong Hotel Sapa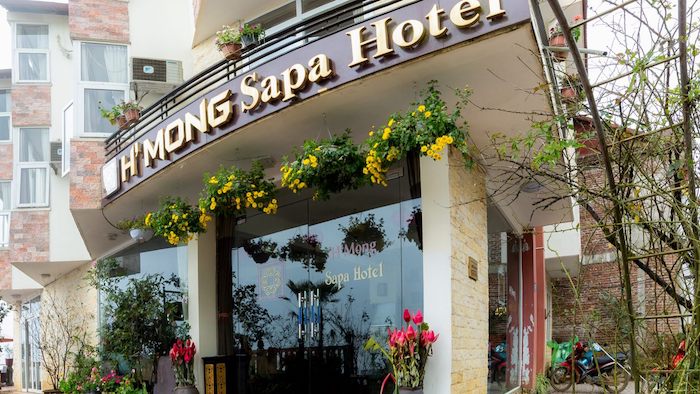 H'Mong Hotel Sapa
In the list of hotels with a beautiful view in Sapa, we cannot miss mentioning the H'Mong Sapa. Staying at this hotel, you will have a chance to admire the panoramic views of Sapa market, Stone church, Muong Hoa valley, and foggy Fansipan.
The rooms in H'Mong are not too crowded, so of course, they are clean and comfortable. Most notably, they have large windows overlooking the mountain, ideal for couples to stay here.
The hotel also offers a large balcony, where you can relaxedly sit for breakfast, eat bread, sip a hot cup of coffee as well as breathe the air of Sapa.
Besides, the hotel also has a car rental service at a reasonable price, very convenient for you to rent and visit Sapa.
Sapa Bamboo Hotel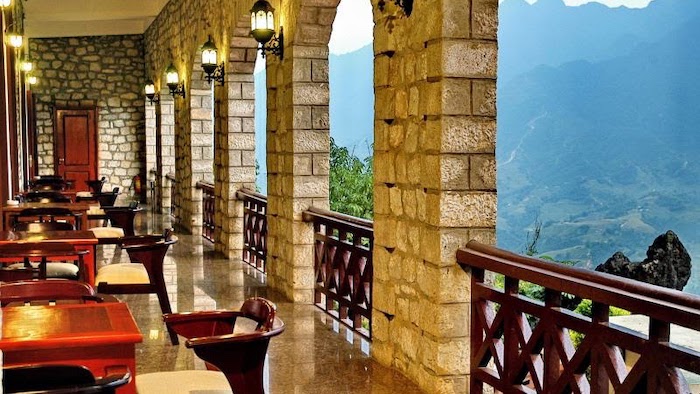 Sapa Bamboo Hotel
Sapa Bamboo Hotel was built in one of the most beautiful places in this tourist spot. Overlooking Ham Rong, Fansipan mountain, and romantic Muong Hoa valley is the experience that this hotel provides. It owns a proper view angle which is both broad and beautiful.
This hotel has 56 rooms with extensive open views. Each one is designed in harmony, close to nature, equipped with full facilities. Furthermore, Bamboo also has a sunbathing area, a garden, and karaoke to help you unwind after a day of exploring exciting events in the city.
In terms of dining service, the restaurant in this hotel is favorable by its rich menu with more than 100 traditional Vietnamese dishes, so you can be assured of food service package if you do not want to move too much.
The Haven Sapa Camp Site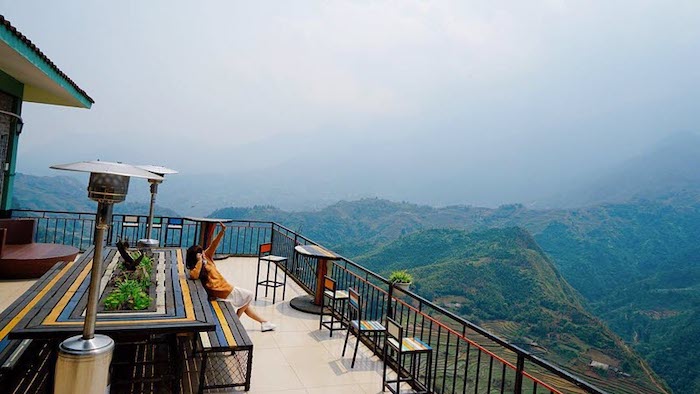 The Haven Sapa Camp Site
The Haven Sapa Camp Site is a top-rated hostel, floating in the town of fog in late July with a beautiful view. Located right on Vong Canh hill (Cat Cat village), you can see the panoramic view of Sapa town without worrying about any obstacles.
With 30 beds, The Haven primarily develops dorm room type for corporate travelers and collectives to host team building or backpackers.
However, this hotel does not ignore the need for relaxation of the couples. It is a popular honeymoon destination. There are bungalows named Moon and Cloud for the couple. They are rustic with wood and bamboo. The room here is very comfortable with a bed, heating system, private bathroom, and a window overlooking the beautiful outside space. The bungalow also has a lovely balcony to emerge in the scenery.
Along with the beautiful view rooms, Sapa Haven also has 360 Lounge Bar with a 360-degree view on the top of the hill amid Muong Hoa valley, cinema, and barbecue garden. Staying here, you will participate in the fun BBQ party. Dorm room rates are from VND 150,000 and bungalow is VND 1.2-1.8 million per night.
Above are the 5 best accommodations for your honeymoon in Sapa. If you want to book a Sapa trip, please contact us for Sapa Vietnam tour price. If you find the article useful for your trip, please like and share with others. Thank you.