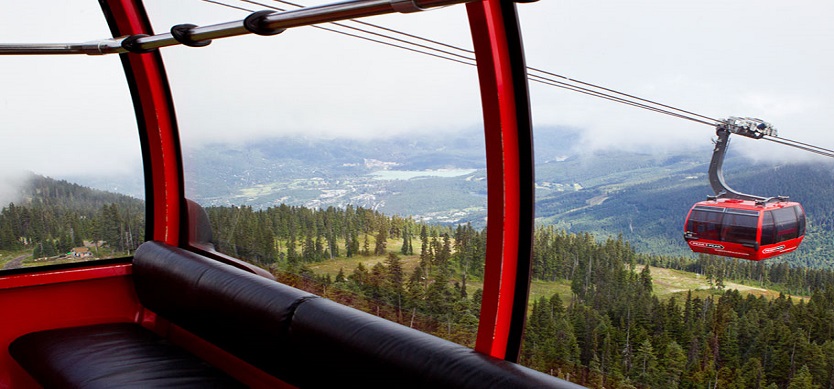 Sapa is wonderful and attractive destinations in the north of Vietnam with imposing landscapes for exploring in which Fansipan mountain is the best one. Therefore, Sun World Fansipan Legend cable car system opened in February 2016 to help tourists stay closer to the mountain.
Previously, Mount Fansipan was seen as a meeting point for many climbers, who were considered by tourists and discoveries to be the symbol of the conquest of youth and determination. At 3,143m altitude is always a great challenge for generations of Vietnamese and foreigners. However, today with the advent of the Sun World Fansipan Legend cable car system opened and opened in February 2016 has turned the dreams of many people into reality, conquering "Roof of Indochina" has never been now it's so easy. A lot of domestic and foreign tourists eagerly, wish once to experience the wonderful things of Fansipan cable car when coming to Sapa.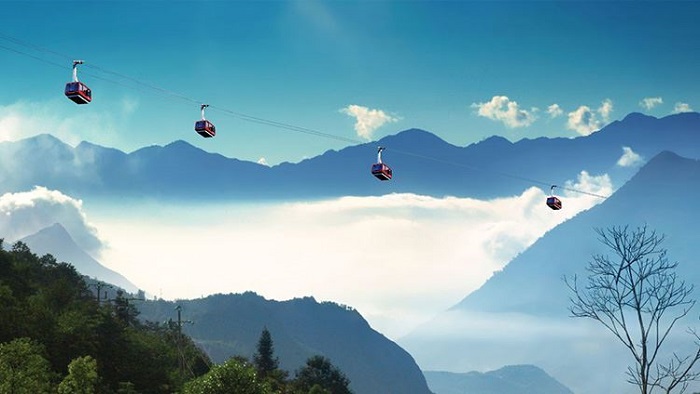 Fansipan-Sapa cable car to open in 2015
Owning to two Guinness world records are the longest three-wire cable car system in the world 6292.5m and a three-wire cable system with the difference between the departure and the largest station in the world 1410m. Fansipan Sapa cable car route realizes the dream of conquering the "Indochina Roof" of the people, opens an important turning point, and contributes to creating a driving force for the development of Sapa tourism in particular and Lao Cai province in general.
The cable car operating hours are from 7:30 to 17:30 daily at Hoang Lien Station - Fansipan Station, starting from Muong Hoa Valley to Fansipan peak in Sapa town, Lao Cai, Vietnam. Each cabin of Fansipan Sapa cable car has a maximum capacity of 30 to 35 guests with a transport capacity of up to 2,000 guests / h, shortening the time to move to Fansipan peak to 15 minutes instead of 2 days by road.
With the world's most modern three-wire system, Fansipan Sapa Cable Car is capable of withstanding strong wind pressure and harsh weather, ensuring absolute safety for visitors, and opening the opportunity to admire Fansipan peak for both Everyone including the elderly and children.
You will have the opportunity to admire the panoramic view of the poetic Muong Hoa Valley and Hoang Lien National Park and Hoang Lien Son Range overlapping the high above with sky clouds, flowers, and mountains, merging together to create a colorful landscape picture. So, you feel like you're lost in the first sight, and passing through the clouds floating in midair.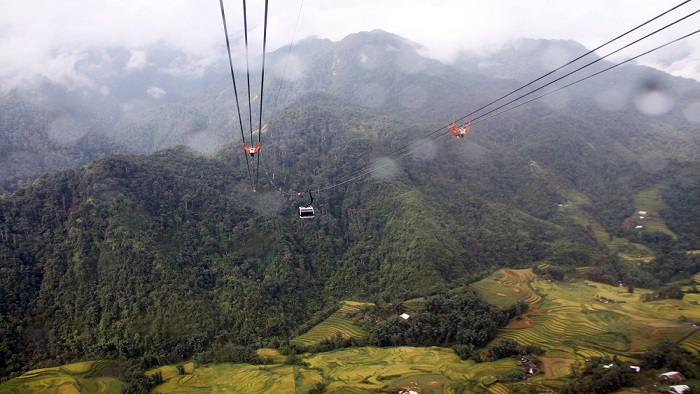 Fansipan-Sapa cable car to open in 2015
Besides that the desire to always create the best interesting experience for visitors, on March 31, 2016 Sun World Fansipan Legend has launched a train route for climbing Muong Hoa, connecting from MGallery hotel in Sa Pa town to Fansipan cable car station. This is the longest and most modern climbing train route in Vietnam with a classic European-style design (including a red train), crossing 2 tunnels and 4 viaducts to the station of Fansipan cable car.
How to get to the Sunworld Fansipan Legend cable car station
Sunworld Fansipan Legend cable car station is located in Fansipan Legend tourist area, about 3km away from the Stone church - Sapa town center. You can catch a taxi or walk to the cable car station. The price for a 4-seat taxi is about VND 50,000 - 100,000 ($2-$4) and travel time is about 10 minutes. If you choose walking, it takes about 30 minutes. Departing from the Stone church, you go in the direction of the Silver waterfall about 1km, then turn left to Nguyen Chi Thanh street and go straight about 1.7 km to Fansipan Legend tourist area. There are signposts on the way, so you can easily go to the station without looking on maps or asking for directions.
A better option is to take the Muong Hoa train that connects Sapa town to the Fansipan cable car station. Starting from Hotel De La Coupole - MGallery - the first international 5-star hotel in Sapa town and ending in the area of ​​Fansipan cable car station, the train passes through 2 tunnels and 4 viaducts with a maximum speed of 10 m/s and the capacity reaches 2,000 guests/hour. The operation of the Muong Hoa railway will shorten the travel time to 4 minutes instead of 15-20 minutes by car on the rugged mountain roads.
After taking the cable car, from Fansipan station to the peak, you will have to climb another 600 steps. For those who have a good health condition or on good weather days, it is not too difficult. But for the elderly or if you go on windy, misty days, you should choose Do Quyen train to go straight to Fansipan peak.
The advantage of the Do Quyen railway is that you can actively buy round-trip or one-way tickets.
Ticket prices for Sun World Fansipan Legend cable car 2019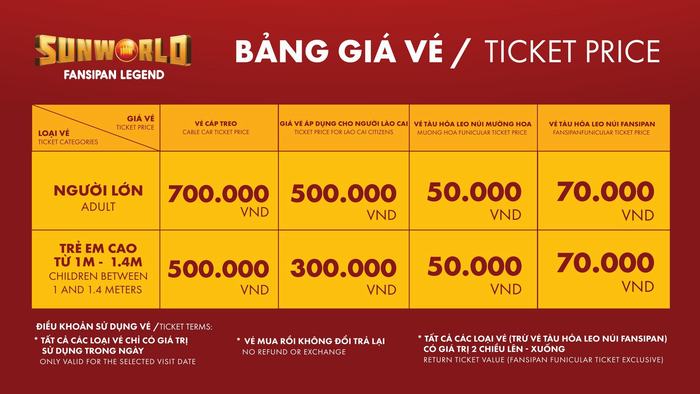 Ticket price
Adults: VND 700,000/guest ($30)
Children (1 - 1.4 m): VND 500,000/guest ($22)
Children under 1 m: Free
Ticket prices for Muong Hoa mountain train 2019
Adults: VND 50,000/guest ($2)
Children (1.1 - 1.4 m): VND 50,000/guest ($2)
Children under 1 m: Free
Ticket prices for Do Quyen mountain train 2019
Adults: VND 70,000/guest ($3)

Children (1 - 1.4 m): VND 70,000/guest ($3)

Children under 1.1 m: Free
When you have a chance to visit Sapa, you don't forget to visit Fansipan which is amazing and "must-see" destinations in Sapa. Furthermore, you don't miss to enjoy Fansipan cable one time. If you need more information about traveling to Sapa, you don't forget to visit our website to get more useful things