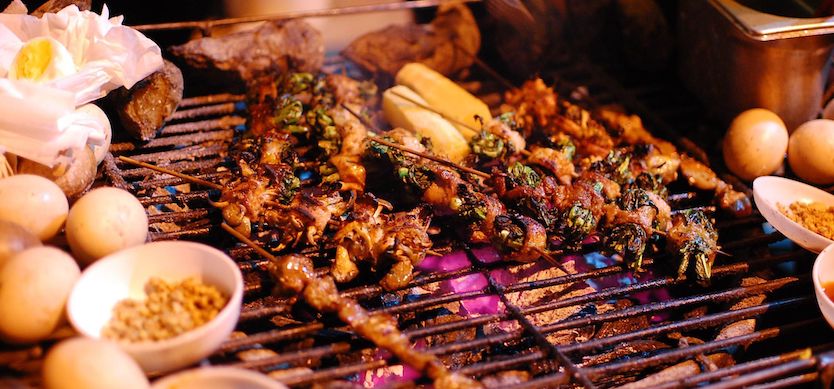 If you like a food journey and want to plan it for your honeymoon, then Sapa of Northwest Vietnam will savor your stomach with delicious specialties of the mountains.
The unique scenery, climate, and cuisine in Sapa make it a place many couples choose for their honeymoon. A Sapa homestay Vietnam tour with many attractive specialties is waiting for newly married couples.
Sapa chayote
Chayote is one of the simple and most famous dishes in Sapa. Every year, Sapa provides ten thousand tons of Chayote all over the country. The chayote in Sapa is very fresh. When boiled, it is very crispy and has a natural taste which is harmonious with the taste of the attractive sesame salt. Boiled chayote must be cooked well and enjoyed when it is still hot to keep its delicious taste. Boil over a little bit or be cool down will lose the original flavor of the chayote in Sapa.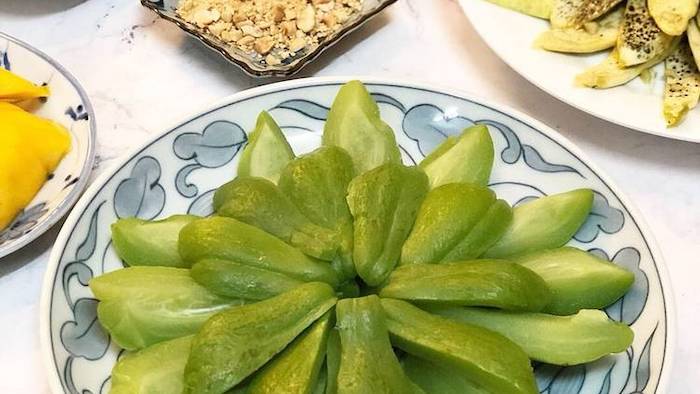 Sapa chayote
Chinese broccoli
There are many kinds of fresh vegetables in Sapa, but the best one is Chinese broccoli. It is often sold in Sapa markets. People often stir-fry with garlic or many kinds of meat, not boil or cook soup. This dish is crispy and has a naturally sweet taste.
Grilled dishes
The foggy town of Sapa at night is full of the street-side eateries selling barbecue to serve tourists. All ingredients are baked on the charcoal stove. Each dish is marinated with the different spices prepared separately. Because of its unique taste and processing, the Sapa barbecue gradually becomes the trademark of this land which is popular with many domestic and foreign tourists.
Salmon
In a Sapa trekking package, it is easy to recognize that although Sapa is in the mountainous highlands, the most famous specialty in the land of Sapa all year round is ...fish.
Besides the specialties of mountain forests such as Muong pork, grilled dishes, chestnuts, bamboo-tube rice, in recent years, Sapa also appeals visitors by the specialties which are strange to the mountain terrain. It is a fish.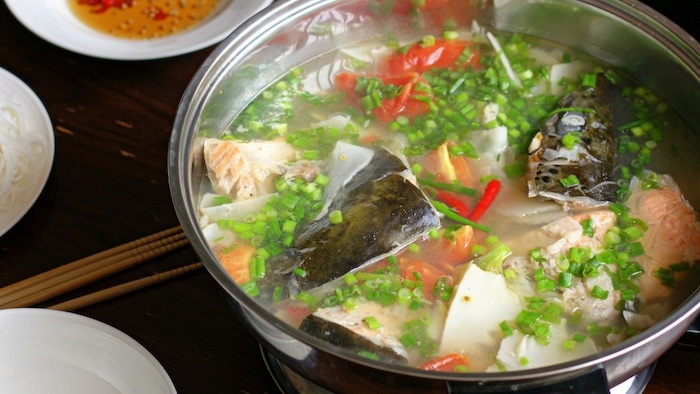 The hotpot of salmon
Salmon in Sapa has a good taste and beautiful pink color. Notably, the quality is not inferior to the imported salmon, so it is very favorable. Many delicious dishes can be made from salmon such as salad, hotpot, porridge, smoked fish, orange sauce served with fresh vegetable, and salmon stuffed with cucumber.
Stream fish
If the salmon brings the strange and excitement in the taste experience, Sapa stream fish is an unforgettable traditional part of Lao Cai cuisine. The stream fishes in Muong Hoa and Muong Tien sold in the markets are always attractive to visitors. It is also not fishy, immediately caught and then cooked on charcoal, served hot and dipped with spices, pepper powder.
Muong pork
Muong pork (or Man pork) is not an unusual species but a local one. It has a pure gene and is fed naturally right since it was born. An adult only weighs about 20 kilograms, so the local people usually put it into the basket. Hence, it also has the name of "cap nach."
The meat of Muong pork is firm, sweet, and has a fragrant smell. Processing it into many delicious dishes is easy.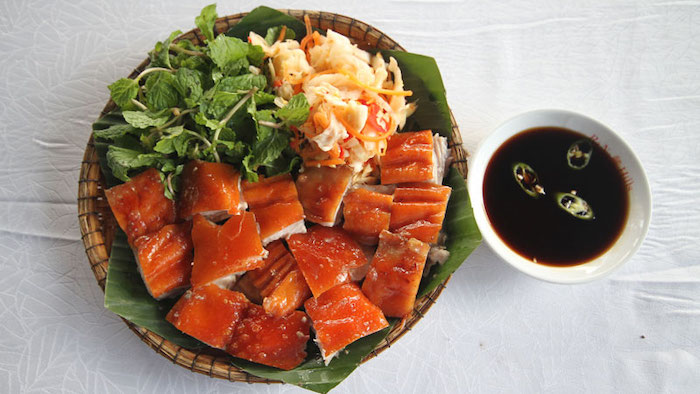 The grilled Muong pork
Thang co
"Thang co" is easily found in Sapa markets in Lao Cai, made from the meat and tripes of the horse, cow, buffalo, and pig with many kinds of species, cardamom. A pot of "thang co" in each market is enormous, enough for dozens of people.
Many diners who are not familiar with the processing, as well as the way of eating of ethnic people at the market, can still enjoy this unique dish in the restaurants where "thang co" is processed into hotpot, the meat and horse organs are also processed "more hygienically," matching the taste and enjoyment of the Kinh people.
Docynia indica wine
In Sapa, Vietnamese docynia indica trees grow wildly in the mountain range of Hoang Lien Son. It is a gift of Nature endowed to the Mong ethnic people. It has a sour, sweet and bitter taste. The fruit is soaked thoroughly and stored the essence to make wine. At first, drinking this wine will bring visitors a similar feeling of drinking soft drinks.
Bamboo-tube rice
Everyone who travels to Sapa cannot forget the presence of bamboo-tube rice in each meal, from restaurants, hotels to the sidewalk eateries.
Sapa has not only bamboo-tube rice but also dishes of bamboo-tube bird, fish, and gourd. The bamboo tube must be fresh to make the water inside can be absorbed into the food.
With the attractive dishes mentioned above, we hope that your honeymoon will be memorable. For further information, don't hesitate to let us know. If you find the land is attractive, please like and share the article with others. Thank you and have a fun trip to Sapa!