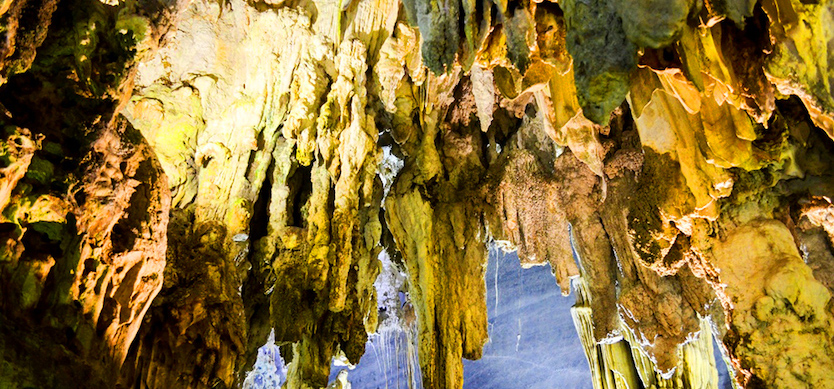 In the trekking journey to the mountainous Sapa of Northwest Vietnam, a visit to Ta Phin cave will make your trip more colorful and mysterious.
Sapa has been renowned for the breathtaking natural landscape and the original local culture of the ethnic tribes. There are some attractive tourist destinations in Sapa, which are still less-known. One of them is Ta Phin cave. This impressive cave will surely offer you distinctive experiences. Do not forget to take a trip here to get more information about Sapa tour cost and what to bring when traveling to Sapa.
Ta Phin cave
Located 12 kilometers away from Sapa town, Ta Phin cave is not only a pristine tourist site but also is home to many valuable pieces of research in the field of archaeology. The north of the cave is the living place of two ethnic tribes Dao and H'Mong, in which Dao people is dominant.
Ta Phin is nearly 1 kilometer from the north of the limestone mountain range that is a branch of Hoang Lien Son. In a small mountain, the foot cracks a cave which is Ta Phin, opening a path to the ground. The cave is 5 meters high and 3 meters wide.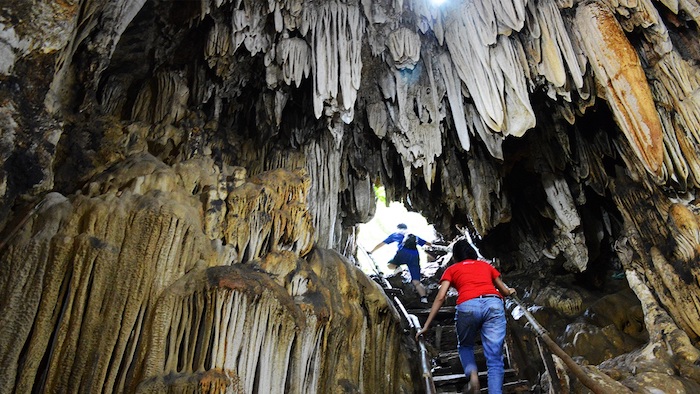 Ta Phin cave
From the gate, Ta Phin splits into many small ways which fit only one person. Crossing 30 meters in the darkness, travelers will face bumpy roads. The low cliffs spread out in many directions, even the round corners. However, eventually, all of the ways return to its original position.
Going along the massive wall, visitors will cross cliffs. Notably, the most comprehensive space which is on the roof is about 8 meters in height. There are drooping stalactites in strange shapes hanging from the high ceiling without any arrangement, which result in the illusion space as well as the sparkling scenery.
You can also see the white giant raspberry patches, rough lava as well as coral patches rolling around. Ta Phin is embellished with the multi-color lights that make visitors feel as they are in the fairyland. Exploring Ta Phin cave in the tranquil atmosphere of the northwestern jungle is an excellent experience for any travelers.
Ta Phin village
Ta Phin cave is situated at the far end of Ta Phin commune, which is also worth exploring with the untouched picturesque sceneries, unique customs, and traditions of Dao ethnic people, and the exceptional services.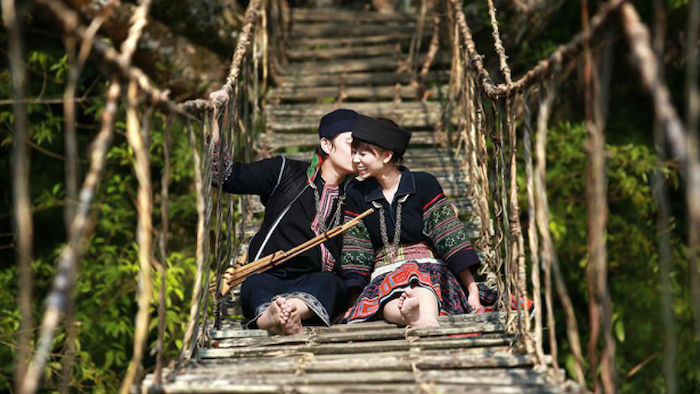 Traveling to Ta Phin village
Nestled in a beautiful idyllic primitive valley, Ta Phin is the primary residence of the Dao ethnic group. Reaching Ta Phin, tourist will be amazed to catch images of Dao women in gorgeous and colorful brocade dress, the traditional hand-made product by the skillful women. Mainly, it's easy to identify Dao women since they often wear large red headdresses. The locals are quite friendly and hospitable.
Coming to Ta Phin, visitors will have more ideas about Dao's customs, traditions, and lifestyle. The traditional cultural activities of Dao group are still well-preserved. Many performances are organized for tourists such as wedding ceremony, Bai Tram, Mua chuong, etc.
Moreover, Gau Tao festival is a unique cultural and religious activity of H'mong tribe in Ta Phin. The festival attracts the participation of the whole community. The festival begins with setting up plants (20th-25th December) and the main festival is in 3rd and 4th January of the next year to pray for abundant crops. The charming natural beauty and the ethnic identities are the factors attracting tourists to Ta Phin.
Guests can observe or participate in folk games including the contest of crossbow, stilt walking, and tug of war, etc. Additionally, visitors will have a chance to enjoy the traditional food of Red Dao and H'Mong tribes such as cornbread, men men (ground maize), etc. The handicrafts have also been maintained and promoted to meet the demand of tourism such as making brocade products, silver inlay or casting forging.
The village reputes with the handmade brocades that are colorful and has diverse designs. Some popular products are bags, backpacks, scarves, purses, and coats, made by ingenious hands of H'Mong and Red Dao women. The motifs are exquisitely embellished with various images of birds, flowers, trees, etc. which always excite tourists.
For the ethnic tribes in here, brocades are entirely meaningful. It is not only for decoration but also a memento for the couples in the wedding day. The handmade brocade products is an indispensable gift for any visitors when setting foot in this beautiful mountainous area.
Insider tips
You are highly recommended to carry the flashlight since the cave is relatively dark. Or you can rent torchlight of Dao women standing in the gate with the price about VND 5000 (~$0.25). Make sure the torchlight works before entering the cave.

The entrance ticket costs VND 15,000 (~$1) per person.

It's a good idea to visit the stone monastery on the northeast of the hill.

Dao people can persuade you to buy their merchandises enthusiastically. If you don't want, refuse gently. In case you reach Ta Phin cave by a motorbike or car, Dao ladies may suggest keeping their eyes on your vehicle with the hope that you will buy some of their items at the end of the tour.
If you want your vehicle to be watched out, you can agree. These merchandises have a reasonable price. If unpreferable, you can deny politely. Some of Dao ladies can speak English well and offer you some information about their culture.
Ta Phin stone monastery
If you are looking for something new in Sapa, you shouldn't miss Ta Phin cave in case of setting foot on this beautiful land. For further information about Sapa tour from Hanoi price, feel free to contact us or visit our website. If you find the article useful for you, don't hesitate to like and share it with others. Thank you and have an unforgettable trip.