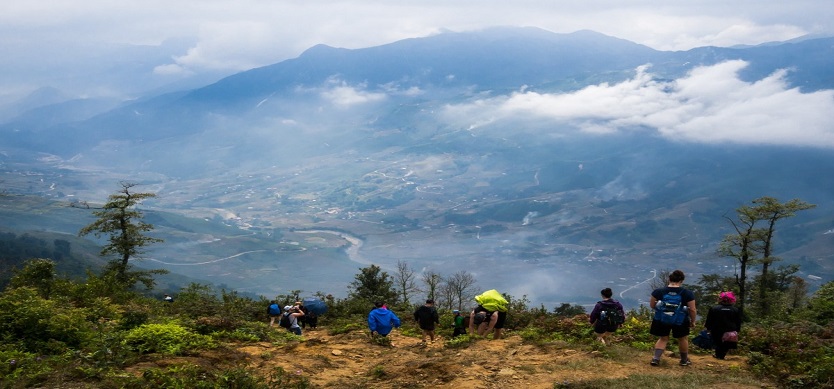 In Sapa, trekking is one of the most exciting activities that most travelers want to try. To have the most successful trekking tour, there is something that you should be aware of. Here is our suggestion for all the things you should carry for trekking in Sapa.Do not forget to Sapa tours to get more information about what to do in Sapa and top budget accommodations in Sapa.
Exploring Sapa is entirely different from going to most other destinations in Vietnam so, in order to prepare for the trip, you must pack a few things you may not need otherwise. Always keep in mind that if you go trekking, you will be likely to stay in different positions every night. This will make carrying your whole luggage a huge hassle. It is a good idea to leave your big belongings in your accommodation in Hanoi and pick them up after you come back. For your journey, it's sufficient to carry a small backpack with the essentials utensils for a few days.
Here are a few things you should pack or consider getting once you decide to go on treks in Sapa.
All you need to carry for trekking in Sapa
Backpack and a small bag
For your journey to Sapa, carry only enough for the few days you're staying there and all those things should be kept in one backpack. Normally, the tour operators will shift your bags directly to your homestay. All the things you need during your trek should be contained in another small bag that you can bring with you on the way.
Sunscreen/sun protection
This is particularly important during the summer days. Sapa is quite close to the sun. Its high altitude tends to increase the UV index that can result in nasty sunburns. If you come from a place where the sun is not as harsh, your skin won't be used to it and the consequence may get worse. In case, you find the sunscreen too sticky, let's carry a wide-brimmed hat, long-sleeved shirts, and trousers to protect yourself from the strong sun.
Insect repellent
This is essential to visit anywhere in Vietnam and if you're planning to go on treks in Sapa's mountains and jungle, insect repellent is a must for avoiding itchy bites or diseases that forest insects ( like mosquitoes and leeches) may carry.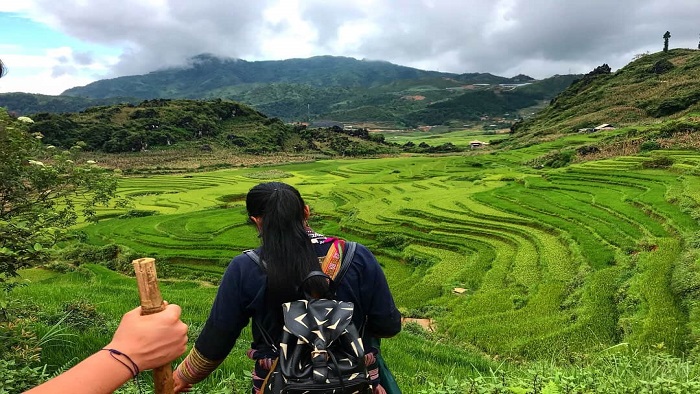 All you need to carry for trekking in Sapa
Lightweight raincoat
Sapa's weather is always changing and if you visit Sapa during the rainy season, this is a must-have item unless you're fine with getting wet. The local markets in the city provide a wide selection of raincoats so it's not a big deal if you forgot to pack one. But be mindful that all the attractive North Face outfits you find there are frequently knockoffs. The usual price is around 200,000 – 300,000 VND ($10-15), so haggle politely if the sellers ask for more than that.
Warm clothes
While Sapa's climate can be fairly warm in the summer, the winter time may get freezing, especially at night where the temperature always drops down. Therefore, in winter months, you need to have a jacket, sweater, hat, scarf or anything else helping you to keep warm. Even in the summertime, it's advisable for you to carry a jacket. If necessary, you may purchase it at the market in Sapa downtown. If in doubt, is it better to bring an extra jacket rather than freezing on the highland?
Good hiking shoes
In Sapa, trekking trails may be covered with loose gravel. On rainy days, the road can be muddy and slippery. Wearing usual sneakers or tennis shoes can cause you to slip, slide or even be wounded and this is really not something you like to happen when you're far away from the doctor or hospital. A good walking shoe with the firm grips is always the best option.
Band-Aids
On the ways, you can't be sure whether you will get a blister or a few scratches. You are highly recommended to bring some band-aids, disinfectant wipes, and clean socks.
Earplugs
In a public place, you may suffer from the noises made from all kinds of people (whether purposefully or not). In case you don't sleep like a rock, earplugs are essential for a good night's sleep.
Power bank
Even if your homestay has electricity, there may not be enough plugs for every guest to charge their phones at the same time. It's sincerely advisable for you to charge your devices fully overnight and carry a power bank with you. Moreover, your electronics should be kept in a closed Ziploc bag just in case there is a downpour on your way and terribly your bag isn't waterproof.
Light snacks
Trekking never be easy, especially when it's hot and if you are not experienced. You should prepare the light snacks and enjoy them when taking breaks along the way. Although some tours may include meals, an extra energy boost is very effective along the way and can make your trip much more enjoyable. Remember to carry enough water, too.
Knives
Having a portable knife is really convenient when you want to cut something.
Map & camera
Carrying a map of the area and a notebook so you can note the spots where you already set foot on. Do not forget to bring a camera and you can record the picturesque natural sceneries as well as your marvelous moments.
Sapa is one of the best spots for trekking in Vietnam. Before your trek, remember to bring all the above things that can make your journey much more enjoyable. Hopefully, this article is helpful to you.